A special loan for business startups is helping two Yorkshire social entrepreneurs share the joy of sport with people who would usually miss out because of disability.
Sports development expert Richard Szostak, and champion wheelchair racer Louis Speight, have delivered hundreds of specialist coaching sessions across West Yorkshire, including regular sessions in Belle Isle, since receiving a Start Up Loan from Transmit Startups.
Their social enterprise is called Omnis Circumvado CIC, meaning 'all-encompassing' in Latin, andruns adapted sport and PE sessions for special education needs schools, community groups and local authorities. Omnis has also developed special programmes including wheelchair skills training and visual impairment awareness training to teach people about sight loss.
Now the Huddersfield-based company is celebrating its first birthday with plans to double the number of people it reaches with its crucial support.
Richard said:

"It's been a fantastic first year and we've never looked back since getting our initial funding from Transmit Startups.

"We knew there was a real need for our services but we've been blown away by how well they've been received. This year we've worked with 465 people and now we're aiming to recruit new trainers so we can double our numbers in 2020.

"Too many people of all ages currently miss out of mainstream sports because of physical or emotional challenges but we've proved it doesn't have to be that way!

"With some creative thinking and a bit of determination, we've developed lots of innovative ways to involve children and adults in fun games and activities and the results have been amazing."
The idea for Omnis came about when Richard and Louis met while working at a coaching company, and discovered they shared an ambition to introduce sport to people who would not otherwise have the chance to take part.
Drawing on Richard's 20 years' experience working in the disability sector and Louis's celebrated background as an ex para wheelchair sprinter and disability activist, the pair realised they had the expertise and passion to make a real difference by launching their own company.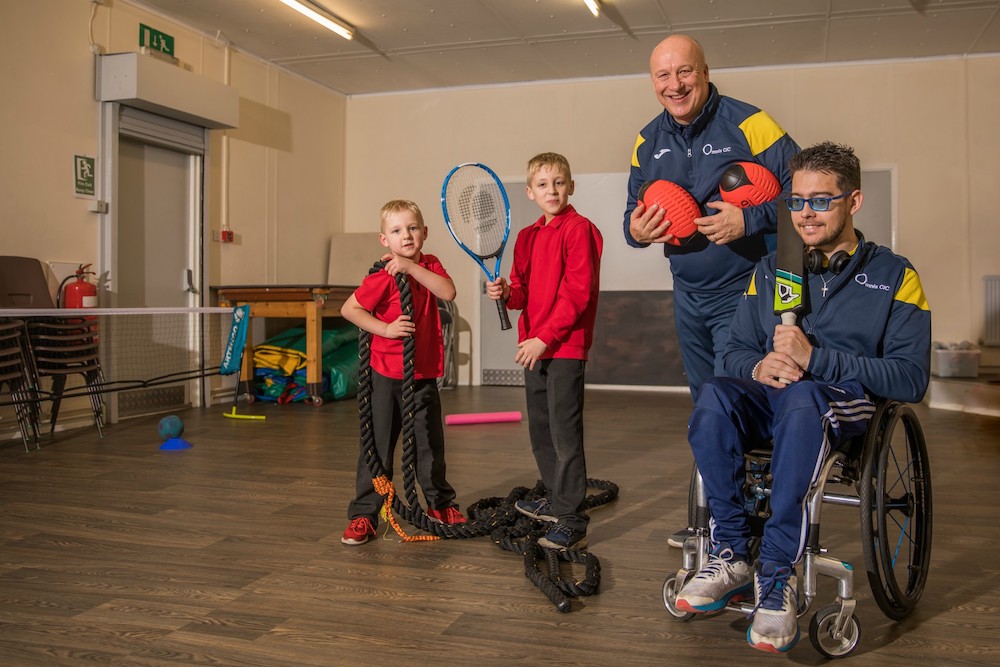 Emma Pogson-Golden is Centre Manager at Manorfield Hall in Belle Isle, where Omnis holds regular sessions attended by her sons Oscar, aged six, and Alfie who is 10.
Emma said:
"The unique thing about Omnis is it's totally inclusive. Richard and Louis adapt the sessions to suit every single child so nobody is left out. Because of this many children are gaining an introduction to a whole new world they previously could only watch from the side lines.

"Everyone benefits in a different way and those benefits are felt long after the sessions are over. Children with physical challenges find their day-to-day mobility is improved, while others benefit from new friendships and confidence.

"By bringing so many families together Omnis has also built a lovely, positive community and that kind of support network is crucial for families – especially those whose children face specific physical and behavioural challenges."
Richard and Louis approached Transmit Startups for help to get their venture off the ground, and were loaned £5,000 to cover the cost of essential equipment and insurance.
Transmit Startups is the UK's leading provider of Government-backed Start Up Loans, having backed 5,510 entrepreneurs with over £57million. The programme provides fixed-interest loans and high impact mentoring to aspiring business owners across the UK who might be struggling to access other forms of finance.
Transmit Startups' Business Support Director Damian Baetens said:
"This was an especially satisfying Start Up Loan to approve because it has been used to do so much good for so many people.

"Richard and Louis's company not only delivers huge benefits to the people it directly supports but also acts as a fantastic example to future entrepreneurs by demonstrating that social purpose can be at the heart of successful business."
Transmit Startups is part of the Transmit group of companies which offer funding, consulting, coaching and mentoring services to entrepreneurs throughout their business journey.
For more information about Transmit Startups visit www.transmitstartups.co.uk and to discover more about Omnis visit www.omniscic.com
This post is based on a press release issued by Omnis CIC
Main photo: Six-year-old Oscar Pogson-Golden gets stuck into an inclusive sports session run by Omnis CIC