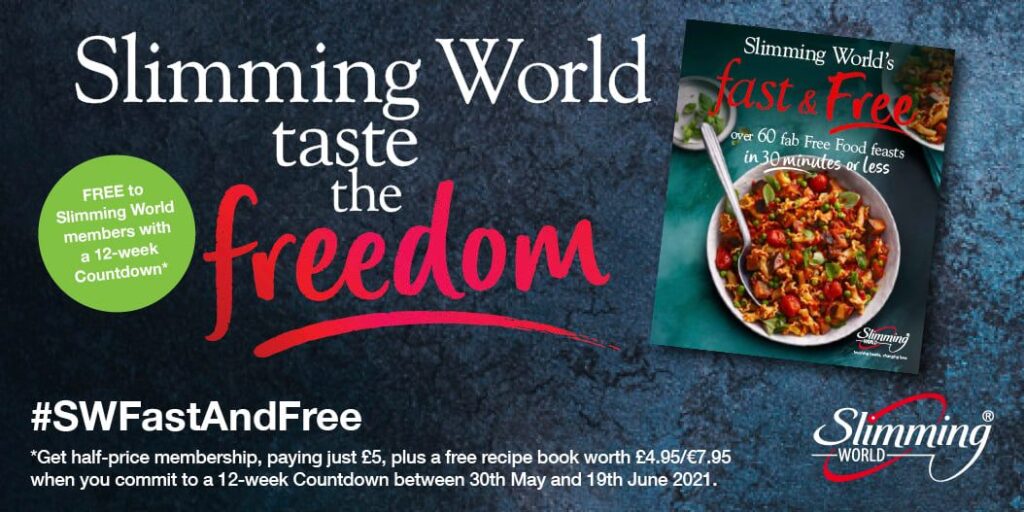 Sponsored content
Throughout the pandemic Slimming World has continued to provide virtual weight loss services to slimmers in South Leeds.
Now, as restrictions begin to ease, the UK and Ireland's best loved weight loss organisation Slimming World is opening up for real life groups in venues. Tace who runs Slimming World groups in South Leeds, says:
"For more than 50 years, Slimming World has been helping people to change their mindset and form new habits around eating and becoming more active and learn to stay slim for life.

"The real key to success is found in the weekly group where trained Consultants motivate and inspire members to achieve their weight loss dreams. For anyone who has ever struggled with their weight, finding understanding care and support to help you stay committed and reach your target is invaluable.

"Plus, members learn about Slimming World's incredible Food Optimising eating plan – no hunger, no deprivation, no counting. And as we come out of lockdown, many of us are looking for friendly support not just to lose weight but to reconnect with our community.

"Our research has shown that people have found it harder than ever to manage their weight during lockdown, due to extra stress and anxiety and routines that have been thrown up in the air, so we're delighted that we've still been able to help people in South Leeds to lose weight throughout lockdown."
Slimming World has more than 50 years of experience behind it. She adds:
"At Slimming World, we have the best eating plan in the world where members can, and do, lose weight without ever having to go hungry and a great activity programme that helps people to find a way to move more within their daily lives.

"What sets Slimming World apart though is that as well as the physiology of weight loss, we understand the psychology of slimming and help people to grow in confidence and self-esteem so they are empowered to change the habits of a lifetime.

"There is nothing more rewarding than that, so being able to run a successful group and have that level of satisfaction is a magic combination!"
We are now open for smaller, shorter groups in venues and it's given the members a real buzz being back together again. Tace has recently taken over the Middleton Tuesday evening group and is looking forward to welcoming returning and new members, as are the other consultants Jane and Barbara.
To book in, or for more information please contact us:
Hunslet Monday morning and evening, Friday morning. Middleton Tuesday evening – Tace 07963 283990.
Beeston Wednesday evening and Thursday morning. Middleton Thursday evening and Friday morning – Jane 07841 488658
Hunslet Thursday evening and Saturday morning – Barbara 07521 082768
About Slimming World
Slimming World was founded by Margaret Miles-Bramwell OBE in Derbyshire in 1969 and has become the UK and Ireland's leading weight loss organisation with more people choosing to attend a Slimming World group each week than any other weight loss programme. We support hundreds of thousands of people, both in our groups and online, to lose weight and to adopt new habits to stay slim for life.
Over the years our founding principles haven't changed:
Our unique programme is based on a powerfully motivating support system called IMAGE (Individual Motivation and Group Experience) Therapy. Underpinned by a deep understanding of the psychology of overweight people, and incorporating the most effective sustainable behaviour change techniques, IMAGE Therapy is designed to inspire and motivate slimmers to make positive changes and to develop new, healthier habits around food and activity.
Food Optimising is our healthy eating plan, based on the liberating concept of Free Food. We encourage our members to fill up on those foods that are naturally lower in energy density (calories per gram) and also highly satisfying while limiting foods that are highest in fat and sugar and are less satisfying, so they lose weight without ever feeling hungry or deprived and without having to weigh, measure or count everything they eat.
Our activity programme, Body Magic, encourages members to become more active, more often in ways that they enjoy, until regular physical activity becomes an intrinsic part of daily routine.
Above all, at the heart of everything we do, lies our passion for treating every member with genuine care, empathy and respect.
We're proud to work with the NHS, Public Health England, The Royal College of Midwives and others to help shape the future of weight management in the UK.
For more information about Slimming World's approach visit slimmingworld.co.uk. Follow Slimming World on Twitter: @slimmingworld or become a Slimming World fan on Facebook at fb.com/slimmingworld