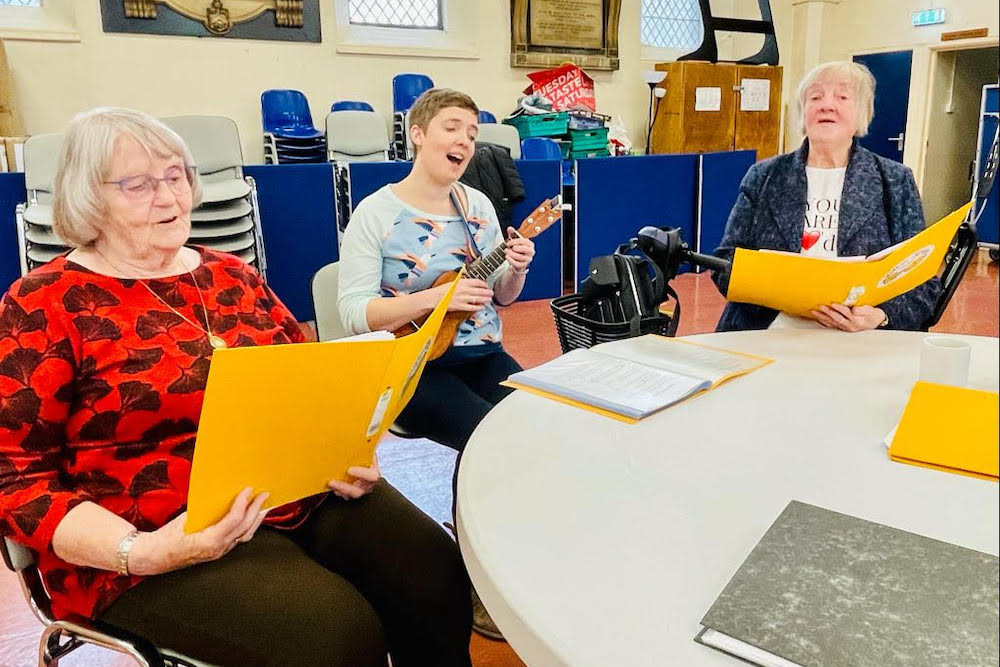 Holbeck Together is excited to share its brand new schedule for the Autumn. Along with a jam-packed month of Christmas festivities, the time has come to welcome back the community's much-loved singing and line dancing classes after a long hiatus.
If you enjoy a good sing-along, join our Yellowbirds Choir Singing Group from 2-3pm every Tuesday at St Matthew's Community Centre in Holbeck. The Yellowbirds Choir sings classic songs through the ages from Cole Porter to Abba and more! Learn to sing with confidence, make new friends and have fun in this choir. Everybody is welcome – there is no need to read music or have experience of singing. The group costs £2 per session and is led by Jessica Bowie accompanied by her ukulele: yourukuleletutor.com.
If you think you might prefer to dust off your dancing shoes, come along to our line dancing group on Thursdays from 11.30am–12.30pm at St Matthew's. No experience is required so anyone is welcome to join us and give it a try. The session costs £2 per session.
There will be a chance to see the choir in action at The Big Christmas Get Together at St Matthew's on Friday 17 December, along with a performance from our Dance On group. The community is invited to join us for food, entertainment, performances and much more. Watch this space for more information.
On Halloween itself there is a chance to browse Holbeck Together's brand new clothes shop at a pop-up sale. The shop will be open from 10am-2pm at St Matthew's on Sunday 31 October. Join us to get your hands on a huge range of clothes, shoes, accessories and more, as well as a bacon sandwich and a coffee at our Community Cafe.
Other highlights this Autumn include trips to Bury, Tong Garden Centre and a meal outing to Chiquitos, as well as Halloween and Bonfire Night themed lunches, and a Christmas outing to the pantomime.
Make sure you browse through the full schedule and get the dates in your diary. For more information about any of Holbeck Together's activities and services, or to enquire about booking, please call the office on (0113) 245 5553.
Updated Schedule
Mondays
Coffee Morning. 10am – 12pm. £1
Dinner Jackets Lunch Delivery. 12 – 1pm. £2.50
Tuesdays
Shopping to Morley Town Centre. 9.30am pick-up. 1.30pm return. £4.50
Charity Shop at St Matthews. 10am – 2pm
Coffee & Connect. 10 – 11.30am
2 Course Lunch delivered to your door. 12 – 1pm. £4
3 Course Lunch Club at St Matthews. 12 – 1.30pm. £5.

Door-to-door transport available from 11am onwards – £3.50

Games Afternoon. 2 – 3pm.
Singing Group. 2 – 3pm. £2 per session
Wednesdays
Coffee Morning at Ingram Court Community Room. 10am – 12pm. £1
Charity Shop at St Matthews. 10am – 2pm
2 Course Lunch Club at Ingram Court Community Room. 12 – 1.30pm. £4

Door-to-door transport available from 11am onwards – £3.50

2 Course Lunch delivered to your door. 12– 1pm. £4
Parent & Tots Coffee Afternoon at Ingram Gardens Community Centre. 1.30-2.30pm
Craft Afternoon. 1.30 – 3.30pm
Thursdays
Shopping to Morley Town Centre. 9.30am pick-up. 1.30pm return. £4.50
Charity Shop at St Matthews. 10am – 2pm
Holbeck Together Community Café. 10.30am – 2pm
Holbeck Together Community Shop. 10.30am – 2pm
2 Course Lunch delivered to your door. 12– 1pm. £4
Line Dancing. 11.30am – 12.30pm. £2 per session
Table Tennis Afternoon. 1 – 2.30pm. £2 per session
Fridays
Yorkshire Dance – Dance On. 10am – 11am
Coffee Morning. 10am – 12pm. £1
Fish & Chips delivered to your door. 12pm – 1pm. £3.50 – £5.50
Fish & Chip Lunch Club at St Matthews. 12pm – 1.30pm – £4 – £6

Door-to-door transport available from 11am onwards – £3.50

Bingo Afternoon. 1.30 – 3pm
Sundays
2 course Sunday Lunch, 12 – 1pm – £4 per meal. (28th November ONLY)
Key Dates
November
Friday 5th November – Pie & Peas Bonfire Lunch & Bingo
£4.00 p.p.
St Matthews C.C.
12:00pm-2:00pm
Monday 8th November – Group Outing – Cinema Morning
Pick up time and film to be confirmed
£5.00 transport per person
Call the office for further information
Saturday 13th November –  Shopping outing to Crossgates
£4.50 Transport per person
Collections from Home Addresses from 9:30am
Return approx. 1:30pm
Saturday 13th November – Intergenerational Cream Tea Afternoon
12:00-2:00
St Matthews C.C.
Be part of a series of intergenerational events this autumn and form new friendships
Tuesday 16th November – Live Well Together at St Matthews
​Well-Being workshops and activities, refreshments available
1:30-3:30pm
Monday 22nd November – Hollywood Bowl & Pub Meal Outing
Collections from home addresses from 9:30am
Collections from St Matthews at 10:00am
Return approx. 2:30pm
£5.00 transport per person
Wednesday 24th November – Outing to Bury Market
Collections from home addresses at 8:30am
Collections from St Matthews at 9:00am
Return approx. 4:00pm
£10.00 transport per person
Sunday 28th November – Intergenerational Well-Being Morning
10:00-12:00
Ingram Gardens C.C.
Be part of a series of intergenerational events this autumn and form new friendships
Monday 29th November – Meal Outing – Chiquitos Mexican Restaurant
Collections from home addresses at 10:30am
Collections from St Matthews at 11:00am
Return approx. 2:00pm
£5.00 transport per person
This post was written by Daisy Morgan

We encourage anyone living or working in South Leeds to use this website to tell their news. You can either use the Create an article for South Leeds Life page, or email us at: info@southleedslife.com