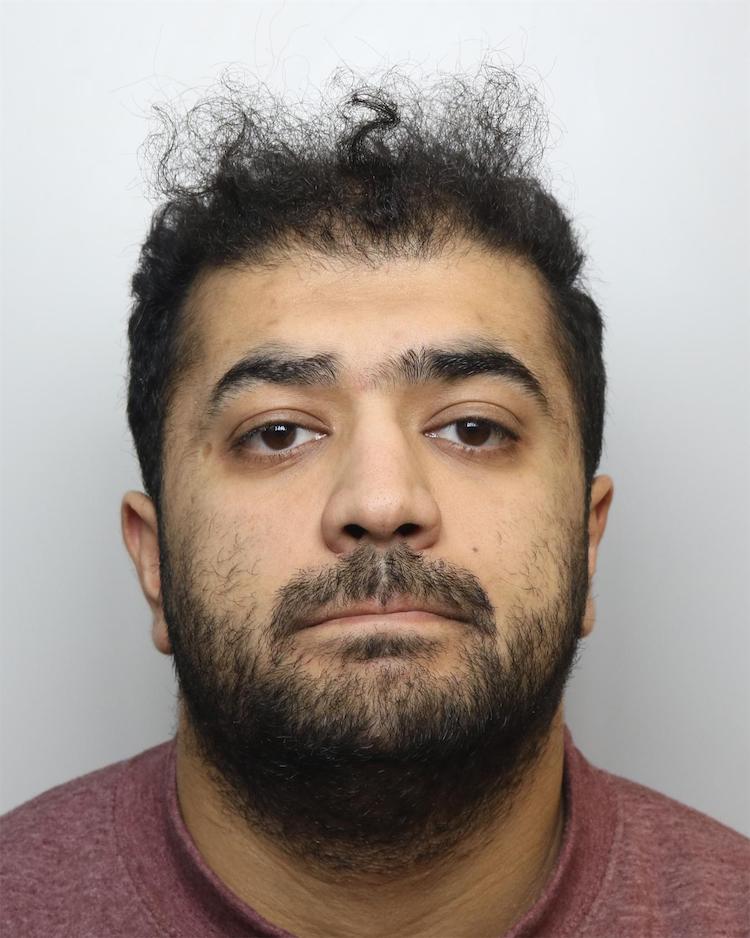 The ringleader of a criminal group involved in a long-running feud that led to Leeds' first 'gangbo' injunctions has been jailed today over his involvement in a shooting in the city.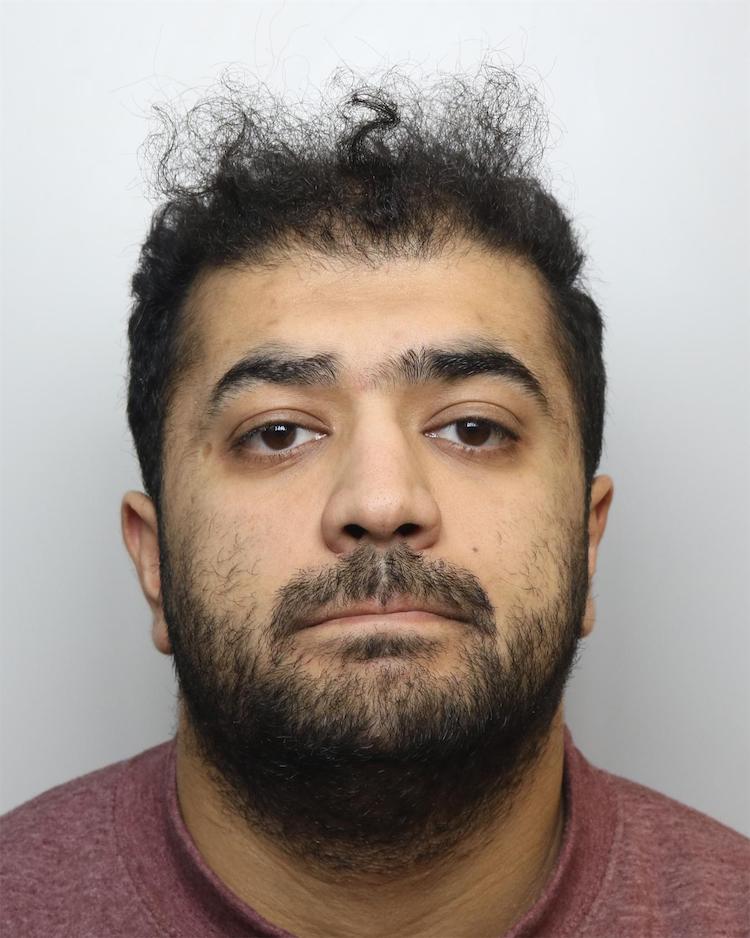 Wakkas Butt, aged 26, from Beeston, styled himself as a gangster and drove a high-performance Audi RS3, carrying the number plate LS11 BOS, which is thought to refer to his self-appointed status in the postcode area where he lived.
In December 2016, as previously reported on South Leeds Life, he was among seven men made the subject of gang injunctions in response to a tit-for-tat feud that brought fear to the streets of Beeston with a total of 94 offences over a two-year period in roughly a square mile. These included robberies, assaults, kidnappings, and a large number of arsons and criminal damage against properties and vehicles.
The injunctions, made under the Policing and Crime Act 2009, placed strict limitations on the subjects including exclusion zones and restrictions on who they can associate with and the vehicles, addresses and mobile phones they used.
In June this year, Butt was convicted after a trial at Leeds Crown Court of conspiracy to possess a firearm with intent to endanger life in relation to a shooting in Maud Place, reported here, on 28 October 2017.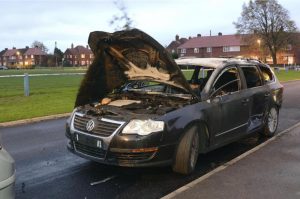 The intended target, a 22-year-old man, had been sitting in his BMW car parked on Maud Place, when a black Volkswagen Passat pulled up and a sawn-off shotgun was fired at the BMW damaging the bonnet and windscreen. The victim, who was not injured, repeatedly rammed the Passat and sped off from the scene. The Passat was later found burnt out in Cardinal Square.
Shezan Shabir, aged 26, of Old Mill View, Dewsbury, and Irshad Badar, aged 24, of Rowliff Road, High Wycombe, were also convicted of the same offence as a result of an investigation by West Yorkshire Police's Firearms Prevent Team.
Working with colleagues from Leeds District's Serious Organised Crime Unit they linked Butt and Shabir and two others – Adil Qayyum, aged 25, of Pickles Street, Batley, and Adeel Malik, aged 22, of Lynndale Avenue, Huddersfield – to an arson attack in Sheffield on the evening of October 30. The four were convicted of arson being reckless as to whether life was endangered.
An Audi RS3 and Volkswagen Golf R, together worth £70,000, were set on fire in the gated yard of a house in Norborough Road during an incident where one of the offenders brandished an axe and made threats. The Audi belonged to the father of the man targeted in the Maud Place shooting days earlier.
Butt was arrested the following afternoon in Bradford driving his red Audi RS3, carrying the number plate LS11 BOS. Shabir, Qayyum and Malik were also arrested from the car. An axe matching the description of the one used in the Sheffield incident was found in the boot.
Despite the group's attempts to cover their tracks, painstaking research of the men's mobile phone locations, vehicle movements and checks on CCTV built up a clear evidential picture that led to their convictions following a month-long trial.
At Leeds Crown Court today (2 November 2018) Butt and Shabir were both sentenced to 21 years in prison with five years extended licence; Badar and Malik were jailed for eight years; and Qayyum was given six years custody.
Detective Chief Inspector Jaz Khan, of West Yorkshire Police Firearms Prevent Team, said:
"Wakkas Butt is someone who has been repeatedly linked to criminal activity that has created a climate of fear for ordinary law-abiding members of the public in the Beeston area and further afield.

"He styled himself as a gangster and drove around in a high-performance car bearing a registration that suggests he thought he was the boss of the LS11 area.

"With the support of his accomplices in these offences, he showed himself to be someone who was prepared to resort to the use of a firearm and arson to intimidate and attempt to harm those he considered rivals, with absolutely no consideration for the risks to innocent members of the public.

"He is a criminal who for too long has been a thorn in side of the Beeston community and I am sure people there will be breathing a collective sigh of relief to know that he has now been sent to prison for a significant period of time.

"People who think they are above the law, particularly those who think they can use firearms to enforce their criminal activity, should be in no doubt that we have a team of specialist detectives, supported by highly-trained firearms officers, whose main purpose is to pursue them and them and bring them to justice.

"The criminal use of firearms on our streets is something we will always treat very seriously and we will continue to do everything we can to identify those responsible and take appropriate action to prevent such incidents and keep people safe.

"Information from the community plays a vital role in our ongoing efforts to tackle organised criminality and the use of firearms that can damage and cause fear our communities, and we urge people to keep telling us what they know either directly or anonymously through Crimestoppers."
When the gang injunctions were imposed in December 2016, Butt could not be named in publicity due to other ongoing proceedings.
The orders placed strict limitations on the subjects with a power of arrest for any breaches. To date there have been a total of nine breaches that have resulted in the defendants being brought back to the county court for further sanctions.
Butt was previously sentenced to three weeks in prison for breaching his 'gangbo'.
A total of 94 offences between March 2014 and June 2016 were believed to be linked to the feud, with 87 of those occurring within roughly a square mile of Beeston – the most serious being the attempted murder of a man in a shooting in Middleton Crescent in October 2015.
The catalogue of crimes included ten violent incidents of robbery, assault and kidnap; 30 offences of public order, threats, intimidation and extortion; 24 offences of arson against vehicles and addresses causing more than £200,000 of damage; six drug-related offences where more than £180,000 was recovered; and 22 offences of criminal damage against properties, eight of which saw 4×4 vehicles rammed into the addresses causing more than £100,000 of damage.
The orders were the result of work by Leeds District Serious Organised Crime Unit who conducted comprehensive enquiries to develop a detailed understanding of the context of the incidents that had occurred and to link those to the main suspects.
While a number of arrests were made and charges brought in relation to some of the incidents, it became clear that a wider approach was needed to tackle the gang-related actions of those involved.
Steps were taken to build a case for gang injunctions – dubbed 'gangbos' – under the Policing and Crime Act 2009. The Act allows the police or local authority to apply to a county court or the High Court for a civil injunction against an individual who has been shown to be involved in gang-related violence or to have encouraged or assisted it.
The orders have since given officers on the local neighbourhood policing team an increased ability to manage the subjects through the various conditions, which has led to a significant reduction in the type of criminal activity the area experienced before.