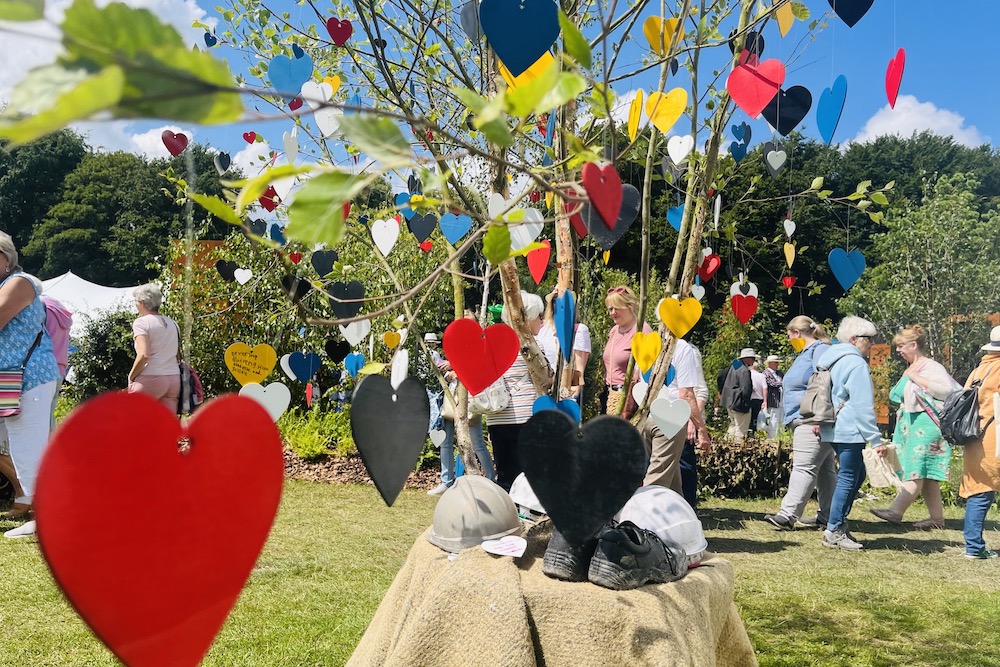 Trigger warning: this article discusses suicide
An innovative garden which explores mental health in construction has been awarded Best Show Garden at the RHS Flower Show Tatton Park.
The award-winning garden received the finishing touches of poignant wooden hearts decorated by Leeds College of Building Painting & Decorating apprentices.
As we reported earlier in the year, garden designer Carolyn Hardern and landscaper Jon Jarvis approached the College after the pair decided to submit a garden to the RHS Flower Show Tatton Park. The garden's theme was wellbeing and mental health within the construction industry.
Nikki Davis, Principal & CEO of Leeds College of Building, explained:
"Carolyn first approached the College given our status as the only specialist general further education construction college in the UK. We were happy to lend a hand, given the importance of this topic. Data shows that an estimated 700 workers in construction sadly took their own lives during 2022, which is well above the average of any other sector in the UK and up significantly from the previous year."
Motivated by the shocking statistics, Painting & Decorating apprentices at Leeds College of Building agreed to spray paint 700 assorted wooden hearts the colour of hard hats. Students used specialist hardwearing car lacquer on the hearts, which were spraypainted in airconditioned bays at College.
The hearts, representing each life taken last year in the construction sector, were transported to the show by a group of staff and students. The colourful wooden decorations were displayed around the garden on the opening day of the Tatton Show.
Carolyn said:
"Yesterday, Jon and I were awarded an RHS Silver-Gilt Medal but then today the Director General of the RHS presented us with the Best Show Garden Award! The hearts are up and people have been queuing up to go through the garden all day."
Titled 'Constructing Minds', the 20m x 14m garden integrates trees, ferns, and wildflower areas to create a sense of enclosure and refuge. Materials found on construction sites, such as concrete and scaffold boards, were included in the build.
The wall to the left of the entrance into The Inner Sanctuary incorporates a metal panel perforated with 507 number holes representing the number of suicides in the UK construction industry in 2021; an average of two people die by suicide in construction each working day.
The finished garden includes a consultation glade (a therapeutic space for counselling), a reflective pool, a safe inner sanctuary space planted with pockets of wildflowers, external walls to reduce noise, and custom-made loungers to encourage the Japanese practice of shinrin-yoku ('forest bathing') – time spent immersed in nature to rejuvenate and restore oneself.
Jon said:
"After looking at the statistics of mental health in construction, Carolyn and I devoted our own time to raising awareness about this devastating topic. This is the biggest garden at RHS Tatton Park this year, providing a green space to breathe and disconnect from negative thoughts. We hope to get people talking to reduce stigma and understand how green spaces can promote positive mental health."
Carolyn continued:
"Thanks go to all our employer supporters and sponsors. We have benefitted from generous industry partners that have given in-kind support such as machine hire, materials, and labour – like landscaping companies Ashlea Ltd and The Landscape Academy at Great Barrow.

"However, we are still seeking monetary donations to help cover the costs of relocating the project. After the show, the legacy garden will move to Clatterbridge Cancer Centre – Wirral, which offers outpatient chemotherapy, radiotherapy, diagnostic and cancer support services for local patients. We hope this will become a space for visitors and patients to enjoy tranquillity and calm when they may need it most."
Carolyn and Jon are asking for donations via the project's GoFundMe page. Any monies left over from the build and relocation will be given to Band of Builders and Mates in Mind, charities dedicated to improving the mental health and wellbeing in construction across the UK.
Nikki Davis added:
"We were delighted to work with Carolyn and Jon to get more people talking about mental health in construction. Leeds College of Building's South Bank Campus is already a venue for Andy's Man Club – the men's suicide prevention charity – and projects like this incredible garden are vital for raising awareness in the general public and signposting critical support."
Carolyn and Jon have been designing award-winning gardens and landscapes for many years. Jon is a mental health first aider, and both are passionate about promoting mental health and the work of Band of Builders and Mates in Mind.
To find out more, visit the Constructing Minds Show Garden website or Instagram page. Painting & Decorating apprenticeship information is on the Leeds College of Building website.
When life is difficult, Samaritans are here – day or night, 365 days a year. You can call them for free on 116 123, email them at jo@samaritans.org, or visit samaritans.org to find your nearest branch.
This post is based on a press release issued on behalf of Leeds College of Building
Main photo: Members of the public make poignant tributes in marker pen to lost loved ones on the colourful wooden hearts at the Constructing Minds RHS show garden.  Credit: Leeds College of Building
While you're here, can we ask a favour?
South Leeds Life is published by a not-for-profit social enterprise. We keep our costs as low as possible but we've been hit by increases in the print costs for our monthly newspaper – up 83% in the last 12 months.
Could you help support local community news by making a one off donation, or even better taking out a supporters subscription?
Donate here, or sign up for a subscription at bit.ly/SLLsubscribe