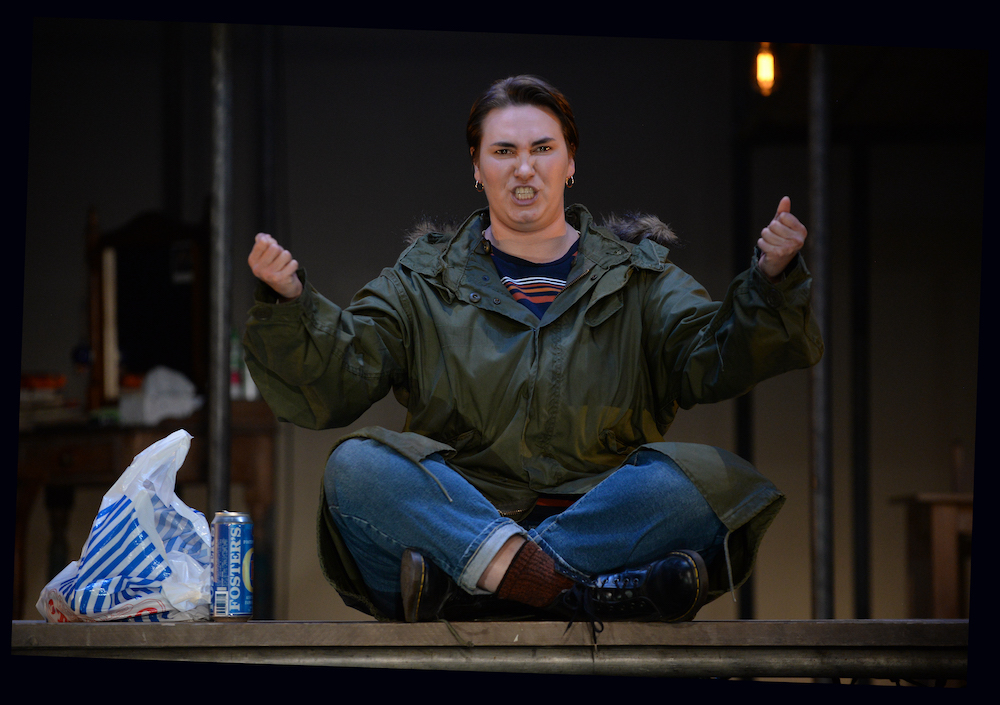 It was amazing to be back at Leeds Playhouse to see Decades: Stories From The City – six monologues specially commissioned from northern writers to celebrate the 50th anniversary of the Playhouse.
It seemed a little odd at first with the audience very much diminished to take into account social distancing but after a while it just felt more intimate and I felt much closer to what was happening on the stage.
The stage setting was also sparse, it always amazes me how such minimal changes between acts (or in this case whole plays) can evoke a place and time so successfully.
The Bodyguard (1970s) By Simon Armitage, Directed by James Brining, Performed by Connor Elliott as Wilf
"We've got a new Prime Minister.  She's got big blonde hair that lifts up at the front like a curl of butter on the blade of a knife."
It's not often you hear about the terrible time in West Yorkshire when the ripper was on the loose from the perspective of a male teenager. A very funny young teenager who has to meet his Mam off the bus just in case. Armed with his Doc Martins tied up extra tight and a cookie cutter, Wilf is relieved when his detective work shows the ripper is not his Dad.
Nicer than Orange Squash (1980s) By Alice Nutter, Directed by Evie Manning, Performed by Isobel Coward as Loz
A young woman, Loz is finding her way in the world as a somewhat reluctant activist and the resident of a squat. Loz finds out that her boyfriend may not be what he first appears and tells us about it all with great humour and energy.
Don't You Know it's Going to be Alright (1990s) By Maxine Peake, Directed by Amy Leach, Performed by Eva Scott as Danny
Danny pops some pills in Leeds Market and tells us about her about her dubious father and the illegal rave her sister is arrested at. You really feel for her as she tells us of her struggles in her unique and hilarious voice.
The Unknown (2000s) By Leanna Benjamin Directed by Amanda Huxtable Performed by Nicole Botha as Sophia
"Majestyk is going to be rammed. Yeah, I know I'm too old for clubbing."
Sophia has moved back to Leeds and as the new Millennium approaches we see her struggling with her body and wrestling with the loss of her Mum and with asking anyone for help. A heart-rending and touching performance.
After we sailed a thousand skies (2010s) By Kamal Kaan Directed by Sameena Hussain Performed by Cassie Layton as Layla
"Is this the city for me?"
A poignant piece told by Layla, an immigrant in Leeds, the City of Sanctuary. For a while this accolade of the city doesn't exactly ring true for Layla, but after trials and tribulations she finally rediscovers her own voice and we get to hear it.
Pie in the Bus Stop (2020s) By Stan Owens Directed by Tess Seddon Performed by Akiel Dowe as Jamie
"What kind of grown adult doesn't know how to make beans on toast?"
Jamie waits for his bus, called constantly by his Mum to check where he is, ask him to bring shopping, let him know she has eaten his chicken he was saving for tea, check again – where is he? As he tells us about his exciting plans to move out with a friend, he slowly comes to the realisation that Mum needs him at home. After he lets his friend know he can't move out just yet, we see his anger at the lack of empathy his almost-house-mate expresses.
All six Decades: Stories From The City monologues are also available to enjoy online At Home via the Playhouse website from 24 May – 5 June
leedsplayhouse.org.uk/events/decades/
Photo: Eva Scott (Danny) Don't You Know It's Going to be Alright (90s) by Maxine Peake. Photo Sharron Wallace