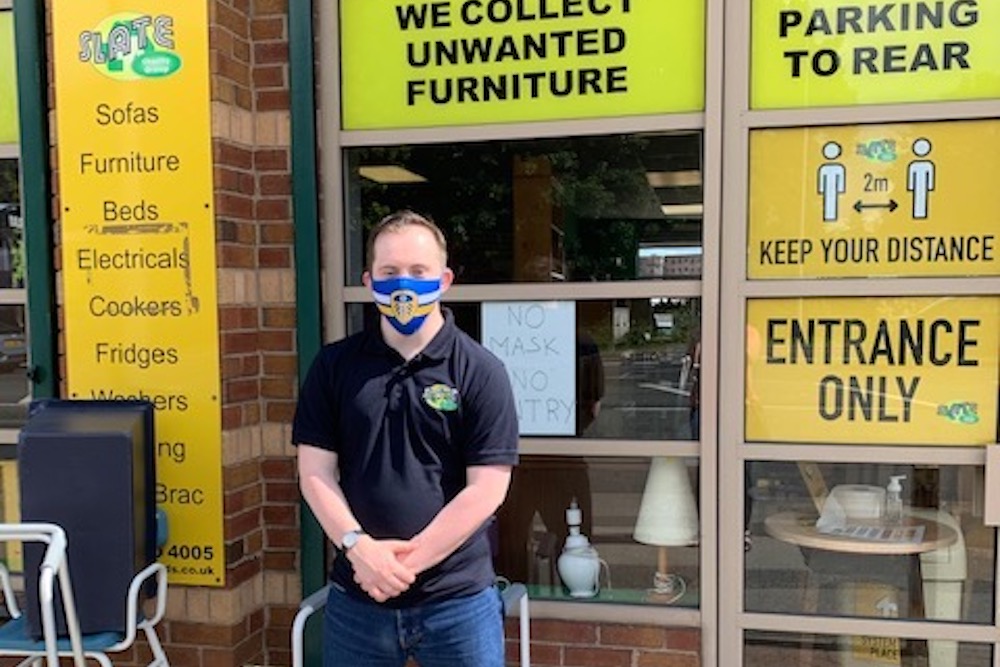 SLATE, the furniture recycling social enterprise, is special because of its amazing volunteer team. Matthew, who has learning disabilites, is a really valued member of the SLATE team, working hard as a volunteer to look after customers and colleagues alike. This is his article:
When we went into lockdown in March my life really changed. I had to stop doing lots of the things I enjoy most – going to watch Leeds United, visiting the gym, eating out, spending time with family and going to work at SLATE. Things are slowly going back to normal – Leeds United are Champions and this week I can return to work. I've really missed seeing my friends and working there but I wanted to see how things have changed so that I will be prepared. I went to the shop in Hunslet and interviewed Dave to see what is different.
The first thing I saw was the sign on the door saying that you couldn't go in without a mask. I've been wearing my Leeds United mask when I go shopping and always take it with me when I go out so I had it with me. Just inside the door there is a table with hand sanitiser. It is really important that we all wash our hands and sanitise them. There are clear arrows on the floor so that everyone knows which way to go and it will stop people bumping into each other.
Dave explained some of the other things that he has done to make sure all of the team and customers are safe. Staff wear visors. They are a bit more comfortable then wearing masks all day and you can see people's faces clearly. They are cleaned regularly. You have to wear them properly though – not like a baseball cap! Customers are reminded to wear a mask if they come in without one but Dave said that so far, everyone has been really good about it.
The shop used to be open from 9am-5pm but now it's open to customers from 10am-4pm. This is so that in the first hour and last hour new things can be brought in and the shop can be cleaned. We can also make sure that everything is priced up before the customers come in. Furniture won't be moved around when customers are in the shop. I had a look around the shop and could see that there is more room to move about without people getting too close to each other. Customers have to come in at the front of the shop and go out at the back.
There will be a smaller team working in the shop each day so that there aren't too many people. Only one person at a time can go in the kitchen. There were signs up to remind us of some things we need to do if we are in there. We can't make fresh food so I will be taking a sandwich with me.
Dave made it very clear that keeping everyone safe is the most important thing and now I can't wait to get back to work.
This post was written by Matthew
We encourage anyone living or working in South Leeds to use this website to tell their news. You can either use the Create an article for South Leeds Life page, or email us at: info@southleedslife.com