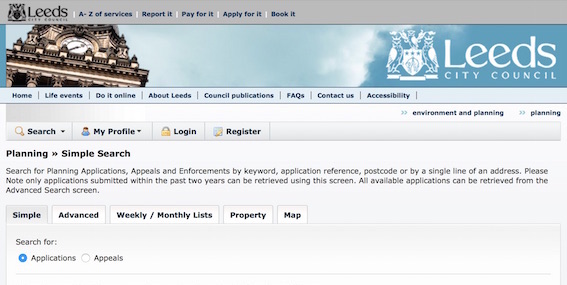 Each week we publish lists of planning applications related to LS10 and LS11 published on on the Leeds City Council website.
The following applications were validated in the week beginning 10 October 2016:
New second floor with dormer windows to front and rear
182 Old Lane Beeston Leeds LS11 8AG
Ref. No: 16/06039/FU | Status: Current
Variation of condition 2 (approved plans) of approval 15/01968/FU for MINOR MATERIAL AMENDMENT to allow an amended site plan showing an additional 11 units to be stored on site
The Cutting Edge Cross Myrtle Street Holbeck Leeds LS10 1BU
Gable Of 295 Dewsbury Road Hunslet Leeds LS11 5LS
2 Cockburn Way Beeston Leeds LS11 5NY
Construction of a mixed use retail-led development (use classes A1, A2, A3, A5, D1, D2 and book maker sui generis) with associated access, parking and landscaping.
Former Site Of Benyon House Ring Road Middleton Middleton Leeds
5.9m single storey rear extension, 3.6m to ridge height and 2.65m to eaves
6 Nesfield Walk Belle Isle Leeds LS10 3LQ
Attached new outbuilding to existing garage to rear
7 Shelldrake Drive Middleton Leeds LS10 3NB