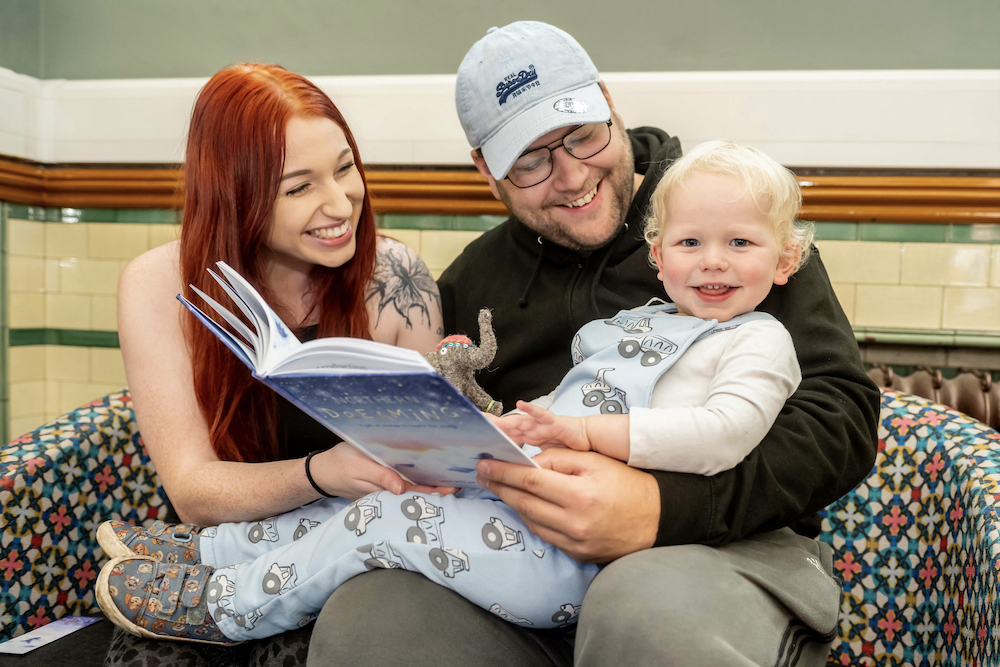 'Northern Dreaming', a special book of new children's stories created by LEEDS 2023 and the British Library, will be gifted to babies born in Leeds this year.
Eighteen original poems and short stories, one for each year of childhood, have been brought together in a specially commissioned book, entitled 'Northern Dreaming', and will be given to children born in the city during the Year of Culture.
LEEDS 2023 and the British Library created the book with early career and published writers, including the current Children's Laureate Joseph Coelho; poet, playwright and broadcaster Lemn Sissay OBE; BBC Young Writers' Award winner Elena Barham and up-and-coming poet – and newly qualified doctor – Safia Khan, to share their unique imaginations for the next generation of dreamers to enjoy.
Officially launched on Thursday (19 October 2023) at Armley Library's Story & Rhyme Time, 13,000 copies of 'Northern Dreaming' are now freely available for parents and carers with children born in 2023 to collect from Libraries and Children's Centres across the city. An audio book version will be available via LEEDS 2023 Spotify from early November and later on the British Library's Discovering Children's Books webpage. Copies of the book will be supplied to all 309 primary and secondary schools in Leeds and made available in school libraries for all children to enjoy.
Storytelling performances of the first part of the book, aimed at 0-7 year olds, are touring to Early Years settings and schools, as well as community settings such as libraries, community centres, social clubs and parent and toddler groups across Leeds. There will also be storytelling sessions at the LEEDS 2023 shop in the Trinity Centre on Monday 30 October.
Kully Thiarai, Creative Director and CEO of LEEDS 2023 said:
"In this, our final chapter of our Year of Culture, I am delighted to be able to share my love of books with the young people of the city through this gift specially created for the children of Leeds.

"Books have opened up the world to me in so many ways; the stories and adventures offering fuel for my own imagination and acting as a compass bearing throughout my life. In giving a copy to children born this year, I hope that it will be something that they and their families treasure as they grow up and feel proud that in the year they were born, Leeds prioritised and celebrated culture and the power of storytelling.

"It is vital too that we make sure those young people who already live and play here get the chance to enjoy these wonderful new poems and stories so I encourage everyone to seek out a copy of 'Northern Dreaming' from the community or school libraries and I hope it will inspire and ignite imaginations to run free in childhood and far beyond, making their own northern dreams a reality."
The 'Northern Dreaming' book is split into three sections by age group: 0–7 years, 8–12 and 13–18, with five or six stories or poems in each, authored by both established and early writers, many of whom have come from or have ties with the North of England.
Writing for those aged 7 and under are:
poet and picture book writer Freya Bantiff
Elena Barham, BBC Young Writers' Award winner
bestselling author and poet Jen Campbell
Waterstones Children's Laureate Joseph Coelho
poet and newly qualified doctor, Safia Khan
The 8-12 years group can enjoy new work from:
children's and Young Adult author, theatre maker and educationalist Sita Brahmachari
writer Gill Lewis who specialises in writing about nature
Lauren C. Maltas drawing on themes of memory, queerness, the past and future
Anthony McGowan, an acclaimed author of books for children, teenagers and adults
Queer poet and storywriter Luke Worthy
YA fantasy specialist Emily Yates
Young adults, aged 13-18 years, can read works by:
theatre maker and poet Theo Ioannou
author of 'Sofia Khan is Not Obliged' Ayisha Malik
actress, theatre maker and writer Manjeet Mann
punk poet and music journalist Jay Mitra
Tom Palmer who specialises in history and sport fiction for children
writer and poet Beth Tomlin.
Writing by Lemn Sissay bookends 'Northern Dreaming' with 'The Story of You', a creative prompt encouraging young readers to develop their own writing.
Jamie Andrews, Director of Public Engagement at the British Library, said:
"Stories are the most precious gift of all and we, at the British Library, are lucky to care for over 3000 years' of stories from all around the world. The Library's mission is to make our collection accessible to everyone, and we hope Northern Dreaming empowers the next generation of storytellers and readers. This year we are celebrating 50 years of operation as the UK's national library and we are thrilled to be strengthening our partnership with LEEDS 2023 as we work towards establishing a new, permanent site in the city centre of Leeds."
Stories from 'Northern Dreaming' will also be brought to life in 'The Gifting', an original new show this December from the imaginations of Kully Thiarai and Alan Lane and the unmissable final chapter of LEEDS 2023. Tickets are now on sale here.
This post is based on a press release issued on behalf of LEEDS 2023
Photo: a family enjoying the book at its launch. Credit: JMA Photography
While you're here, can we ask a favour?
South Leeds Life is published by a not-for-profit social enterprise. We keep our costs as low as possible but we've been hit by increases in the print costs for our monthly newspaper – up 83% in the last 12 months.
Could you help support local community news by making a one off donation, or even better taking out a supporters subscription?
Donate here, or sign up for a subscription at bit.ly/SLLsubscribe