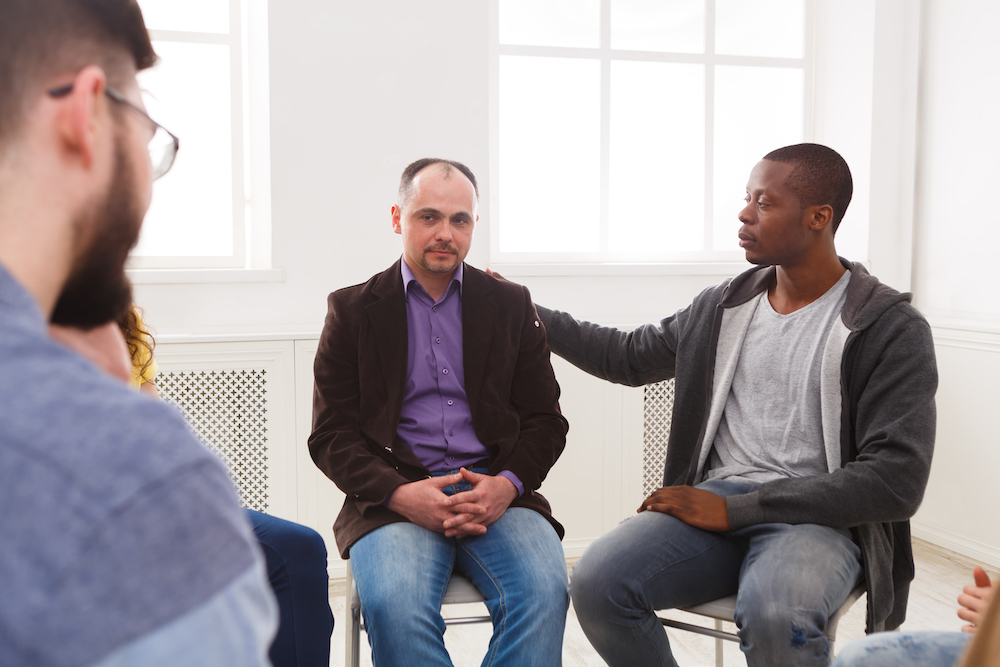 Free laptops to get isolated men online, shopkeepers giving health advice to their male customers, and a new Leeds-based men's magazine, are just some of the aspects of an exciting city-wide men's health project starting this month in Leeds, coordinated by Forum Central.
"Men's Health Unlocked", funded by the National Lottery Community Fund, promises to keep Leeds at the forefront of Men's health nationwide by uniting the different strands of men's work and creating a city-wide network for men's health.
In Leeds, men are more likely to get the severe form of Covid-19 and to die from the virus than women, are five times more likely than women to take their own lives, die on average three years younger, and are more likely to die prematurely from nearly every major disease that are common to all genders.
Professor Alan White, patron of the national Men's Health Forum and who has helped to develop the project, states:
"We know that there are many men across Leeds who have significant health and social care needs. Leeds has been at the forefront of developing community outreach services, but demand is now critical. This funding will provide targeted support and guidance to men of all ages at this unprecedented and challenging time."
To meet the challenge of getting advice, guidance and support to these men, key figures in men's health will now be able to link up, share ideas, learn about Covid and other health challenges specific to men, to make their work even more powerful and far-reaching, and explore ways to take a more gendered approach to men's health at all levels.
"Men's Health Unlocked will be a central meeting point for men, and anyone looking to support men, in the city. A place where they can get up-to-the-minute information on men's health and activities, a place where they can volunteer to play a role in supporting other men, and a place where their voice can be heard and represented to decision-makers at the highest level.", says Damian Dawtry, Project Coordinator.
Not only will Men's Health Unlocked finally bring together this ground-breaking work, it will also be running its own three exciting sub-projects over the course of the next few months, designed to address the immediate needs of men in the light of the pandemic, in particular targeting those men who may be experiencing isolation. These will be delivered by three leading charities with extensive experience in supporting men's health and wellbeing, and coordinated by Forum Central.
Unlock Online
Barca-Leeds will be providing isolated men with internet-enabled tablets, giving them free online access to help them connect with other people and services. They will be able to access vital connections such as men's clubs, or services covering a wide range of areas such as mental health, addiction and money worries.
Unlock Offline
Touchstone will be providing activities for isolated men, with a particular focus on reaching men who are from ethnic minorities.
Manbassador Project
The Orion Partnership will be expanding their much-acclaimed Manbassador Project, working with local businesses to point their regular male customers towards services and activities that might help them with their health and wellbeing.
Unlocked Magazine
As part of the Manbassador Project, Orion will be producing "Unlocked", a regular magazine giving information, advice and entertainment specifically aimed at men who are isolated, as well as important updates on staying safe during the pandemic. This will be shared across the city, both online and offline,  via food banks, Neighbourhood Networks and of course the Manbassadors themselves.
Other Key Partners
For many years, Leeds has been at the forefront of gendered health, with the landmark State of Men's Health in Leeds and State of Women's Health in Leeds reports, as well as the Leeds Suicide Audit, which is held up as the gold standard in suicide analysis nationwide.
Some of the key players in these developments – Professor Alan White, the author of the men's and women's health reports and the first ever Professor of men's health, as well as the Council Public Health team, are partners on this project. Their resources and experience, along with the incredibly effective work being done by organisations big and small out there "on the ground", promise to make this the next big step up in supporting men's health in the city, and keep Leeds at the forefront of men's health nationwide.
Rachel Cooper, a Director at Forum Central, says:
"Engaging and supporting men is a major concern for the charity sector in Leeds and we've striven to learn what works best. So, for example, we know peer support amongst men is really effective in improving mental health and that activities where men are 'shoulder to shoulder' are more comfortable environments for forming new friendships.

"This project is about continuing to knit together and build on what's already out there, share new learning and support men particularly during Covid where they face a whole raft of additional challenges. We are founding this project with a small number of partner organisations who have a strong track record of men's work and want to quickly expand, bringing more and more partners on board.

"We are especially pleased that Damian Dawtry has joined us at Forum Central to lead the project. Damian has long been a strong advocate for men's health in the city and beyond and was instrumental in the success of the pioneering Manbassador scheme."
Damian Dawtry, Men's Health Unlocked Project Coordinator, says:
"There is already some really great gendered work involving men across the city, from the classic "Men in Sheds"-type groups, to courses in self-awareness and community work, through to the more strategic things like the standard-bearing Leeds Suicide Audit.

"Everyone has a part to play in supporting men's health. Our approach aims to bring everyone on board, whatever their gender, background or belief, so that we can address this together.

"The door is always open to anyone who wants to be a part of this network. If for some reason we haven't called you and you think you should be involved, please DO call us."
This post is based on a press release issued by Forum Central