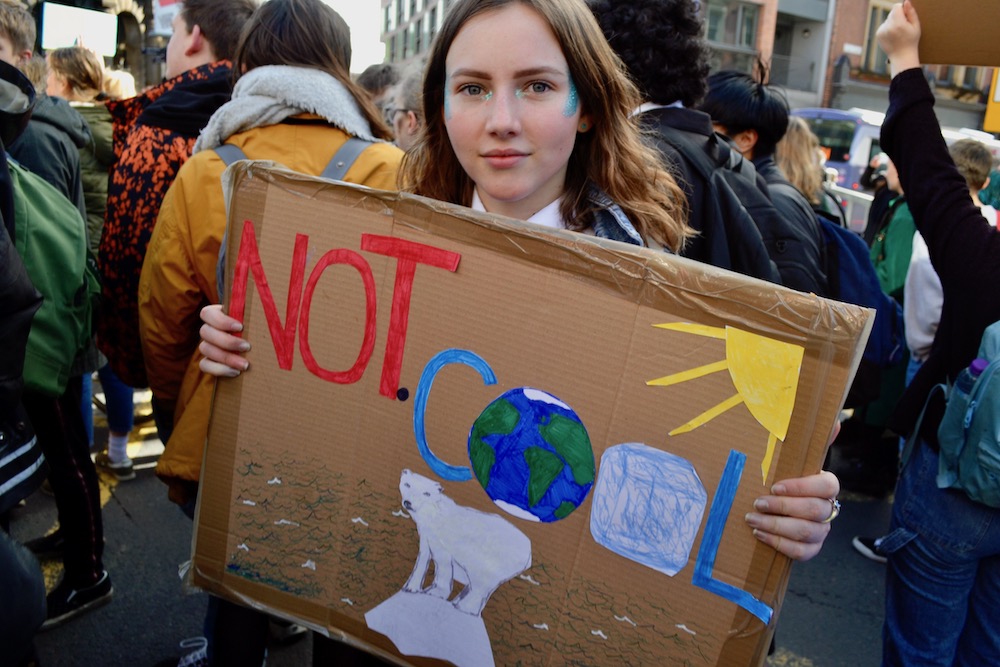 Leeds can become a carbon neutral city by 2050 – and could potentially achieve the 2030 target in the climate emergency motion passed by councillors on 27 March – according to a new "carbon roadmap" report published by the Leeds Climate Commission.
The science-based roadmap report, produced by a team led by Andy Gouldson, Chair of the Leeds Climate Commission and Professor of Environmental Policy at the University of Leeds, sets out the emissions targets required for the city to become carbon neutral by 2050 in line with the United Nations Intergovernmental Panel for Climate Change (IPCC).
For Leeds, that means cutting its 2005 level of emissions by 70% by 2025, 85% by 2030 and then to zero by 2050 (see table below).
Science based carbon reduction targets for Leeds (relative to 2005 levels of emissions):
2025  –  70%
2030  –  85%
2035  –  95%
2040  –  97%
2045  –  99%
2050  –  100%
In October 2018, a landmark report by the IPCC warned that the window for avoiding the worst climate change impacts could close by 2030 unless urgent action is taken to keep global warming within 1.5 degrees Celsius.
The council's Executive Board is set to discuss the proposals from the Leeds Climate Commission and plans for a citywide conversation about the issue at a meeting next week.
Last month, council members voted in favour of declaring a 'climate emergency' and signing up to science-based carbon reduction targets. It also resolved to work to make Leeds carbon neutral by 2030 and called on central government to provide the funding and powers to make this possible.
The Leeds Climate Commission carbon roadmap document shows that the highly ambitious 2030 target could potentially be achieved if behavioural actions that make a global contribution, specifically reducing almost all food waste and reducing meat and dairy consumption and steel and concrete by a third by 2030, are accounted for.
As well as making Leeds more sustainable, many of the proposed changes would help improve the health and wellbeing of residents by further reducing air pollution and encouraging active travel; whilst growing and strengthening the city's economy for all through investments in energy efficient homes, renewable energy and future technologies.
The council has now committed to work with the Leeds Climate Commission to facilitate a citywide 'conversation' throughout the year with residents, trade unions, public sector organisations, businesses and the third sector to develop a plan with the actions and milestones required to reach these ambitious carbon reduction targets. The conversation will be launched at a 'town hall' style public event, the date of which will be announced soon.
However, the Leeds Climate Commission warns against underestimating the "broader challenges" that the city will be required to overcome and the "transformative action" needed for the city to become carbon neutral.
Andy Gouldson, Chair of Leeds Climate Commission, said:
"The good news is that it is technically, and to a large extent, economically possible for Leeds to become a carbon neutral city and meet the carbon reduction targets in line with the global targets set out by the United Nations.

"However, those measures will only take us so far. We need to go further and employ a range of innovative measures to close the gap – and if we step up to the challenge and do all of those, we could close that gap and get to zero by 2050.

"The council's White Paper Motion is even more ambitious and wants the city to work towards being carbon neutral by 2030. We've demonstrated that if Leeds as a city is prepared to rethink the way we use energy, move around and consume some key products this could be doable."
Councillor James Lewis, Executive Member for Resources and Sustainability, said:
"Tackling climate change is an unprecedented global challenge and one which we know that many residents care passionately about solving.

"Leeds City Council are already investing in—and benefiting from—greener technologies such as cleaner and more fuel efficient vehicles, better home insulation, solar panels, and low-energy LED street lighting. We are committed to doing more to tackle climate change and, in the future, the council will consider the carbon impact of every decision it takes.

"As one of the biggest cities in the UK, cities like Leeds have the potential to collectively make a big difference. That's why having an open, inclusive and substantive citywide conversation—to raise awareness, build enthusiasm, and inspire action—is so important.
Some of the actions assessed for the report include switching the heating network to decarbonised hydrogen, retrofitting existing buildings to improve energy efficiency, ensuring that new buildings are carbon neutral, accelerating the roll out of the district heating network, transitioning more vehicles to electric and promoting active travel.
Ensuring that the switch to zero carbon is just and inclusive and that every resident and locality benefits is key to a successful transition.
According to the Climate Commission, delivering the carbon target will require political, social and business support across the city, as well as support from central government, investors and organisations that influence city life.
The report also highlights the substantial role to be played by the largest organisations and energy users in Leeds.
To read the full report, go to: https://democracy.leeds.gov.uk/ieListDocuments.aspx?CId=102&MId=8198&Ver=4
Join the conversation on Twitter by using the hashtag #LeedsCarbonRoadmap and to find out more about the Leeds Climate Commission, visit: leeds.candocities.org.
This post is based on a press release issued on behalf of Leeds City Council and Leeds Climate Commission