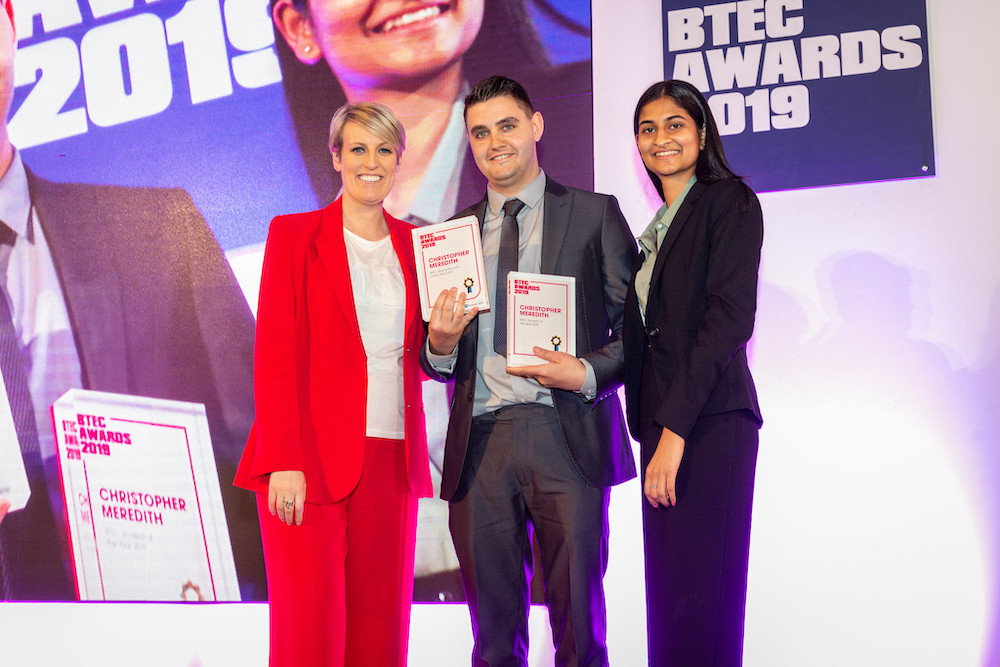 Pearson, the world's learning company, has recognised the extraordinary achievements of students gaining BTEC qualifications at the ninth annual BTEC Awards at Central Hall Westminster. Leeds College of Building Apprentices were among those celebrating.
Christopher Meredith, a Civil Engineering student, was crowned winner of the BTEC Award for 19+ Apprentice of the Year. The judges were so impressed, Christopher was chosen as the recipient of the coveted overall BTEC Student of the Year 2019 Award.
Fellow Leeds College of Building Apprentice, Connor Coupland (AOne+ employee and an ICE Quest Technician Scholar), was also given gold in the national BTEC Award for 16-18 Apprentice of the Year 2019, and Jordan Woods won the bronze award for the Construction Student of the Year. Lecturer, Joanna Elvy, won the bronze award for the Teacher/Tutor of the Year.
Spanning 24 categories, the Pearson BTEC Awards were hosted by financial journalist and TV Presenter Steph McGovern. They showcase the fantastic effort made by students to gain recognised qualifications which are heavily in demand from employers and universities.
The ceremony was attended by the winners, their families and teachers as well as leading representatives from education and business. An expert panel of 52 judges carefully considered each nominee before deciding upon a winner.
Members of Parliament and celebrities were also present alongside the winners and judges to hear the students' success stories and present them with their Awards. Double Olympic Gold medallist and BTEC Ambassador Max Whitlock presented the Award for BTEC School of the Year 2019 and shared with Steph McGovern his experiences competing as one of the world's elite sportsmen, the importance of teamwork, and his goals for Tokyo 2020.
Also performing on the day were the four winners of the Showstopper Challenge, groups from schools and colleges offering BTECs in the performing arts: Deanery High School, D16 Performing Arts College, Jackie Palmer Academy and Bury College.
Rod Bristow, President of Pearson in the UK, said:
"All of those that won this year deserve huge congratulations and stand every chance of continuing that success into the careers they are now ready to start. This year's awards are a fantastic celebration of them, alongside the schools, colleges, universities, training providers, and employers who have underpinned their efforts. But I also want to congratulate every single one of the hundreds of thousands of students who will be awarded a BTEC qualification this year. All of them now have the confidence that they have earned a qualification which is recognised by employers small and large, by universities across Britain and around the world."
Derek Whitehead, CEO & Principal at Leeds College of Building, said:
"We are delighted with the achievement of our Apprentices, winning some of the top awards in education against strong competition in the sector. Receiving these outstanding accolades is a testament to the hard work of these Apprentices but also the dedication of the staff at Leeds College of Building. Our civil engineering apprentices have won one of the National BTEC Apprentice awards for the past six years, and we are delighted to be recognised and showcased on this national platform."
Vicky Patterson, Curriculum Manager for Technical and Professional Apprenticeships at Leeds College of Building, said:
"I am incredibly proud of our Apprentices. We continually try to go above and beyond our normal duties to enhance the Apprentices' experiences and ensure that we produce the most creative and brilliant young Technicians and Engineers of the future. Special thanks to the employers associated with the College for their continued support and the opportunities they provide to our students and apprentices; together, we can play our part in supporting industry needs."
Christopher, who works for Jacobs, said:
"I didn't have the best start in life, but I am now a successful person and role model, and it is all thanks to BTEC. I am so grateful […] Recently, I was awarded the ICE QUEST Technician Plus Scholarship, which is given to exemplary apprentices who demonstrate exceptional potential. My employer and lecturers were there to see me receive my award. I was very honoured."
Jacobs Vice President Highways Europe, Vip Gandhi, said:
"Many congratulations to Chris. We're very proud of his terrific achievement and the effort he has invested into his Apprenticeship with Jacobs. He is building meaningful and valuable skills which provide a really strong foundation to develop his career. We look forward to supporting Chris as he builds on this success and seizes the opportunities to shape his future."
This post is based on a press release issued on behalf of Leeds College of Building
Photo: Christopher Meredith receiving the BTEC Award for 19+ Apprentice of the Year and overall BTEC Student of the Year 2019 Award from TV Presenter Steph McGovern (L) and BTEC Student of the Year 2018, Rachna Udasi (R).