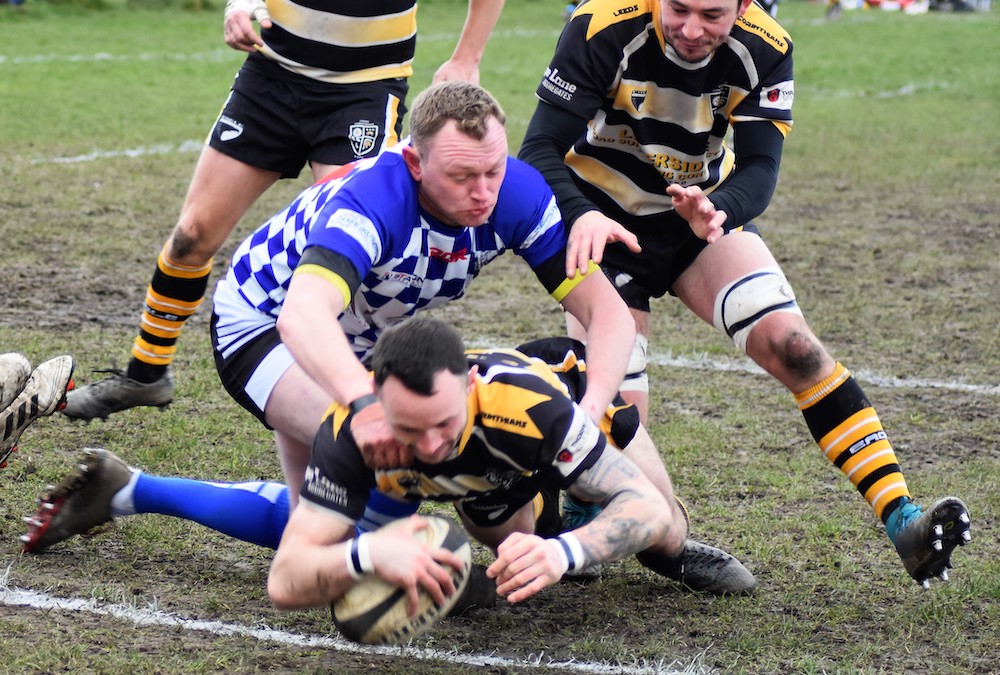 Leeds Corinthians RUFC entertained Knottingley on Saturday (1 February 2020) in a crucial top of the table clash.
Corinthians were in first place, but Knottingley had a game in hand so everything was to play for. Corinthians had won both of the previous meetings this season, but by the narrowest of margins and another close game was expected.
After both packs tested each other early in the game it was Corinthians who drew first blood with a penalty goal from Gareth Moore. Knottingley equalised 7 minutes later with a kick of their own.
The rest of the half was either spoilt by the windy conditions or with Knottingley trying to smash their way through the middle using their big forwards. Corinthians defence held firm until the last 30 seconds of the half when Knottingley crossed for an unconverted try and an 8-3 half time lead.
Corinthians began the second half the stronger and tried to play a faster wider game. They were rewarded after 11 minutes of the half when a good break down the right found hooker Josh Cassar, he managed to beat two defenders to cross in the corner. Buoyed by this Corinthians continued to attack.
A great break by wing Ellis Robinson saw him stopped short, but a massive tackle by fellow wing James Addis who was supporting well turned the ball over and allowed Robinson to regather and dive over for the score.
With just under 20 minutes remaining Corinthians were on the front foot, but Knottingley refused to give in and continued to batter the Corinthians' defence. Just when it seemed the Corinthians defence would hold out, with only 4 minutes left on the clock they were harshly penalised at a scrum. Knottingley chose to scrum again and their no 8 crashed over under the posts to give his side a 15-13 lead.
Victory seemed to be going the visitors way, but with only 2 minutes to rectify matters Corinthians had other ideas. A great break down the middle of the field and some excellent handling which involved half the team resulted in full back Gareth Moore crossing for a well deserved try and a well deserved victory.
Corinthians now hold a 7 point lead at the top of Yorkshire 3 with the rest of the season well and truly in their own hands.
Next week Corinthians travel to face Rotherham Phoenix (8 February 2020)