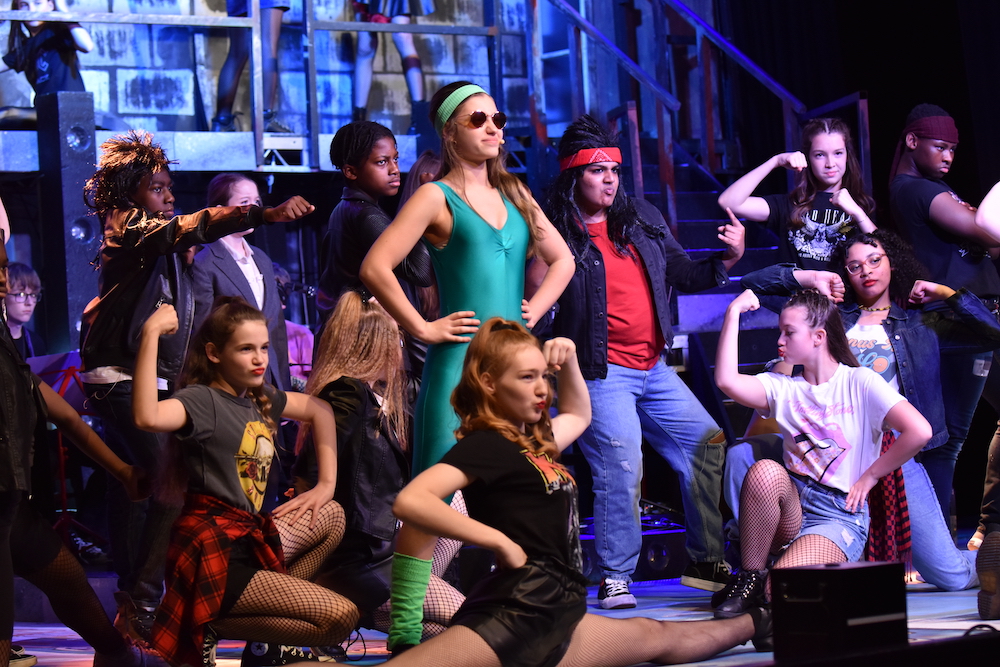 Cockburn School (Specialist Status in Performing Arts) offers unique opportunities in the Performing Arts for 2023 admissions.
Cockburn School offers a specialist programme for students who display a talent within the Performing Arts. The training supports a vast and varied curriculum with over 7 hours of additional coaching in Drama, Dance and Music.
Students who are in search of a secondary school for September 2024 are invited to audition for this exciting new programme, essential for those eager to pursue a career in the Arts. Auditions take place on Thursday 9 November 2023 and the application deadline is Tuesday 31 October 2023.
Subject Leader of Drama, Sarah Kilner, who leads on the programme explained how the audition process works:
"The audition process depends on the young person's area of specialism. For Drama they will take part in a creative workshop, learning new skills and devising a performance piece.

"Within the Dance specialism audition they will learn a motif and perform a creative task. If they have a talent in Music they will have the opportunity to prepare a performance on their chosen instrument or demonstrate vocal ability.

"The audition day is a lot of fun and it is great to see how much talent and enthusiasm the kids in South Leeds have for the arts."
Cockburn School's provision in the arts has been awarded Artsmark Platinum status in recognition of the school's commitment to, and excellence in, arts education.
Artsmark is Arts Council England's award recognising excellence in cultural education. It celebrates schools' commitment to embracing arts across the curriculum and bringing creative learning to life for children and young people.
They create stunning performances including their annual musical theatre productions in December which amaze audiences.
These productions are followed by a host of performances in the state-of-the-art Cockburn School theatre as well as a host of regional and national venues that have included the Leeds Arena and York Theatre Royal and the National Cycling centre.
Cockburn School students have also performed as supporting artists in BBC shows and they have close links with many local agencies.
One new member of staff at Cockburn School stated that she has "never seen such a close, friendly and dedicated group of staff and students. They work for many hours in rehearsal to make performances happen and are a credit to the school. I can't wait to get started!"
Cockburn School continues to celebrate outstanding exam results in their Arts qualifications with Dance, Music and Drama results way above national averages. The additional performance opportunities and events have grown year on year.
There are over 8 specialist performing arts companies who perform at local, regional and national events on a regular basis. These are supported by the performing arts staff and a large creative team responsible for costume and set design which includes parents/carers and members of the local community.
The Performing Arts team develop well rounded, confident and skilled performers in all areas of the arts. Past students have gone on to success in full time education at Post 16 and university and are now in professional companies including the world renowned Rambert Contemporary Dance Company, Urdang, Cruise ships and Addict Dance Company.
If you would like to be part of this specialist secondary education, then please visit the Cockburn School website www.cockburnschool.org for more information. Any further questions or completed application forms can be sent to PA10@cockburnschool.org or delivered to Cockburn School, Gipsy Lane, Leeds, LS11 5TT.
This post is based on a press release issued by Cockburn School
While you're here, can we ask a favour?
South Leeds Life is published by a not-for-profit social enterprise. We keep our costs as low as possible but we've been hit by increases in the print costs for our monthly newspaper – up 83% in the last 12 months.
Could you help support local community news by making a one off donation, or even better taking out a supporters subscription?
Donate here, or sign up for a subscription at bit.ly/SLLsubscribe