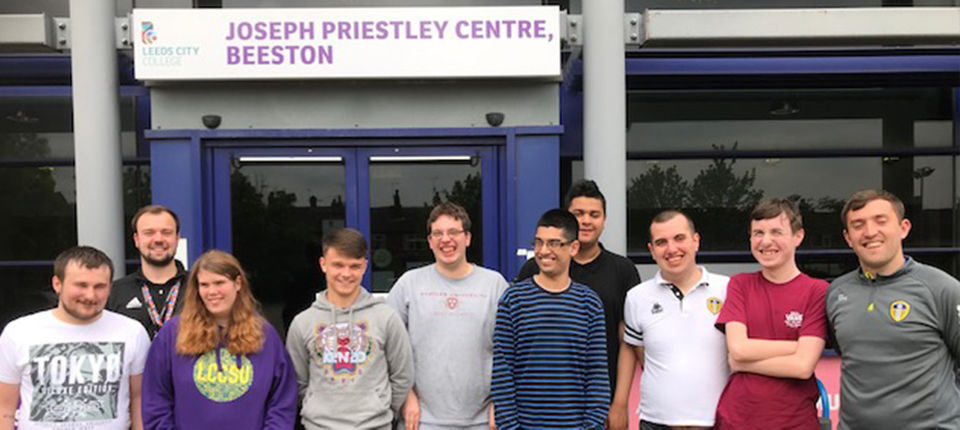 Leeds United star attends disability session with Leeds City College students.
Jamie Shackleton was on hand at a football session with disabled students at Leeds City College recently as part of the work they do with the Leeds United Foundation.
The Academy youngster spent time meeting some of the students that have been taking part in football sessions throughout the 2018/19 academic year with foundation staff. During these sessions they have not only been improving their skills and fitness levels but also been learning about the rules of football and developing their confidence, leadership and teamwork skills.
The club's official charity deliver one hour sessions every week with the Leeds City College students at the Beeston Campus and during the session on Wednesday afternoon, the learners had the chance to show the 19-year-old everything they've learnt over the past nine months during a mini-match.
At the end of the game a Q and A session was held with the dynamic and versatile player and Shackleton was then on hand to have photos with the students and sign autographs.
Following the visit, the Leeds United star said: "It was great coming along today and meeting all of the students, hearing about everything they've been learning with the foundation – not just improving their football skills but learning more about the club as well.
"So many of them just love playing football which was really clear to see and if me coming along helped to put some smiles on their faces and encouraged them that little bit more then that's great."
For more information about the disability programmes and initiatives being delivered by the club and foundation, please contact Anthony.Hall@leedsunited.com.
This post is based on a press release issued by Leeds United Foundation