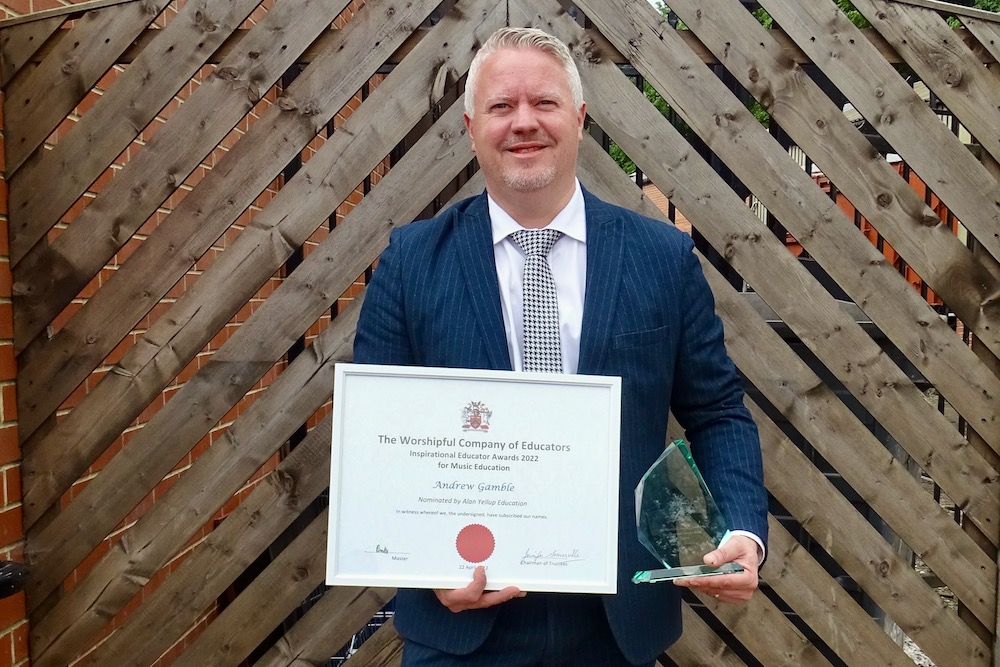 Andy Gamble, the Executive Headteacher of the Low Road and Windmill Music Federation has been recognised as an 'Inspirational Educator for Music Education' by the Worshipful Company of Educators.
Andy received the prestigious national award at a black-tie ceremony at the Plaisterers Hall in the City of London at the end of April. Part of the citation reads:
"Andrew has a passionate belief in the power of music making to enhance the whole curriculum. He believes that, at its best, learning to perform a musical instrument proficiently not only develops skills of dexterity and the ability to read and understand an abstract language, but enhances concentration, develops patience and resilience, raises self-esteem and how to cope with setbacks. It is learnt in a social and co-operative environment that requires respect of and dependence on others. These attributes are valuable to all subjects in the curriculum."
Ten years ago the schools became the first in the country to partner with Opera North for their In Harmony programme. This involves the whole school, pupils and staff, learning an instrument and singing. And readers may remember that pupils from the schools reached the semi-final of Britain's Got Talent in 2020, working with contemporary company Class Dynamix. Music is truly embedded into school life.
I caught up with Andy at Windmill Primary School in Belle Isle to ask him about the award. He greeted me in jeans and polo shirts rather than his usual suit, as he had come straight from working on the new garden at Low Road. Andy is nothing if not hands on.
He tells me how important music is to the two schools, down to the rebranding he oversaw when he took over as Headteacher, having been on the staff at Windmill for over twenty years. He describes it as a "Unifying thread through our curriculum." But he explained:
"It's not because we want the kids to be amazing musicians at the end of the day, that's a bi-product, but the skills that they're learning through learning an instrument, learning to sing and having the exposure, for us it's about self-confidence, it's about camaraderie, teamwork, social etiquette, learning to take turns, and learning the formalities of growing into a rounded citizen of the future. Hopefully a citizen that will remain in Leeds, in Belle Isle and Hunslet and go onto greater things."
Results, measured via SATs tests, have risen over recent years. Children at both schools have a low starting point compared with children nationally, but the schools had some of the highest progress scores in Yorkshire in the last publish results in 2019. But Andy is cautious about putting that down to the music.
"I don't think you can attribute this success to the music directly" he said. "I think it's the culture of the schools. As educators we have to get the results, but we have to have a balanced curriculum. We've put most of our eggs in the music basket, but not at the expense of science or geography or history."
I asked Andy if he thought music had helped the children cope with the pandemic and the mental health issues many have faced. He said thought it probably had, but had no direct evidence.
Then he told me of an experience a few years ago. A child who was in a very difficult situation at home and struggled with his behaviour in school and would occasionally 'kick off'. On one occasion Andy was called to help after he had stormed out of his classroom. Andy eventually found him in the toilets, he had collected his violin and was playing it, quite angrily. He was lashing out on the instrument rather than knocking books off shelves or kicking chairs over. He had chosen that as an avenue to get rid of his fury.
"That opened my eyes to the fact that you can reach people with music in a different way. So many children coming into school from different countries and music is an international language, so on day one even if they don't have a word of English they can join in with the music and we can bond."
The award was made to Andy personally, but he is clear that it reflects on the whole community and he's very proud of that.
"For Belle Isle and Hunslet to have a flagship, recognised, curriculum speaks volumes about the dedication of the community, the staff and the children who live and work in this community and their alliance to the vision of what we're trying to achieve."