19 September .
Super excited to announce my next Inner Child Meditation/ Mindfulness Art Therapy Party! 10/10/22 @ Middleton Bike Park!
Join us for an evening of Meditation, Mindfulness Party Food and Creative Play!! Why should kids be the only ones who get to have all the fun!
In this unique one-of-a-kind workshop "party" all you "big kids" will get to let your hair down and enjoy a night of mindful party games and inner child expression! Activities include:
Pass The Present Moment! A Mindfulness Exercise but with a fun twist on Pass the Parcel where you will receive a lucky bag of surprises, sweets, meditation candles, and affirmation cards!)
Rainbow Retro Party Food! Rainbow Ice Cream Cone Factory with pick and mix sweet sprinkles, Rainbow Fruit Kebabs, other Tasty Party snacks!
Arts and Crafts! Well, where to start! The table is packed full of Mindfulness Art Therapy such as Rock Painting, every person receives a mini canvas, Mini Wooden Log, Mini Hanging Heart to decorate with Gems, feathers, Glitter, Animal and Fairy Stencils and so much more!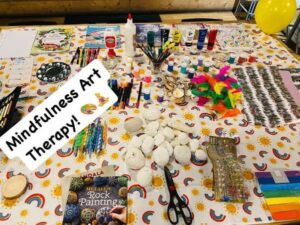 A beautiful Guided Meditation to help nurture your Inner Child!
Happy Unbirthday To You! You get a blank Birthday Card with an envelope to decorate and write a message inside to the "mini you" and we give you your own individual Birthday Cake with a Candle to all blow out together and Make A Wish!
And of course, a soundtrack of nostalgic 80s/90s party music!
I believe so strongly that we all have an inner child within us that needs to feel loved, seen and heard! Inner child play helps you to express your free spirit and experience present moment joy!
The workshop takes place on Monday 10th October at 6.30-9.30 and is only £45pp including all activities, food, drink and take-home crafts!
So, if you want a little magic waving over your life, remember…You're never too old to have fun and play!
All you need is a little Faith, Trust and Glittery Pixie Dust!
Those Who Don't Believe In Magic Will Never Find It!" ~ Walt Disney.
Lots of love and magic from Fairy Deen!
Inbox me with enquiries. Payable by bank transfer or PayPal.
Ken says:
"Fantastic, can't wait to release my inner Child. See you all on the night."
South Leeds Life Volunteer Reporter and Photographer.