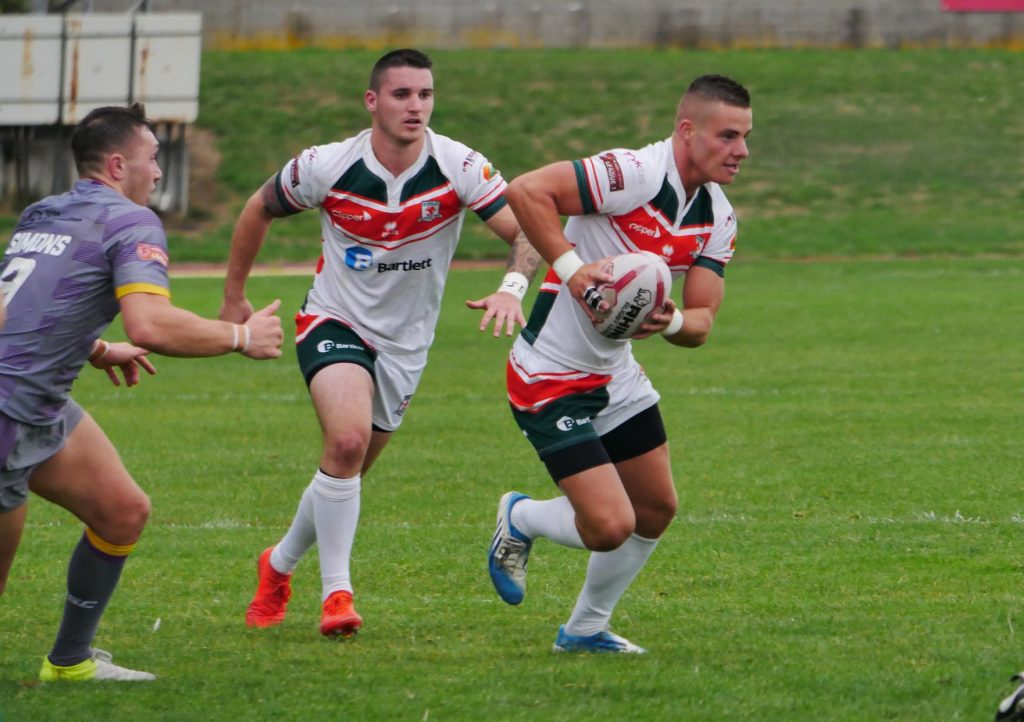 Hunslet RLFC 10-46 Newcastle Thunder
Hunslet ended their home season on a sour note yesterday (16 September 2018) losing to a well-drilled and confident Newcastle Thunder side, making it now almost impossible to qualify for the League 1 promotion play-offs.
Photos: Paul Johnson Phoenix Photography
Missing key players including Tom Ashton, Jimmy Watson, Lewis Reed, Matt Nicholson and Mufaro Mvududu did not help, but in truth Hunslet were second best all afternoon.
Star player Remy Marginet scored for Thunder in the first 5 minutes after Newcastle stole the ball in midfield and the scrum half out paced Hunslet's defence to score. Hunslet had been pressing well, but the momentum turned in Newcastle's favour at this point, and after going 0-8 up with a penalty Thunder stretched it to 0-12 after a 40/20 enabled the visitors to score in the corner.
Hunslet now had a period of pressure, but not for the first time were unable to score, Jack Lee coming closest. When Lee knocked on near the line the Newcastle players celebrated as if they had scored a try.
Deflated, Hunslet now conceded two quick tries with Young and Pointer going over for Newcastle. 0-24 at the break.
Home fans hoping for a resurgence were disappointed when only a minute into the second period the lively Pointer scooted 30 yards to score again for Thunder. Almost immediately Hunslet struck back though with their best period in the game ending with a David Foggin-Johnston try in the corner 4-30.
The situation now called for do-or-die tactics from the Parksiders, and Cain Southernwood was unlucky when a nifty little chip bounced the wrong way only for the impressive Marginet to wrong foot Hunslet and sprint 50 yards to score. 4-34.
Hema got his name on the scoresheet for Hunslet from close range, but any serious fightback ended when tough running forward Josh Tonks was sin-binned for a punch along with the Newcastle recipient.
A penalty stretched Newcastle's lead to 10-36 before Marginet sliced through to complete his hat-trick and at the death former Hunslet man Mo Agoro broke 40 yards to score, celebrating a try against his former club.
The hooter was welcoming for the home side, a 10-46 defeat to a team with no play off aspirations was certainly disappointing, but this season is a learning curve. The players receiving their trophies in the bar afterwards at the annual Player of Season Awards were confident of a better year next year.
Captain and Player of the Season Duane Straugheir led the way saying the atmosphere at the club was fantastic, and with more players committing to next year and the squad being added to 2019 could be a great year for Hunslet.
Hunslet RLFC:  Brierley, Foggin-Johnston, Grimshaw, Williams, Duffy, Sanderson, Southernwood, Flynn, Lee, Hema, Straugheir, Tonks, Foster, Wright, Cooke, Coventry, Mackay.
Newcastle Thunder:  Young, Agoro, Joseph Brown, Alistair Brown, Ritson, Brooke, Marginet, McAvoy, Pointer, Aldous, Fitzsimmons, Ollett, Simons, Sidney, Wheetman, Rennie, Richmond.
This post was written by Ian Pickles.