100 years ago, a mighty war was drawing to its bloody close and local people would have been involved, so I have been asked to research what players and associates of Hunslet RLFC did during the war.
Many of the players, being part-time, would have been miners as coal runs under our area like a black river. Some miners were called up to tunnel under the trenches, but generally it was a reserved occupation. Making uniforms for the soldiers was also a vital job and would have occupied some of the players. Barnbow made ammunition – another job which our players may have done, but finding out which each player did is a difficult task as I haven't found any lists of names for reserved occupations.
However, I have made progress on some and I'm asking for readers of South Leeds Life to help out on others. There must be plenty of you still in the area who know that your great-grandfather played for Hunslet and will have unique information on their war service.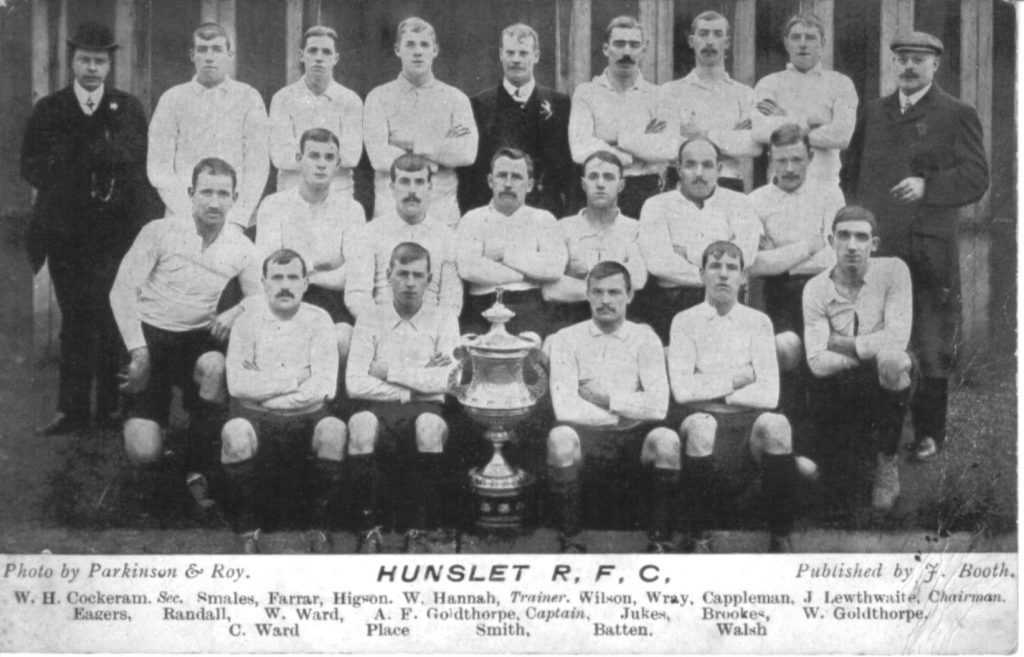 Looking at the old photo taken outside the Pavilion at Hunslet with the 1907- 08 team proudly showing off their trophy, we see Smales (top row, left). This was John Willie Smales who made his debut v. York in the 1905-06 season. In total he played 255 games for Hunslet as well as going on tour to Australia in 1914, so he was an accomplished player. He signed from Outwood Church club and was a forward, but what he did during 1915 to 1918, I can't find out. Was he a miner? Is he your relative?
Next to him is Fred Farrar, known as The Farsley Flyer. He played between 1906 and 1913 for Hunslet. In the 1911 census he's down as 28yr and Professional Footballer. When he signed on he was 5 feet 8½ inches tall and had signed from Bramley. You might think he was too old to be called up but by 1918, the conscription age had risen to 52 years. What did he do during the war?  Do you know?
In front of those two are Eagers and Randall. Jack Randall was one of the Terrible Six – the famous pack of forwards who dominated play. He signed for Hunslet from Featherstone in 1905 when he was 21 years old. I believe he joined the West Yorkshire Regiment and rose to Sergeant before being wounded in action. He died in 1940 aged 56yrs as the landlord of the Shakespeare Hotel on Meanwood Road. But where was he when wounded?
William Joseph Eagers was also wounded and Hunslet put on a benefit game for him in 1921. I've found out quite a bit about him and it makes interesting reading. He'd signed from Bradford in 1905 but was originally from Millom in Cumberland and died there in 1959. Rather than wait to be called up, he went off to join the Legion of Frontiersmen. These were rather like guerrilla fighters at first – a law unto themselves – before the Army took them in, in order to control them. At the age of 38 Billy was off with his gun to Mombasa in East Africa, via a bit of action in Belgium. Rising up the ranks to Sergeant, he ended up in the Royal Fusiliers. Meanwhile, in 1917, his wife died, leaving a daughter, Louie. Between 1918 and 1920, he's still in Africa, this time in the Gold Coast, now called Ghana. So he had an adventurous life, but do you know more details of it?
If you have any details, however small they may seem, about Hunslet players and what they did in the Great War, please contact me via the Hunslet RLFC office.  I have about 100 to find and for some we don't even have photographs or addresses or first names.
This post was written by Pat Benatmane