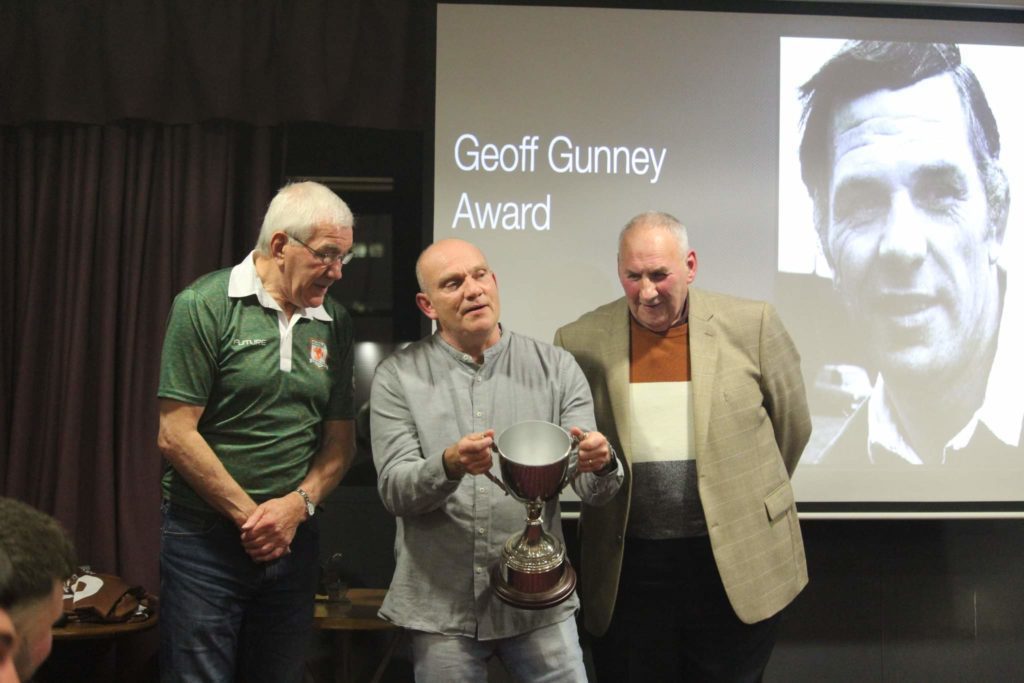 Retiring kitman Trevor Brown is the latest winner of Hunslet's prestigious Geoff Gunney MBE award.
Brown, who has turned the Parksiders' shirts, shorts and socks from pongy to pristine for near-on two decades, in addition to undertaking a host of other duties, was feted at Hunslet's Presentation Night on Friday evening.
Typically modest, he said:
"I'm very honoured, but lots of people deserve this more than me. It's been a big part of my life and I'm stepping down more for health reasons than anything. I've made many friends at Hunslet, the club means a great deal to me, and I'll certainly be down on matchdays to shout on the players and shout at the new kit-man!"
Rugby League legend Geoff Gunney starred for Hunslet – his only club – from 1951 to 1973 and was renowned for his sporting approach. He played in many major matches, including the 1959 Championship Final and the 1965 Challenge Cup Final. A Great Britain international, the second row, who could also operate in the centre or at fullback, was the last man to leave the pitch after the last game at Parkside, against York in April 1973 and, following the ground's sale, was instrumental in immediately launching New Hunslet. Permission has been granted by Leeds City Council for the main stand at the South Leeds Stadium to be named in his honour.
The 2021 Clubperson of the Year is the energetic Ian Pickles, who performs an array of duties ranging from hosting dinners and other events – including, alongside vice chair Fiona Galloway, Friday's bash – to updating Twitter-feed reports on match-days. Ian also write match reports for South Leeds Life.
Two other long-serving volunteers, meanwhile, shared the Exemplary Service accolade. Scott Johnson (whose videos of games are indispensable for the coaching staff and the squad, and whose screen-work underpinned the presentation night) stepped up for his award, while the other went to Gareth Evans, under whose expertise and hard work Hunslet's website has become one of the best in Rugby League.
Presentation nights are primarily about players, however, and hooker Vila Halafihi was a popular choice as Players' Player of the Year. The Coaches' Player gong, selected by Alan Kilshaw and Ryan Jackson, went to winger Wayne Reittie while threequarter Matty Chrimes claimed the Supporters' award.
The Parksiders announced, on the same evening, their home and away strips for 2022. The side will wear the iconic myrtle, white and flame for home games, and will play in the equally famous chocolate and white colours, dating back to the Albert Goldthorpe 'All Four Cups' era, on their travels.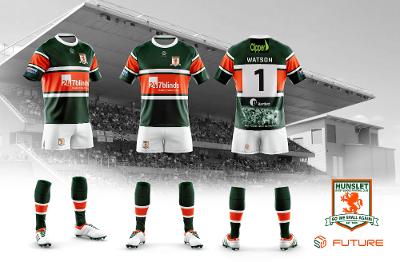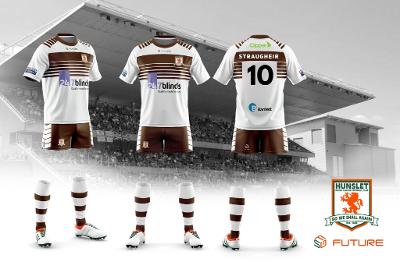 General Manager Chris Chatten, who took office during the summer, said:
"It's become clear to me, in my short time at Hunslet, that there is bags of history, heritage and previous success at one of Rugby League's oldest clubs, which means a lot to our members.

"We intend to share the club's heritage with our youthful 2022 squad as they aim to make a name for themselves in seeking to emulate the achievements of those that have gone before them, and have a season to remember."
The home shirt will display an image of the team that won the 1986-87 Second Division Championship under coaches Peter Jarvis and David Ward. Players from that era will present the new squad with their shirts at an event in January, details of which will be confirmed later.
This post is based on a press release issued by Hunslet RLFC
Photo: Trevor Brown, flanked by Hunslet veterans Kenny Sykes and Peter Jarvis