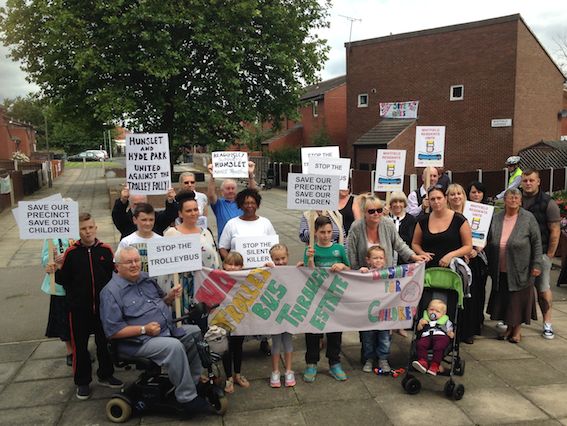 Residents of the Whitfield estate in Hunslet mounted a protest on Friday (15 August 2014) against the proposed route of the NGT Trolleybus through their estate.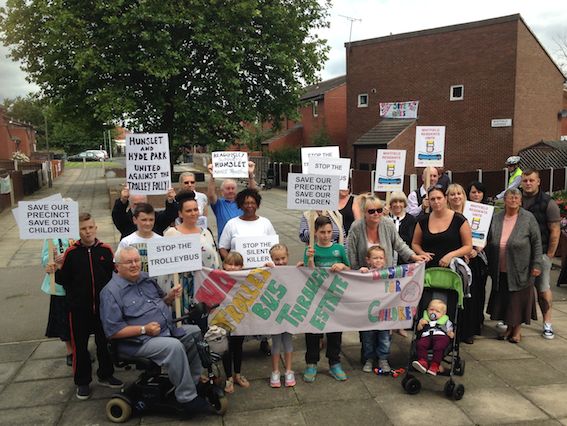 The plans, which are currently being scrutinised by a public enquiry, would see a dual track run along the precinct past Hunslet Library, the Job Centre, the Garden Gate pub and through the Whitfield estate. Because this is two-way route there would be a trolleybus passing the houses every three minutes from 6am until midnight.
The newly reopened and Grade II* listed Garden Gate pub will not only have trolleybuses running in front of it, but will have the overhead cables fixed to its façade.
Residents have hung made home banners from their houses and were joined with their placards by residents from Belle Isle and Headingley, who are also opposed to the Trolleybus.
Deborah Fahey of Hunslet Against The Trolleybus said:
"There is a better route that wouldn't threaten our children's safety. There is a neglected strip of green space running alongside Low Road.

"People are united in opposition to this plan – what you see is the good old fighting spirit of Hunslet."
Residents are also concerned that nearby St Joseph's Primary School will lose part its land and have the trolleybus pass just outside the school. They are also worried that motorists may try and use the trolleybus route through their estate as a short cut, although this will be prohibited.
Hunslet Against The Trolleybus has a Facebook page and can be contacted by email at hunsletagainstthetrolleybus@gmail.com.
More information about the Trolleybus project, including artists impressions of Whitfield Way, can be found on their website at www.ngtmetro.com.