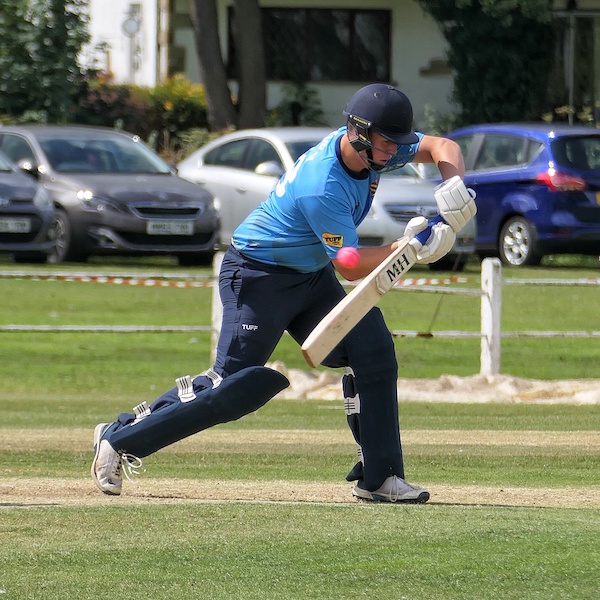 Hunslet Nelson Cricket Club suffered a 7 wicket defeat to Altofts Cricket Club in the Gordon Rigg Twenty20 Cup Finals Day on Sunday (24 July 2022).
Nelson won the toss and captain Jack Scanlon decided to bat. Nelson openers Andy Mcintosh and Asif Ayub put on 54 for the 1st wicket, before McIntosh (30) was caught on the boundary. That brought Australian Kurt Chalker to the crease, shortly after that Ayub (29) was caught. Sam Thewlis joined Chalker in the middle, but unfortunately Chalker was unable to find his from from the previous day and he was caught off the bowling of Jabari Mills for 11.
Nelson were 91-3 when Thomas Hendry went out to the middle, he put on 33 with Thewlis before confusion cost Hendry his wicket for 10. Then Thewlis followed next ball as he tried to clear the rope and was caught in the deep for 19.
Will Stiff (14)and Patrick Hinchliffe (6) rotated the strike looking to put pressure back on the Toff's bowlers before Hinchliffe was stumped. Nelson finished their innings 158/6 off their 20 overs.
Unfortunately for Nelson, Craig Wood was in good form as he went straight from the off. He and ex-Nelson player Saif Tahir looked to put pressure on the Nelson bowlers. Stiff got the breakthrough Nelson needed as Tahir was given out LBW. Wickets for Thewlis and Finn brought Jabari Mills in to the game. He and Wood steered the Toffs to victory as Wood finished on 105 not out.
You can veiw the full score card here:  hunsletnelson.play-cricket.com/website/results/5474241
This post was written by Anthony Ryder

We encourage anyone living or working in South Leeds to use this website to tell their news. You can either use the Create an article for South Leeds Life page, or email us at: info@southleedslife.com