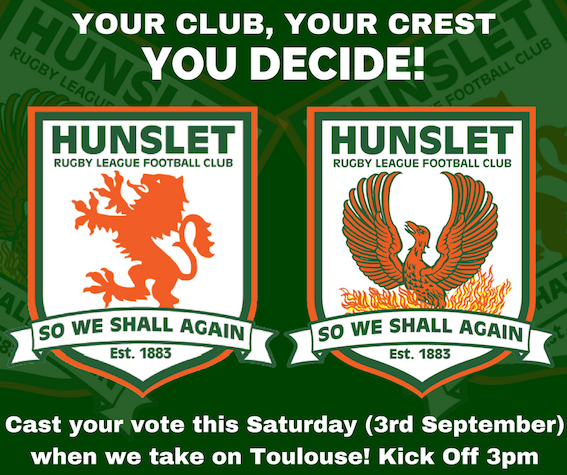 There's been lots of news coming out of South Leeds Stadium this week ahead of Saturday's clash with top of the table Toulouse Olympique.
The match, the Hawks' last scheduled home match of the season, kicks off at 3pm on Saturday (3 September 2016) and the club have announced that admission will be FREE to anyone under 16.
Saturday will also see a fans vote on the new crest for the club after the decision to drop the 'Hawks' tag and rebrand the club as Hunslet RLFC. Two designs have been worked up – do you favour the lion or the phoenix?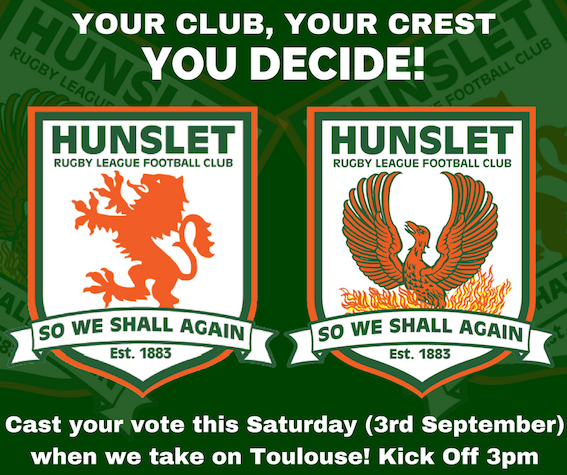 Fans will be please to hear that both Jimmy Watson and Lewis Reed have signed new contracts for next season.
Following the news that Harry Jepson OBE had passed away there was further sad news this week that Frank 'Shanks' Watson had also passed away at the age of 93. Shanks wore the myrtle and flame through the 1940s before a controversial move to Leeds. There is a full obituary on the club website.
As usual we'll have a full match report of the Toulouse match following Saturday's game.