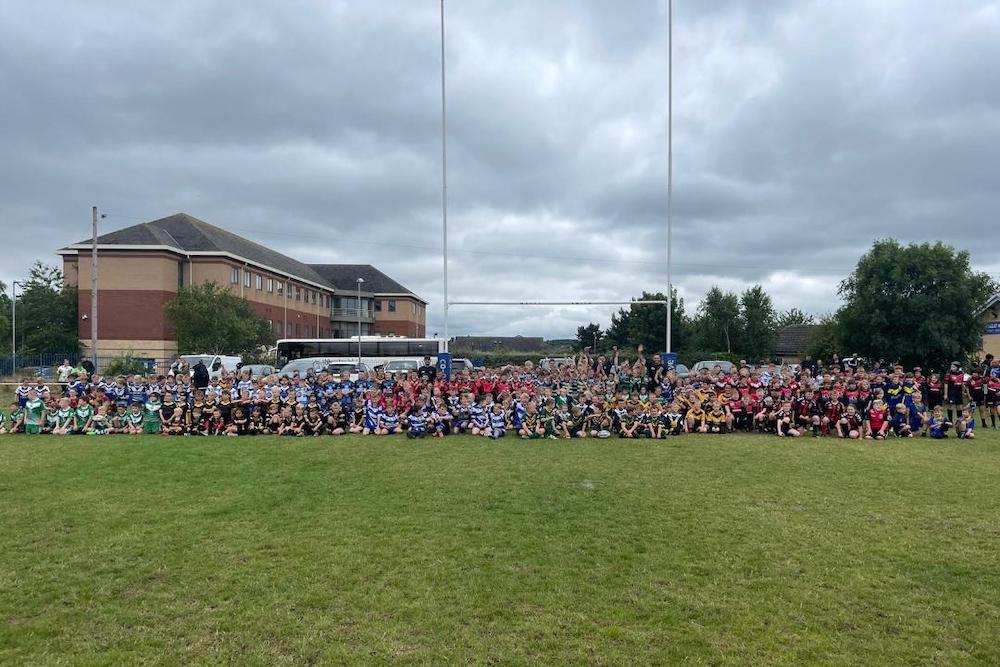 As we start the New Year, Hunslet Foundation's General Manager Michael Nuttall can reflect on what has been another hugely satisfactory twelve months of Rugby League development work in south Leeds.
A real highlight was the inaugural Community Clubs Summer Festival, which took place at Hunslet Warriors and which attracted a host of junior teams from around the north of England.
That memorable event was facilitated by Michael's ever-strengthening relationship with Super League star Luke Gale and the latter's 'Kicking for Grassroots' initiative.
In addition Nuttall, who has been in post for seven years, has also invited teams across the country to play curtain raisers at Hunslet's Betfred League 1 home games at the South Leeds Stadium, while numerous taster sessions were delivered at local amateur clubs including Garforth Tigers, Milford, Morley Knights and the recently-merged Hunslet Club Parkside and Hunslet Warriors outfits. And, on top of doubling the Foundation's schools' provision, Michael Nuttall has established a relationship with local colleges through which students can acquire invaluable work experience.
The tireless Nuttall has also run regular holiday camps and schools' competitions with the backing of new Foundation Board members Matt Keddie, Simon Wilson, Geoff Gray and Neil Dawson, who have joined Peter Jarvis, Kim Groves and Father Chris Buckley.
Nuttall has somehow also found time to run numerous projects, including 'return to play' and 'Rugby League takeover' programmes, and has encouraged work on mental health and wellbeing.
All this could not have been done by only one man and Nuttall hails the decision to bring in a second person – initially Tyler Finister, and latterly Jon Schofield – to assist. He says:
"It's been very hard work, but massively worth it. Simply seeing youngsters enjoying Rugby League and other sports through our efforts – and those of others – is reward in itself as we continue to lay firm foundations for the future of our game in south Leeds and the surrounding area."
This post is based on a press release issued by Hunslet RLFC
Photo: July's Community Clubs Summer Festival
Whilst you're here, can we ask a favour?
South Leeds Life is published by a not-for-profit social enterprise. We keep our costs as low as possible but we've been hit by increases in the print costs for our monthly newspaper – up 83% this year.
Could you help support local community news by making a one off donation, or even better taking out a supporters subscription?
Donate here, or sign up for a subscription at bit.ly/SLLsubscribe