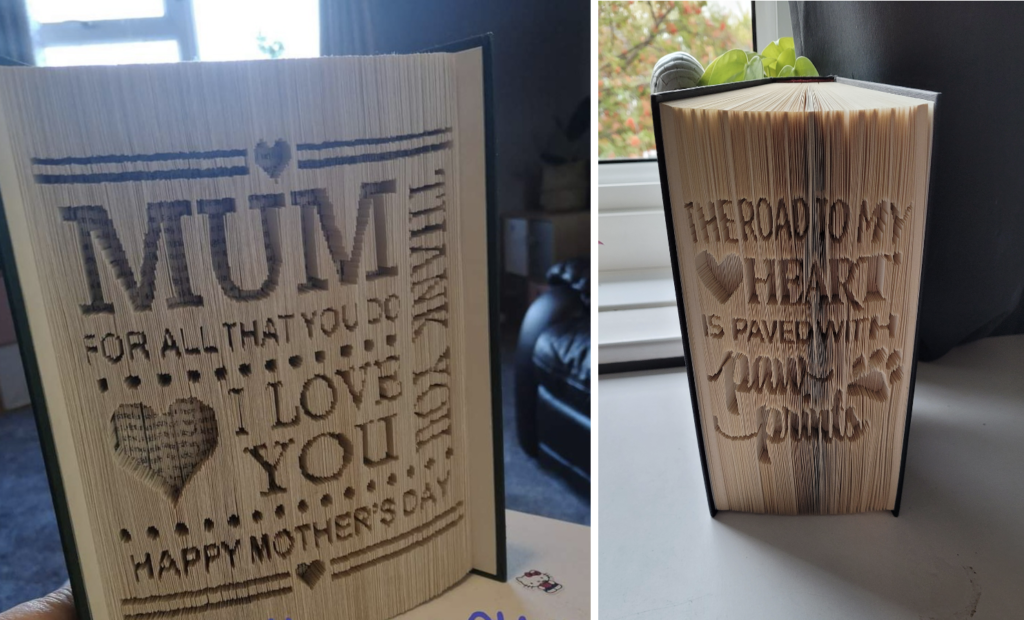 Up until the first lockdown hit, I didnt take part in any arts and crafts.
Although it's a long time since I was at school, getting bad grades in art put me off trying and had knocked my confidence. I mistakenly believed that art was just about creating something perfect. I never realised how art and crafts is so much more than that.
When lockdown hit, the prospect of lots of time alone made me head to YouTube to find tutorials for different crafts, and to buy supplies.
The first craft I tried was book folding. This involves making a pattern inside a book and by cutting and folding you can create an image inside the book. This is what sparked my love and excitement.
Since then I have tried many different crafts. I have upcycled plant pots from paints and fabric. I have made jewellery from crystals, and more recently I have taught mysef to knit on a loom by watching YouTube.
I have found crafting has given me a great way of relaxing and helps me pass time when I am stuck inside because of my chronic illnesses. It has helped me connect with other people online in craft groups. I have learnt art and crafts are more about being able to be creative and express yourself, than it is about being graded. This is now a huge part of my identity and I am always excited to see what I can try next.
I have found a number of challenges whilst trying new crafts. But the main issue I would say is the price it costs to start a new hobby. If I was going to give advice to anyone starting out, it would be to check local facebook groups and the next door app to see if people are gifting items you could use. I think art can be created by something really simple, and you don't need to spend a fortune.
Because I have found so much enjoyment from arts and crafts, my friend and I are hoping to set an art group up in the near future.
This post was written by Hayley Mills

We encourage anyone living or working in South Leeds to use this website to tell their news. You can either use the Create an article for South Leeds Life page, or email us at: info@southleedslife.com