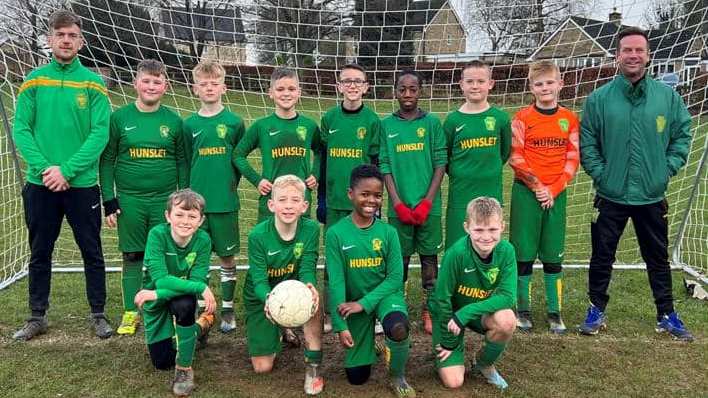 Five years ago this side began their journey when they started to represent The Hunslet Club in 2017.
Since then, the team have progressed rapidly with the support of the club, local coaches and volunteers. This season, the Hunslet Under 11's football team have completed a fantastic achievement in reaching the Leeds and District Cup Final.
Here are a few thoughts from head coach Lee Maguire:
"I am immensely proud of the lads on what they have achieved by reaching the cup final.

"Myself and Arron Stancliffe started to coach them when they were 5/6 years old and to watch most of team stay together and develop at the rate they have makes us extremely proud.

"They have always been a talented group of players, but their rate of progress has even been a surprise to us. As with any group of young players, it has not been without its challenges and to curb their natural competitiveness has been a challenge (the parents will vouch for this!).

"They have certainly matured as players and people over the years, which has culminated in this brilliant cup run this year. We have had great support from the Hunslet Club with particular support provided by Craig Gilmore, Wayne Robbins and more recently Miller Davies."
Here is a quick overview of the progress to the final. Maguire stated that this "wasn't easy due to a tough draw all the way through."
In round 1, the draw saw them up against a recently formed development team, North East Leeds Tigers, securing the win with a brilliant 14 – 1 result. Following this in round 2, was an even tougher draw bringing them up against LS27 from the C leag,ue in which they took another win with a final score of 7-0.
Bringing them to the quarter finals, was the win against fellow A league team, Wigton Moor. This match provided a very tense half time with the score being 0-0. However, the second half saw them accumulate a great 4-0 result.
Then, through to the quarter finals against Collingham, who provided a challenge in the first 15 minutes of the match bringing them 2-0 down. The team showed unbelievable character to keep playing their normal game, bringing them up to a 2-2 tie by half time. Maguire stated that they then produced their 'best 30 minutes of the season so far' securing the win with a 5-2 final score, taking them through to the semi finals.
The semi final saw another challenging draw against another fellow A league team Garforth Villa who they had not played as yet this season. This was undoubtedly the best the team has ever played in all the years together, and one of the best grass roots performances Maguire said he had witnessed overall.
From the very first minute to the last, the team played immaculately with a huge 8-0 victory, seeing them through to the final.
The Hunslet Club, their under 11s and all staff and volunteers are massively proud of their achievements and are looking forward to the final which has now been confirmed on Sunday 20 March. Feel free to go along and show your support (10:30 Kick-Off) when they play against Pannal Ash at Whitkirk FC.
This post was written by Samantha Bailey
We encourage anyone living or working in South Leeds to use this website to tell their news. You can either use the Create an article for South Leeds Life page, or email us at: info@southleedslife.com