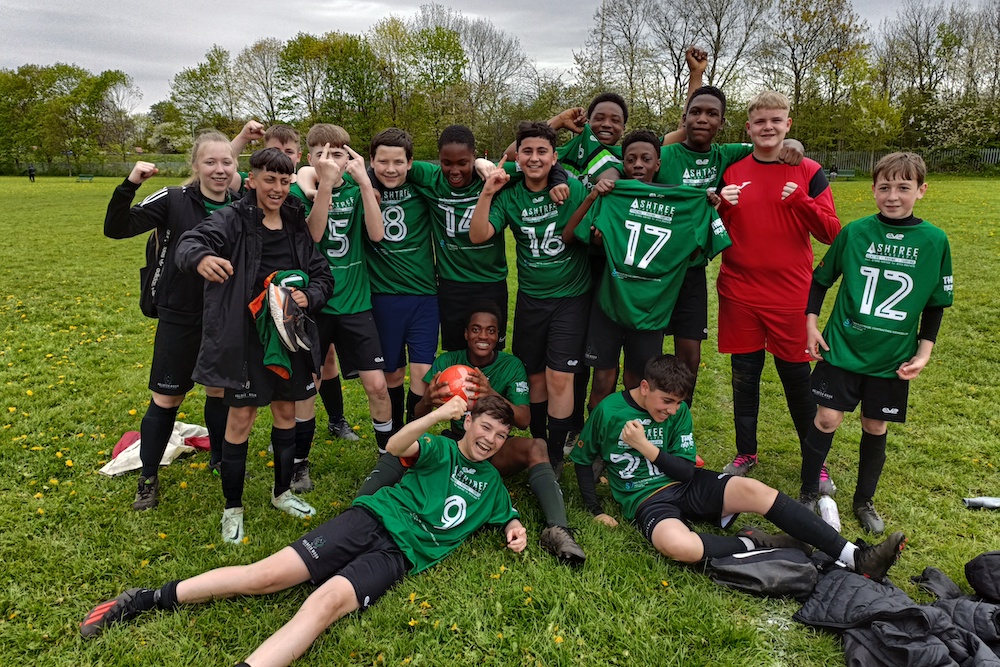 On Sunday (30 April 2023) Holbeck Moor JFC Under 14s were playing their final league game of a gruelling 22 game season and needing 1 point to become league champions. In a season which had already seen them navigate their way to the League Cup Final to be played next Tuesday (9 May).
A season which had seen them play 10 games in the space of 4 weeks in April while several members of the team were fasting through Ramadan, they stuck together as a team to get to this final game against Pontefract Sports & Social.
Having lost the first game of the season to Pontefract and to then not lose another game since then, it was always going to be a tough encounter. And the game itself didn't fail to entertain the gathering crowd on Holbeck Moor.
The match ended in a 1-1 draw with Holbeck Moor JFC getting the required point to win the league, which led to numerous celebrations between parents and kids as they celebrated their achievements after a long tough season. Some people were on the pitch, they thought it was all over … it was, Holbeck Moor JFC were Champions!
With the league season now finished attention switches to the League Cup Final being played at Featherstone Rovers on Tuesday 9 May.
League success for the U14s came on the same day as the U9s team's win in the Garforth Junior Football League Dual Europa Cup.
Club Secretary Chris Gamble had this to say about the weekend's events:
"It's Sunday 30 April, our players and coaches of the Under 14s and Under 9s were getting ready for the biggest games of their season so far. Nerves jangling and the excitement building.

"Myself, the club Secretary and club coach of other age groups, was away on a short break with the family … but we made the trip back to be back for both games. That's what this club and grassroots football does to you.

"The pride and emotion I had personally on Sunday, knowing this happened at a club we created was nothing short of amazing.

"I am unbelievably proud of everyone for what they have achieved this season, from the coaches to the players, both our Under 9s and Under 14s. It wasn't just about the results it was about the people and this is why we love the game we do for moments like this.

"Well done everyone, you've done yourselves, your family and your club proud."
This post was written by Russ Mellor

We encourage anyone living or working in South Leeds to use this website to tell their news. You can either use the Create an article for South Leeds Life page, or email us at: info@southleedslife.com
While you're here, can we ask a favour?
South Leeds Life is published by a not-for-profit social enterprise. We keep our costs as low as possible but we've been hit by increases in the print costs for our monthly newspaper – up 83% in the last 12 months.
Could you help support local community news by making a one off donation, or even better taking out a supporters subscription?
Donate here, or sign up for a subscription at bit.ly/SLLsubscribe