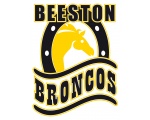 Hunslet Hawks are delighted to have partnered up with local under 11's team Beeston Broncos to take on the might of Wigan Warriors in this weekend's big Challenge Cup clash.
17 young Broncos will be mascots walking out with their heroes at the DW stadium on Sunday.
The Hawks have provided the youngsters and their parents with their own supporters coach to get to the game and are determined to put in a top performance against the Challenge Cup holders to give the Broncos and the rest of the Hunslet travelling fans a day to remember.
The Hawks particularly thanked the Broncos club and Phil Goodfield for his help in coordinating this special event.
Harry the Hawk will be travelling with the Broncos, resplendent in his newly acquired kit sponsored by Gibbs & Dandy.
Phil Goodfield, Beeston Broncos Secretary said:
"Our youngsters are really looking forward to walking out with the Hunslet Hawks players at the DW Stadium. For most of them it will be a first visit to Wigan. Our club is proud to be playing a part in the Hawks big Challenge Cup day on Sunday."