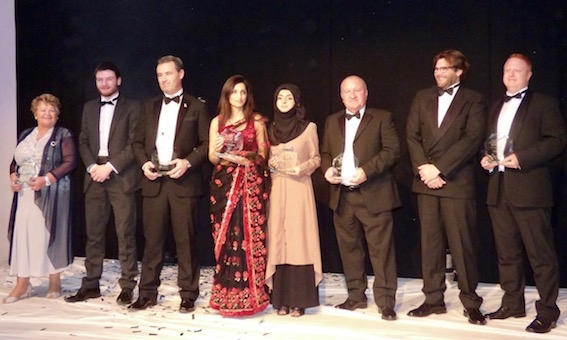 It was an emotional evening at Aagrar on Thursday night (8 December 2016) as the 7th Hamara Community Awards were given out, a new anti-bullying campaign was launched with Asian Express and Hamara bid farewell to their CEO Hanif Malik.
Hanif moved from the private sector twenty years ago to take up the leadership of what was then called South Leeds Elderly Group. Since then Hamara has grown into one of the foremost third sector organisations in the city. Hanif was awarded the OBE earlier this year.
Cllr Judith Blake, Leader of Leeds City Council and a ward member for Middleton and Belle Isle, spoke about the importance of Hanif Malik's role and her friendship with him. In the wake of the 2005 London bombings Hanif played a key role in bringing together the Beeston community in condemnation of the atrocity.
As staff and Board members joined Hanif on stage, the audience gave him a standing ovation.
One of Hamara's strengths is that they react quickly to events. When 11 year old Asad Khan committed suicide having been bullied at school, Hamara teamed up with Asian Express. Last night they launched their joint anti-bullying campaign to try and stop such a tragedy ever happening again.
After some fantastic dancing and singing the highlight of the evening was the awarding of prizes to community champions from around the city. The winners were (L-R in photo):
Lifetime Achievement: Grace Bennett, Keep Fit Association
Special Initiative: James Tennant
Service To The Community: Chief Superintendant Paul Money, West Yorkshire Police
Young Persons Award:  Muzdalfa Ahmed, Member of Youth Parliament
Women's Achievement Award: Priya Bhabra, LCC Migrant Access Project
Community Organisation of the Year: Leeds United Football Trust
Service To The Community: Fareshare