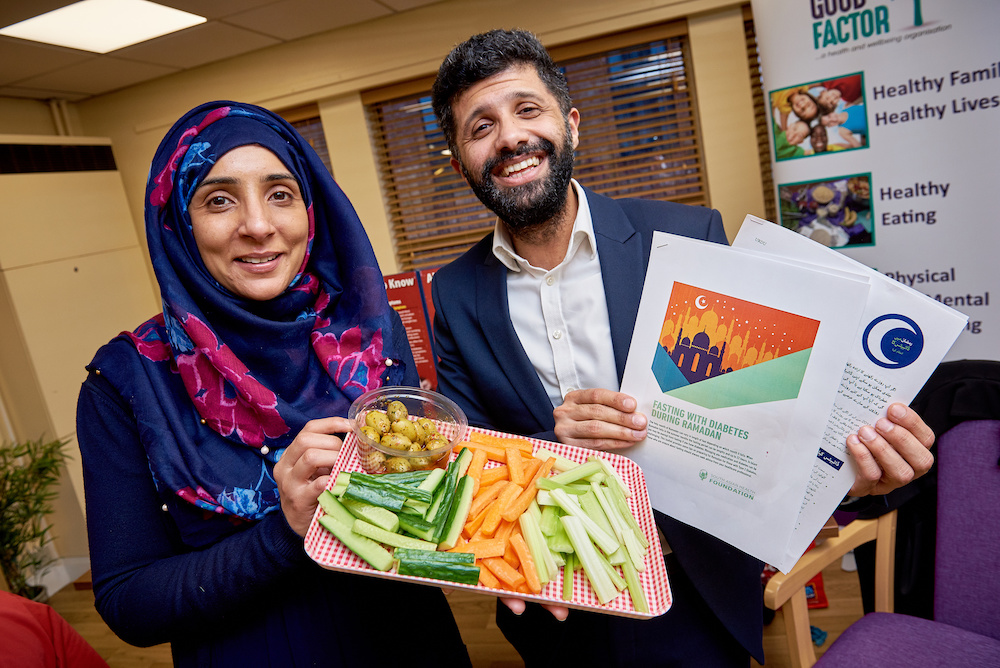 A Leeds GP has put together a short video offering advice to people with Type 2 diabetes who are gearing up for Ramadan which is expected to start on 5 May*.
Dr Mohammed (Mo) Sattar, a GP at Woodhouse Medical Practice, has been working with Leeds GP Confederation to run a series of events helping members of the city's Muslim community understand how they can fast safely while living with Type 2 diabetes. The events have been running over four evenings, with the final one taking place on Tuesday 2 April, with support from Leeds City Council (public health).
Now the GP has put together a short information film to help people through period of fasting during the Islamic holy month of Ramadan:
People attending the events received advice from a range of healthcare professionals covering how to keep blood sugar levels under control and learning some healthy recipes for evening meals. Dr Sattar, a budding DJ at a local community radio station, provided entertainment for attendees.
Type 2 diabetes occurs when a person's blood sugar is too high because their body doesn't produce enough insulin, or their cells don't react to insulin.  It is a leading cause of preventable sight loss and amputation and a major contributor to kidney failure, heart attack, and stroke. 90% of adults with diabetes have this type but it can often be prevented.
Dr Mohammed Sattar said:
"Fasting during the month of Ramadan is one of the five pillars of the Islamic faith. While people who have an illness or an existing medical condition aren't expected to fast, there are many who choose to do so. So it's important that if you have Type 2 diabetes you know the risks and how you can manage them. Some of the things people can do to protect their health includes eating the right foods – such as fruit and vegetables and avoid only eating sweet or fatty foods – and checking your blood sugar levels more regularly than you would normally."
Dr Gordon Sinclair, Clinical Chair at NHS Leeds Clinical Commissioning Group (CCG) and a GP at Burton Croft Surgery, added:
"The Ramadan period can have a significant physical impact on even the most healthy adults especially as daylight hours are much longer at this time of the year. Add in the complication of Type 2 diabetes and the risks to someone's health can increase. I applaud the efforts of my fellow colleague, Dr Sattar, in working with a range of partners to help people with Type 2 diabetes who want to fast during the holy month."
Leisa Batkin, Locality Development facilitator (Cardiovascular Disease) for Leeds GP Confederation, commented:
"We're committed to helping support all those who will be observing their fasts during Ramadan. It's important that not only do we support those with Type 2 diabetes but also anyone who may have a long-term condition. We're encouraging people to speak to a healthcare professional ahead of keeping your fasts."
As well as watching the video https://youtu.be/0HtZYL6t6BM people can get further advice from Diabetes UK: www.diabetes.org.uk/guide-to-diabetes/managing-your-diabetes/ramadan
*date for Ramadan is based on moon sighting, currently predicted to start on 5 May however this is subject to change
This post is based on press release issued by NHS Leeds Care Commissioning Group
Photo: Dr Mohammed Sattar with Zobi Barok from Feel Good Factor