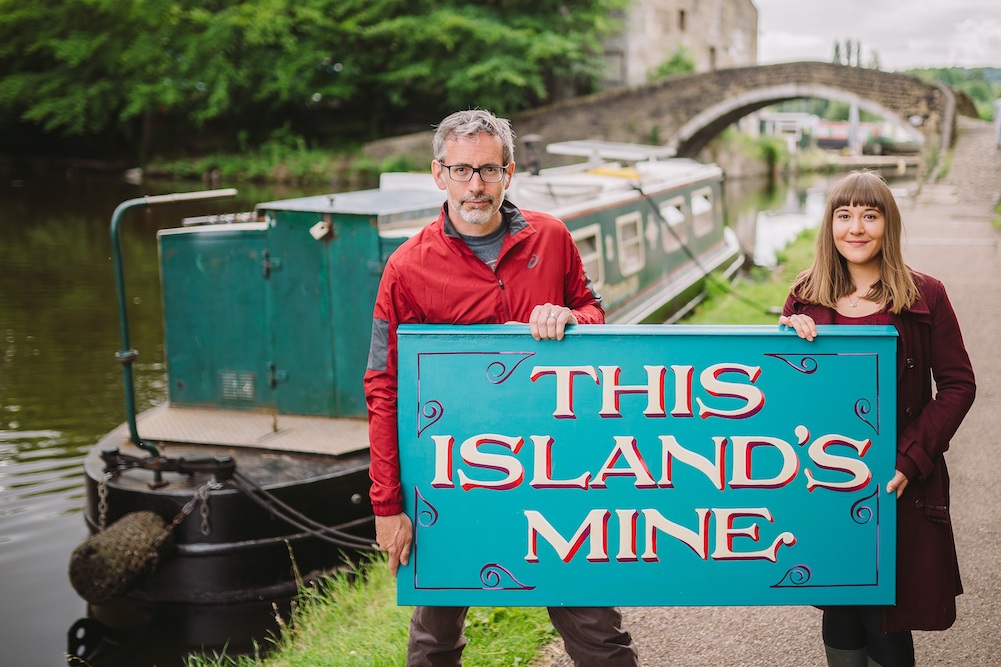 Once again we are offering a pair of tickets for readers to take in a theatre show in return for writing a review for us.
First up we have a drama on the Leeds Liverpool Canal as This Island's Mine starts its tour at Crown Point in Hunslet …
This September the Leeds Liverpool Canal will become a moving stage as a traditional canal boat tours Yorkshire's Aire Valley hosting a play that looks at the heritage of the Canal and River Aire and looks at how they have shaped local communities.
Set aboard an original 1930s canal boat called The Ribble, 'This Island's Mine' is part play and part friendly chat around the kitchen table; audiences are invited to join two characters in conversation and discover the incredible history and heritage of West Yorkshire's waterways.
"This Island's Mine is a story for everyone because we are all shaped by the places that we live," says Director Simon Brewis. "Whether you have a vested interest in the waterways, industry, and heritage, want to learn more about it, or are simply looking for something to do of a weekend – we're here for you!"
Using simple props and much humour to tell the story of Barbara and Danny, two friends who grew up in Dockfield, Shipley, audience members can help the characters build a map detailing the history of the waterways and shared stories – the map will ultimately be displayed at Leeds Industrial Museum in Armley.
"Dockfield, is a strip of land sandwiched between the River Aire and the Leeds Liverpool Canal – hence the title," Simon Brewis continues. "As we discover more of the characters' island home with its happy memories there is a definite nostalgic air, but as they reminisce about its heavy industry we see that things actually weren't always better back then and their tale starts to map out a hopeful future for our waterways as Atlantic salmon return to the River Aire."
The play has been commissioned by the Aire Rivers Trust's 'Developing the Natural Aire' (DNAire) project in collaboration with Canal Connections and Multi-Storey Water – each one a grass roots organisation working to improve rivers and waterways and safeguard their future.
"We are delighted to bring this play to the water and explore how Airedale has shaped, and continues to shape, our communities as river, canal, and railway weave around each other," says Simon Watts, the Aire Rivers Trust's Community Engagement Manager. "We want to encourage people to explore their local waterways, to be inspired, to discover new gems along the way, and to help us protect them and give them a future – I'm sure This Island's Mine will help us do just that."
There are 11 locations along the canal at which people can see the show. It starts in Leeds on Thursday 9 September 2021 taking in Armley, Kirkstall, and Rodley before heading to Bradford and concluding in Skipton on 25 and 26 September.
If you don't want to write a review, tickets cost £3. For more information and to book visit www.aireriverstrust.org.uk/this-islands-mine/
If you would like the free* review tickets for Thursday 9 September, please email info@southleedslife.com explaining why you would like to see the play.
Our second play is called Freedom Project and is part of Leeds Playhouse's Theatre of Sancturary work.
It has been written by Luke Barnes in response to research with young people seeking asylum and is directed by Alexander Ferris
Freedom Project is an honest, challenging, funny and inspiring melding of lived experience and creative theatre-making exploring the very different journeys taken by unaccompanied minors as they leave their home countries in search of sanctuary.
The show features young performers Hossein Ahmadi and Mohammadreza Bazarbashi – both long-standing participants in Leeds Playhouse's Theatre of Sanctuary programme – it promises to be an unforgettable experience, combining beautiful moments of dream-like wonder with vivid and unflinching fact sharing.
We have a pair of tickets for Wednesday 15 September. If you would like the free* review tickets, please email info@southleedslife.com explaining why you would like to see the play.
Main photo: Steve Scott Bottoms and Claire Marie Seddon: the cast of This Island's Mine Credit: Barnaby Aldrick