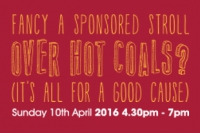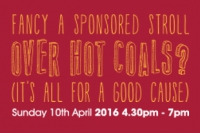 White Rose Shopping Centre is staging a spectacular fiery fundraising event for Mencap on Sunday 10 April 2016.
A sponsored Firewalk will be held outside the main entrance adjacent to Next between 4.30 and 7pm. White Rose Marketing Manager Francesca Simpson, said:
"We would like to encourage as many people as possible to take part and help raise money for the Mencap Employ Me initiative, which gives young people with learning disabilities training and support to enable them to find paid employment."
Francesca added:
"Previous firewalking experience is not required as experts will be on hand to provide guidance, at what promises to be an exciting and entertaining event for participants and their supporters".
Julian Kosh from the Mencap Corporate Partnerships team said:
"For a lot of people this is more of a psychological challenge than a physical one but the empowerment they feel after completing a firewalk can prove to have real benefits in their lives."
Mencap is the national charity partner for Land Securities, which owns and manages White Rose.
For further details and to register to take part please visit: www.white-rose.co.uk/firewalk.