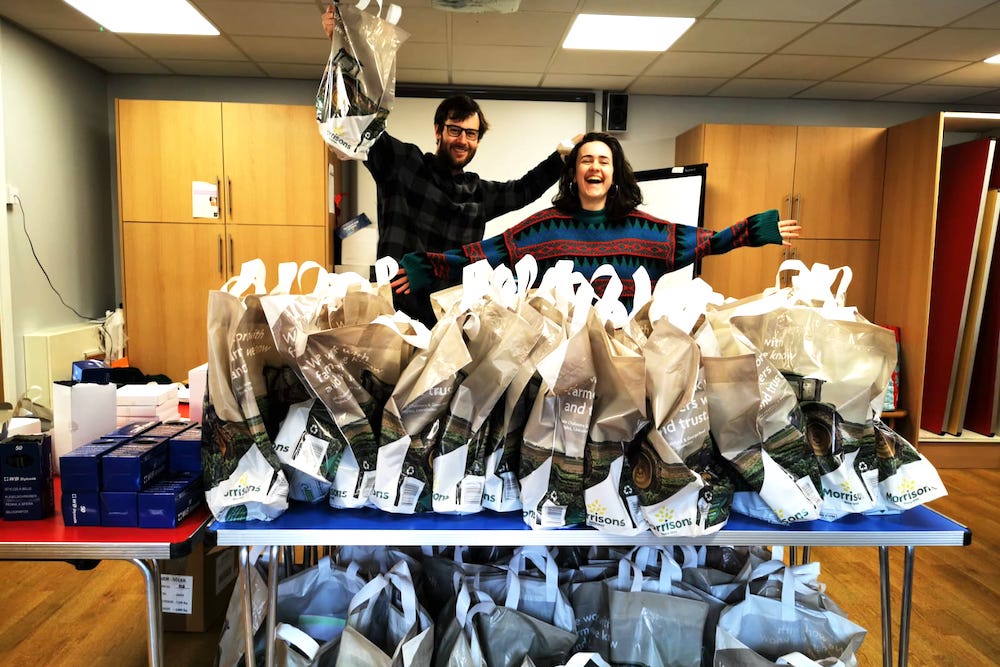 Last weekend (8-10 May 2020)saw the start of the Lockdown Challenge, which will see 700 families across South Leeds taking a series of daily challenges on wide-ranging themes including exercise, gardening, craft, cooking, creative writing, art, and yoga relaxation.
The Challenge aims to break the monotony of the ongoing Coronavirus lockdown, spark creativity, reduce stress, and promote wellbeing in the local community.
Families will each receive free 'Challenge Packs', containing all the necessary resources and materials, and basic arts and craft materials. The first pack (out this week) features: a sunflower growing competition; cooking and baking activities; making a sundial and a rain gauge; inspiration for mindful relaxation; instructions for daily sport challenges; and much more!
Bodies including the Mental Health Foundation have warned about the long-term risk to mental health that the coronavirus lockdown poses – with low-income communities like Holbeck and Beeston Hill most vulnerable to the multiple heightened social and economic challenges.
But the Challenge also exemplifies the spirit of co-operation that has swept the country. Mobilised by Leeds Citizens, staff and volunteers from a wide range of organisations have pulled together and contributed – with their time and ideas, volunteers, venues, resources, and more.
The partnership includes: Re-establish youth group; Life Experience; St Luke's Church; Beeston Festival; Ingram Road Primary School; Jamyang Buddhist Centre; Slung Low; Beeston in Bloom; LS11 Mutual Aid group; Space Youth Group; the Salvation Army; Kidz Klub; St Mary's Church; and Involve Hunslet.
Emily Duff, a primary school teacher who is volunteering with the project, said:
"I've lived in Beeston for nearly 2 years now, but this project has done more than anything else to show just how many people and groups there are who love this community – more and more came out of the woodwork! Being part of this project has allowed me to try things I've never done before, and it was really great to feel like my contribution was appreciated and useful even when I was doing everything on my own at home. I hope the families who use the packs also feel like they are appreciated as part of the community, even if they never meet the people behind the scenes!"
Yvonne Ugarte, local poet and contributer to the Challenge, says:
"I have found poetry a real source of strength and happiness over the years and hope that local children and young people can get a bit of joy out of getting in touch with their creative sides. It's so great to see so many people and organisations coming together to support families in our community in this way, and I'm thrilled to be a part of it."
Claire Whitely, manager of the Involve Centre in Hunslet and project partner commented:
"We have increasing concerns for some of our service users, who are lonely, anxious, feel forgotten, or have real fear about the impact of the virus. Some of our community were managing but, now with their support networks being locked down, they are increasingly feeling alone and emotionally vulnerable. Our response needs to be holistic to care for everyone in our community – we are all interdependent and our care needs to be for hearts and minds as well as bodies."
The Lockdown Challenge packs so far have been made possible by generous support from: a private funder, South Leeds Community Projects, Morrisons, Paul Kirk Design, and individual donations. Leeds Citizens is fundraising to support the Lockdown Challenge so families can continue to receive Challenge packs whilst children are at home: please go to https://www.justgiving.com/fundraising/leedslockdownchallenge to make a donation.
This post is based on a press release issued by Leeds Citizens
Photo: Volunteers Emily Duff and Luke Gaillet with finished packs