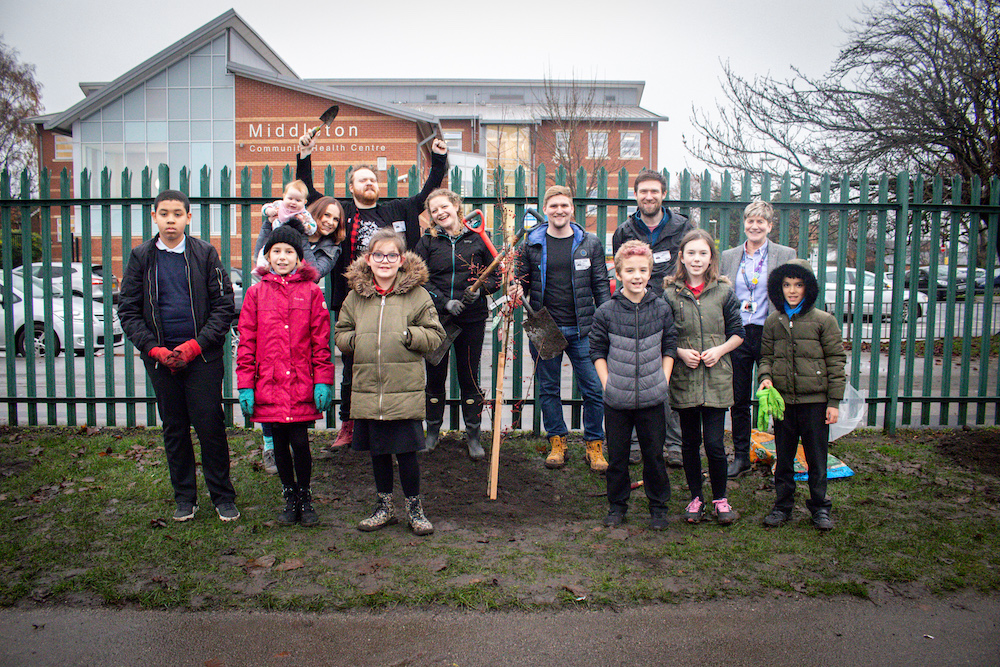 Middleton Primary pupils team up with Huddersfield web agency Splitpixel to protect local wildlife
Students plant trees at Middleton Primary School with the help of Huddersfield based web agency, Splitpixel, as part of the wider Woodland Trust #EveryTreeCounts campaign.
Middleton Primary pupils spent their Tuesday afternoon (26 November 2019) planting cherry and crab apple trees, alongside employees from Splitpixel Creative Ltd., to provide for local wildlife and contribute to the Woodland Trust goal to plant one million trees by 30 November 2019.
The relationship between the school and agency started in June of 2019, when Splitpixel were contracted to develop a new school website in time for the new school year.
On the day, the group planted flowering and fruit-bearing saplings, which provide food for birds through the colder months, and food and shelter for bees and butterflies in the warmer months.
Trees offer a solution to the two environmental emergencies facing our planet: climate change and biodiversity loss.
The cause is an important one to Charlie Herke, 39, co-founder and studio director of Splitpixel. She said:
"We can't rely on the younger generations to do all the work in the fight against climate change and ecological breakdown – change needs to come from every generation.

"Our goal is to encourage other businesses to contribute more than just money! We're introducing greener policies in our workplace, supporting employees who want to get involved in the climate movement – and most importantly, getting our hands dirty ourselves.

"We hope other businesses will recognise this urgent need for change while we still have time to make a difference."
The Splitpixel team are planning to extend our environmental action to other schools and aim to set up an allotment to promote sustainable living – with the intent to donate the fresh produce to local foodbanks.
In the meantime, Splitpixel's work with former client Middleton Primary will continue as the trees grow and mature, and plan to revisit the project in the spring to talk more about protecting local wildlife.
Samantha Williams, Headteacher at Middleton Primary, said:
"It's important to get young people excited about the environment.

"Our pupils are very engaged in climate action – with our prefects, Eco Warriors and members of the Gardening Club always jumping at the chance to get a bit muddy and do their bit like they did today."
This post is based on a press release issued by Splitpixel