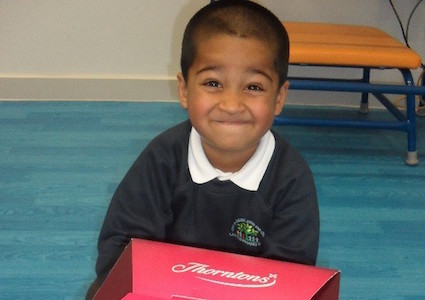 The children and families of Lane End Primary School would like to say a HUGE thank you to the staff of Swinton Insurance who donated two giant chocolate Easter eggs that were raffled to help raise funds.
Ayaan Shabbir's family was one of the lucky winners that got to take home one of the enormous chocolate eggs home to share with their friends and family.
The school are working hard to raise as much money as possible, as they hope to be able to buy a stage in time for the next Christmas productions.
The children would also like to thank SoftCat, whose employees had a 'dress down' day to help raise £125 towards the stage appeal – thanks to Millie-Mae Pearce's mum for helping with this.
A thank you also to Winder…. Who have donated £300.
There will be lots of fund raising events in the coming months – if you are a local company, and would be interested in supporting Lane End in their fundraising stage appeal, no matter in how small a way, please don't hesitate to contact the school on (0113) 831 3449, or email laneendprimary@gmail.com.
This post was written by Asa Britton using our Create an article for South Leeds Life page.