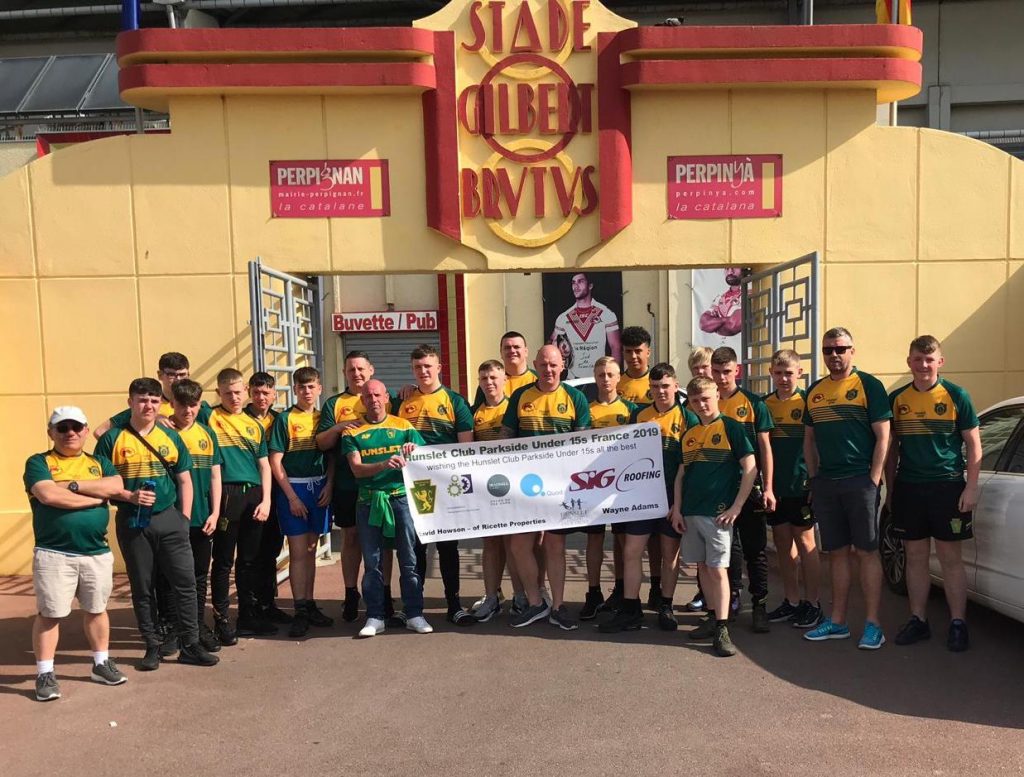 Hunslet Club Parkside under 15s on Tour to France – Easter 2019
Hunslet Club Parkside under 15s spent Easter weekend on tour in Perpignan, South of France. Two games of rugby were fitted into a packed itinerary which included a training session on the beach at Argeles sur Mer, Go Karting, hours spent in the Taxo-les-Pins Resort pool, and guided tours of the Stade Gilbert Brutus – the home of Catalan Dragons and, on the last day before the flight home (Tuesday), Camp Nou, the majestic home of Barcelona Football Club.
A highlight was the return to the Stade Gilbert Brutus on Easter Monday to see Catalan Dragons v Castleford Tigers in a Superleague game. Despite being on the wrong end of a big loss Hunslet Club Parkside Open Age coach and Tigers star Paul McShane came straight after the match to talk to the lads and for photos with the team.
The first game of the tour took place on Saturday afternoon at the Stade Municipal  in St Esteve located just outside Perpignan against a Catalan Select side who for unforeseen reasons only turned up with 10 players so the game was played 10 a side. The French opposition were much older than our boys who showed bags of spirit and determination in an 18-4 defeat. Try scorer for Parkside was skipper and loose forward Tommy Lee Corke.
The second game saw the boys pit their wits against Dewsbury Celtic under 16s. Celtic were also on tour and when their second game was cancelled at short notice both coaches agreed to the innovative solution to play each other 1000 miles from home!
This game took place at the Stade Daniel Albert in the picturesque town of Pia to the north of Perpignan, the home of French Second Division side Pia Rugby XIII. Two on-field referees officiated in a game which Celtic won 28-8. The boys won genuine praise from their opponents players and coaches in putting in a fully committed and skilful performance against bigger and older opposition. Tommy added a second touch down to his try in the first game with live wire scrum half Cameron Phillis adding the second.
Second Row Bradley Wheeler was a popular choice as the Coaches Player of the Tour, an accolade which reflected the way he carried himself on and, equally as importantly, off the pitch during the five day trip. A Cas Tigers signed ball provided by Paul McShane was his prize.
When asked for his highlight of the tour Wheeler replied: "Our trip to France was one of the best moments I have had with my rugby team. I mostly enjoyed bonding with my team while on and off the pitch." Words which I'm sure all his team mates would share.
Joint captains Tommy Lee Corke and Harry Duffy both pointed to the Dewsbury Celtic game as one of their highlights and the way the two teams came together with new friendships being formed between the players on both teams.
Coaches Carl Briggs and Tom Saunders were full of praise for the boys Carl saying:
"The way they conducted themselves during the games and generally throughout the tour was beyond my expectations.  Every one of them represented the Hunslet Club brilliantly and their families should be very proud of them. We certainly are."
Hunslet Club Parkside under 15s would like to thank all of our Tour Sponsors – without their support the tour would not have been nearly as successful. Thank you to: The Hunslet Club, The Hunslet Trust, Beadnall Copley, David Howson – Ricette Properties, Octagon Solutions, Kesteven Roofing and Cougar Signs.
The boys now return to the bread and butter of Yorkshire Junior League under 15s Division 2 action with an away match at Methley Warriors next Sunday (28 April 2019).
Tour Players: Harry Bellwood, Cameron Ross, George Howard, Reece Lodge, Taylor McCourt, Makaay Mannings, Cameron Phillis, Harry Duffy, Samuel Bayley, Jack Crowther, Jack Briggs, Bradley Wheeler, Tommy Lee Corke, Alex Fulton, Harvey Townend and Harvey Campbell-Quinn.
Coaches: Carl Briggs and Tom Saunders
and… Chris Ross, Jack Fulton, Simon Bellwood and Phil Goodfield
This post was written by by Phil Goodfield
We encourage anyone living or working in South Leeds to use this website to tell their news. You can either use the Create an article for South Leeds Life page, or email us at: info@southleedslife.com.