South Leeds Life has pulled together details of as many activities as we could find going on locally during the Easter holidays.
Many are free; some charge a fee, although this is often subsidised; some have age limits; some need parents to stay; some have limits on numbers; many require you to book in advance; some may be fully booked up already; all will be great fun. Take a look through the details on this page, follow up the contacts if you have more questions.
The Not So Grimm Twins by Wrongsemble
A (f)un-expected family adventure, where fairytales really do come true…
Roll up one and all, to hear the fabulous Grimm Brother's fairytales like never before, as world-famous twins Jake and Will Grimm (oh, and their little sister Lottie too!) tumble from their magical wagon brimful of famous fairytales collected from every inch of the world. But sometimes even familiar stories can take a turn for the (f)unexpected, and our heroes will need all the help they can get to defeat the creatures of their own creation!
Suitable for ages 4+
This is a Pay What You Decide performance meaning you pay after the performance in person with cash/card or online.
Performed on the outdoor stage Slung Low at Temple, 131 Water Lane, LS11 9UD so dress for the weather. Friday 7 April, 1pm. Book: www.slunglow.org/shows
Cross Flatts Park Easter Egg Hunt
Join a free morning of family fun on Cross Flatts Park, open to all the community, on Good Friday 7 April.
11:30: Egg Hunt for Reception, Year 1 & Year 2;
12:00: Egg Hunt for Year 3 & Year 4;
12:30: Egg Hunt for Year 5 & Year 6 (Register from 11am).
Plus a slower paced Pre-school Egg Hunt running throughout the whole event (No need to register for this one, just join the queue).
Easter Quiz Hunt: Find the hidden pictures and answers to Easter jokes and quiz questions; Easter Craft: Inside the Pavilion and the Watsonia Cafe will be selling light refreshments.
DAZL Activity Days
DAZL Dance are holding Healthy Holiday Activity Days at the headquarters on Acre Road in Middleton. Each day is packed with fun Easter crafts, dancing, multi-sports and entertainment. Tuesday 11 – Friday 14 April, 9am-3pm. Free breakfast and dinner, children on free school meals prioritised. Book: 07519 018675, email: community@dazl.org.uk
Middleton Railway
Middleton Railway opens its doors on Saturday 1 April for Community Day. Trains are free and there will be stalls staffed by many local voluntary groups. The Railway is open on weekends, and bank holidays, 10am-4pm. The museum is free, trains are £8 adult, £3 child, £20 family. Join an egg hunt over the Easter weekend. The railway is also open on Wednesdays in school holidays with kids for a quid. Full details at middletonrailway.org.uk
Free play in Middleton Park
The Friends of Middleton Park have organised free play sessions. Tuesday 4 and Tuesday 11 April Health for All's ACE team will be running multi-sports and games from 1-3pm. On Wednesday 5 April you can enjoy Den Building from 12-3pm and on Wednesday 12 April DAZL will be running dance activities. All activities take place in or around the Visitor Centre by the lake.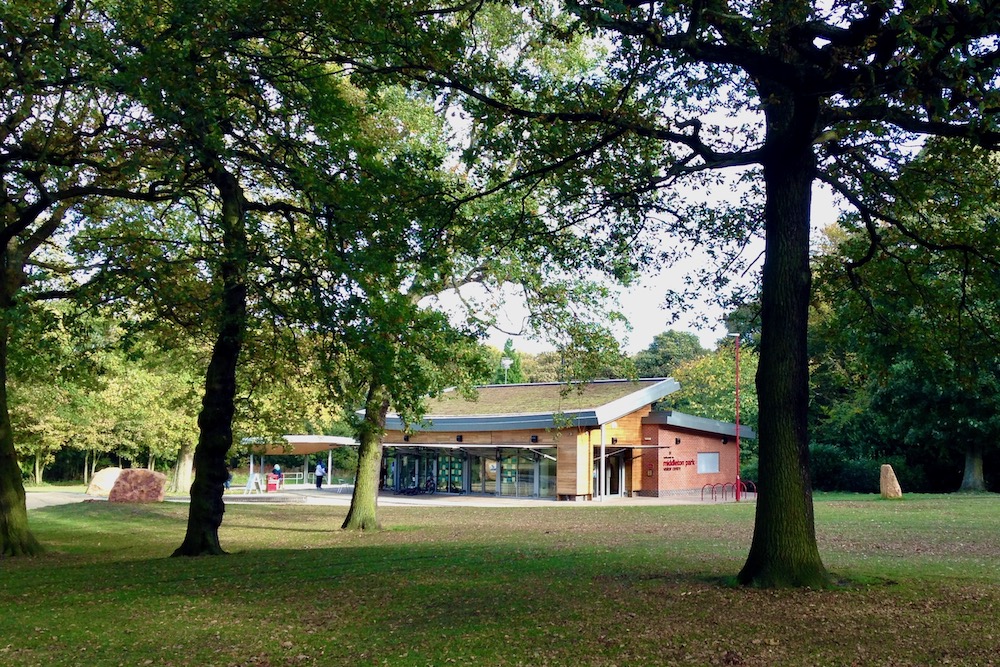 Hop to it and discover eight hidden bunnies at White Rose
From Friday 31 March to Sunday 16 April, families are invited to find eight mischievous bunnies hiding around the White Rose Shopping Centre. Free trail maps are available to collect from the Customer Service Centre, on the Ground Floor near New Look, and can be returned and traded in for an Easter treat and a pair of adorable ears after each bunny has been located and ticked off the map.
Easter Trail and Wild Play days at Skelton Grange
The Easter Trail at Skelton Grange Environment Centre in Stourton, LS10 1RS, is a glorious outdoor trail through the woods and the perfect day out for families with young children. Good Friday, 7 April, 11am-2pm. Book at www.tcv.org.uk/skeltongrange/courses-events
The centre is also running two days of Wild Play in the woods for 8-12 year olds on Tuesday 11 and Thursday 13 April, 10am-4pm. Sessions vary but may include bushcraft skills, open fire cooking, wide games, shelter building wild food walks and more. Each day costs £30, book at www.tcv.org.uk/skeltongrange/courses-events
Hunslet Foundation Rugby Camps
The Hunslet Foundation and the Luke Gale Academy are running two free rugby camps this Easter. The first is with Beeston Broncos at their base behind Lane End Primary School at the bottom of Beeston Road (LS11 8BB). The second is with Leeds Corinthians next to Middleton Leisure Centre, LS10 4AX. Both camps run from Monday 3 – Friday 14 April (excluding bank holidays), 9am-2pm. Lunch is provided and chiuldren will play a range of games as well as learning about healthy eating. Book: mickey.nuttall@gmail.com
Youth Service activities and trips
Leeds Youth Services are running a range of activities and trips for children living Beeston & Holbeck, Hunslet & Riverside and Middleton Park wards. On Tuesday 4 April there is Sledging at Xscape for 11-17 year olds, £4; on Thursday 6 April they visit Flamingoland (11-17) £6; on Tuesday 11 April there is E Karting at Xscape (12-17) £4; and on Thursday 14 April they visit Blackpool Pleasure Beach (13-17) £6.
Book: 07891 277407 or email allison.dixon@leeds.gov.uk more details at fb.com/youthservice123
Skating and boarding at LS-TEN
LS-TEN, the skateboard park at Kitson Road, Hunslet, LS10 1NT are holding two Get Active Extreme Camps on Monday 3 and Friday 14 April, 9am-4pm, £30. Includes games, arts and crafts and a coaching session. Book: ls-ten.org/get-active-camps
And on Good Friday, 7 April they are hosting a Quad and Inline Skate Night Easter Special, 6:30-9:30pm. Win an Easter hamper for the best Fancy Dress.
Explore Mega Mini Beasts and Dinosaurs in our parks
A new "planet discovery" game has come to Cross Flatts Park via the Love Exploring App. The app utilises augmented reality via your smart phone to discover sights via a game, and quiz to provide some family fun whilst out on a walk. Its available via the Love Exploring App which is free to download. Click on games, and scroll to search the parks.
Currently you can hunt for Mega Mini Beasts on Holbeck Moor and at Brickfield Park; do a dinosaur safari or do a space walk at Cross Flatts Park; or complete the winter fairy trail at Middleton Park.
Activity Camps and more at The Hunslet Club
The Hunslet Club in South Leeds has a lot of engaging events to keep young people occupied this Easter.
Plus The Hunslet Club has their annual free Easter Party on Sunday 9 April 2023, from 12-3pm.
Whilst you're here, can we ask a favour?
South Leeds Life is published by a not-for-profit social enterprise. We keep our costs as low as possible but we've been hit by increases in the print costs for our monthly newspaper – up 83% in the last 12 months.
Could you help support local community news by making a one off donation, or even better taking out a supporters subscription?
Donate here, or sign up for a subscription at bit.ly/SLLsubscribe