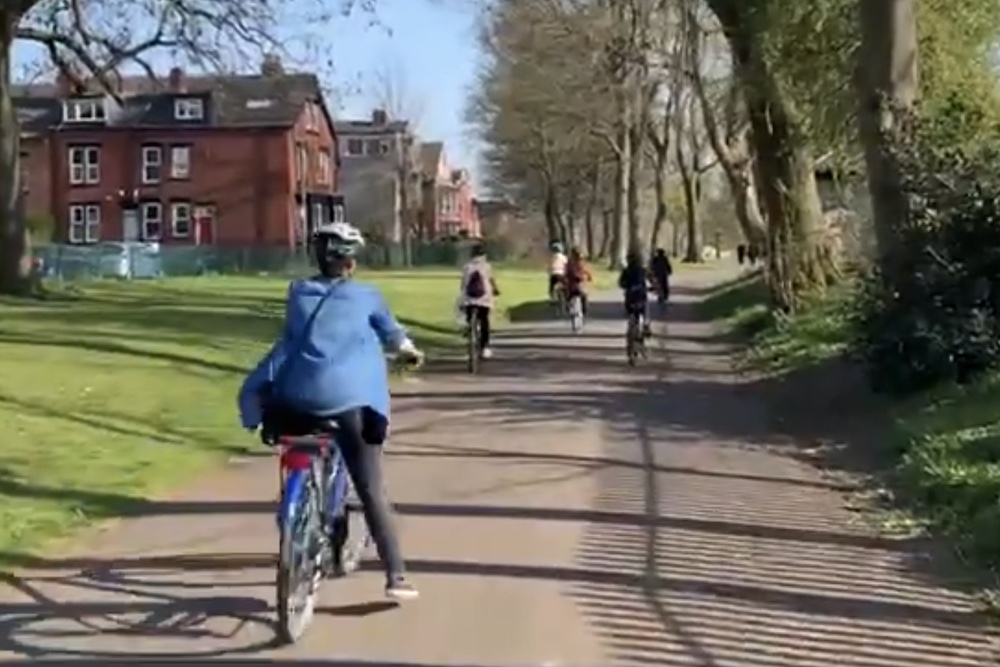 Get Set Leeds Local (GSLL) is part of LCC's Active Leeds, funded by Sport England. It's a community led, insight driven approach to exploring how we (collectively) can support more people to move more through understanding what matters to communities, what things get in the way or what may enable someone to try something new, with a focus on Beeston Hill and Holbeck.
If you have ideas, insight or would like to find out more then get in touch karen.peck@leeds.gov.uk 07891 274130.
Being active takes so many forms and means assorted things to different people. South Leeds is full of ways that all ages can move, have fun and find something that feels good for them. Every month we will take a deeper dive into a different activity, and we'll explore the ways that someone could get involved. We start this month with Rugby League.
Since GSLL began, we have loved meeting the huge number of people across the South Leeds communities taking part, volunteering and leading a huge variety of activities each week which get themselves or others moving in some way. We feel these people are all 'heroes' and an inspiration to us and others.
With the help from some GSLL friends, every month we'll be meeting and sharing a little about some of these 'Move More Heroes'.
ParkPlay at Brickfield Park on Lady Pit Lane in Beeston has gone on pause, but will be relaunching on Saturday 18 March at 10.30am with new PlayLeader Aidan. ParkPlay is free, fun and welcomes anyone of any age to join in any week. It's kindly funded through the Inner South Community Committee so that sessions can continue each Saturday (whatever the weather) for the rest of 2023. It aims to be inclusive, and designed so generations of all ages can join in and play.
Aidan grew up nearby, has a passion for work in and around this community. He now works for Hunslet Rugby Foundation, but the games enjoyed each week at ParkPlay will include new games and some old ParkPlay favourites.
"I've lived in the South Leeds area all my life. When I was 9 or 10 years old my dad ran something similar on Saturday mornings. I loved it and saw how it brought the community together and I'm really excited to do the same" he said.
As springtime sets in we love to see people re-emerging into parks and greenspaces. At Cross Flatts Park we have developed a cycle hub, which currently has free weekly adult learn to ride sessions and adult Cycle for Health sessions. We're able to provide free bikes to these sessions so that it makes it easier for people to have a go.
Cycle North are adding additional new adult learn to ride sessions to their programme, which can be booked via bit.ly/CycleNorth. If anyone has an interest in developing some led rides for adults, children or getting involved in running some balance bike taster sessions for toddlers please get in touch. Funding is available to support with training, we can help with access to bikes and explore what else you need to help get you started either individually or linked with others to develop something to enable more people to get on a bike and have a go.
A quick shout out once again – if you are linked to a sports or activity club/group then get in touch to be a part of the new South Leeds community event 'Let's Move: South Leeds' which will take place at Cross Flatts Park on Saturday 13 May.
We have some great providers involved already, but would love to see a range of activities represented whether it's through putting on a taster session, demonstration or running a mini challenge. It will be an event for all ages, helping to raise the profile of what's on offer in South Leeds.
A new "planet discovery" game has come to Cross Flatts Park via the Love Exploring App. The app utilises augmented reality via your smart phone to discover sights via a game, and quiz to provide some family fun whilst out on a walk. Its available via the Love Exploring App which is free to download. Click on games, and scroll to search the parks.
Currently you can hunt for Mega Mini Beasts on Holbeck Moor and at Brickfield Park; do a dinosaur safari or do a space walk at Cross Flatts Park; or complete the winter fairy trail at Middleton Park. Send us your photos, we'd love to see them.
Lastly to the Leeds Sports Awards which take place on Friday 17 March. We're proud to spot some from South Leeds that Get Set Leeds Local has connected with over the past few years being recognised in this year's Leeds Sports Awards as worthy finalists. Congratulations and good luck to all.
Last year one of the projects Get Set Leeds Local has worked closely with was a worthy winner of the Leeds Sports Awards Inspirational Community Champion category – Clara from South Leeds Valkyries women's basketball. A great achievement by all involved in the team.
In 2021 Recovery Runners, another project we've loved working closely with since it first began, were also winners of the Community Champion award. Two amazing projects we've loved watching grow, which both began from the seed of an idea to achieving all they're now doing.
This post was written by Karen Peck
Whilst you're here, can we ask a favour?
South Leeds Life is published by a not-for-profit social enterprise. We keep our costs as low as possible but we've been hit by increases in the print costs for our monthly newspaper – up 83% this year.
Could you help support local community news by making a one off donation, or even better taking out a supporters subscription?
Donate here, or sign up for a subscription at bit.ly/SLLsubscribe