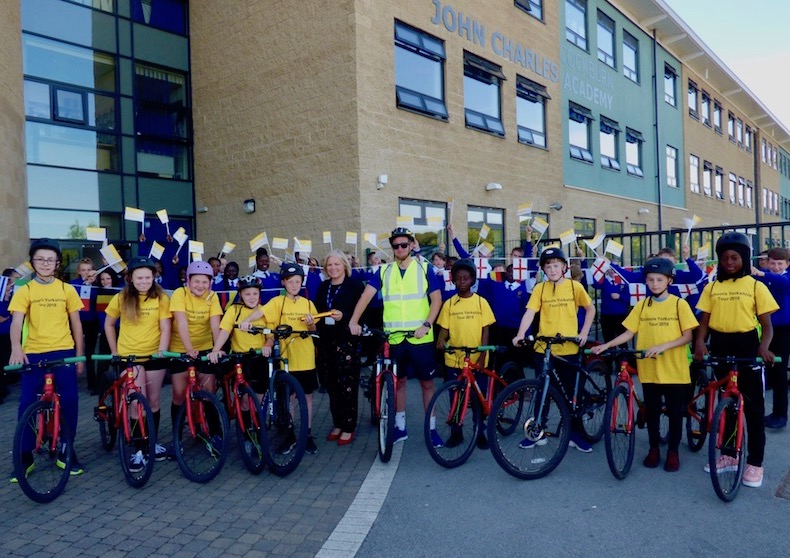 Students at the Cockburn John Charles Academy kicked off the last full day of a 400 mile bike relay as they set off this morning (2 July 2018) as part of the Schools Yorkshire Tour.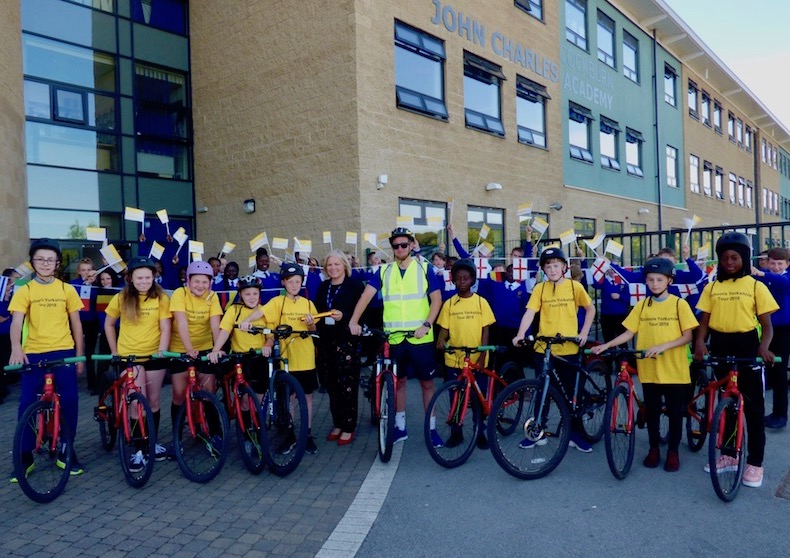 They took the baton to St Phillip's Primary School, visiting the new Urban Bike Park in Middleton en route. From there the baton was passed to Sharp Lane Primary School, who took it to Woodlesford.
Children and young people from over 160 schools across Yorkshire have been taking part in a cycling relay covering 12 local authority areas over the last four weeks.
The Schools Yorkshire Tour relay started on Tuesday 5 June as part of national Bike Week. The relay saw pupils from primary, secondary and special schools in Yorkshire pass a baton over 400 miles from the start in Pickering to its final destination in Leeds tomorrow (Tuesday 3 July 2018).
The tour has been organised by 12 Yorkshire local authorities in partnership with Welcome to Yorkshire, West Yorkshire Combined Authority Sustrans and PWLC Projects.
Councillor Jonathan Pryor, Leeds City Council's executive member for learning, skills and employment said:
"The Schools Yorkshire Tour has been a fantastic opportunity for children and young people to be part of something exciting. It has not only helped our young people gain valuable cycling and road safety skills, but also helped them to see that cycling can be a fun and accessible mode of travel, as well as helping to improve their health and wellbeing."
Councillor Richard Lewis, Leeds City Council's executive member for regeneration, transport and planning said:
"We want to encourage more young people to take up cycling both as a fun activity but also as a way to get to school. Increasing the number of pupils who cycle safely to school is a key priority and helps to reduce congestion outside the school gates, which in turn helps improve air quality for all our residents."
Sir Gary Verity DL, Chief Executive at Welcome to Yorkshire, said:
"The Schools Yorkshire Tour is a tremendous initiative and seeing it grow over the last 12 months has been really exciting. Welcome to Yorkshire are delighted to be involved in this fantastic project which promotes healthy living, environmentally friendly travel, and brings young people from across the county together."
The Schools Yorkshire Tour 2018 is being supported by YPO, Streetbikes, The Works skate park, Child Friendly Leeds and Active Schools Leeds.