The annual South Leeds Community Camp returns to Middleton Park this month, overnight on Saturday 16 – Sunday 17 September (2017). This free family event is now in its fourth year, and gives local people – especially families – the chance to try camping, meet new people, and get inspired by the natural environment on their doorstep.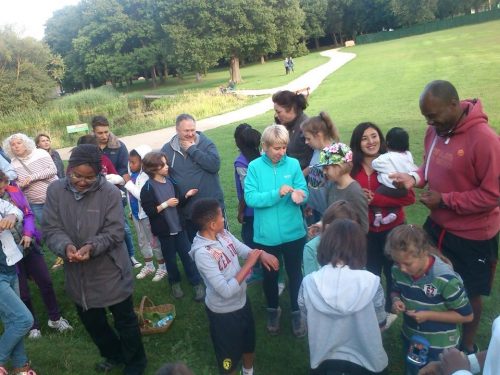 Running between 2pm Saturday and midday Sunday, it will feature games, activities, crafts, walks (in the daylight and the dark!), shared meals, and – most importantly – overnight camping in an enclosed, stewarded camping zone.
Local resident Wayne Dixon, who's helping coordinate this year's event, commented:
"I attended last year's event for the first time, wasn't sure what it would be like, but my family and I loved it. It's a really exciting opportunity for people from different south Leeds communities to get together, and have a really positive shared experience – in this amazing park at the heart of our area."
For more info, including how to book, click here – or go straight to the online booking form here. Spaces are limited and filling up fast. Key info is as follows (you will be given full info if you sign up)… The event is free, although donations are welcome – and please bring food, drinks and/or snacks to share if possible. Under 18s must be accompanied and supervised. And whilst most attendees will bring all their own camping kit, it's possible for some to borrow tents and other kit – by prior arrangement.
A local volunteer team will run the event, and staff the camping zone at all times (including throughout the night); if people want to join this team, please get in touch. This year's event is being coordinated by Middleton Park FC, with support from the Salvation Army South Leeds Initiative, Together for Peace, SLATE, Leeds City Council (Parks and Countryside), and Friends of Middleton Park.