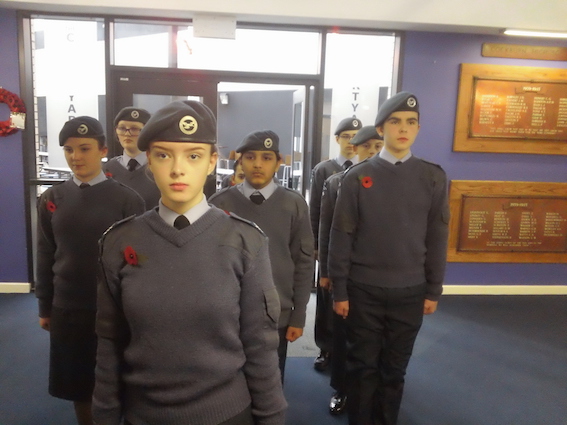 Students and staff at Cockburn paid their respect on Armistice Day with a dignified ceremony at the school war memorial.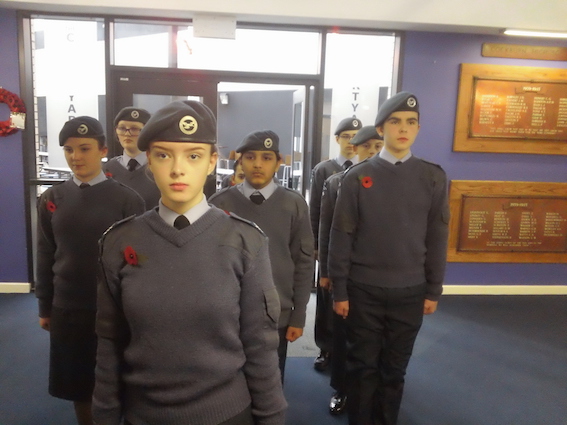 Cockburn students who are cadets from across the armed forces wore their military uniform to school. Led by Year 11 student Davina Nattrass, they marched along the school corridors leading a procession that included Student Ambassadors, the Headteacher, David Gurney and Rev. Andy Myers from Middleton Parish.
Rev. Andy Myers gave a thoughtful address before blessing the war memorial. The Head Girl, Jessica Davies then read a poem "For the Fallen" before a wreath was laid.
To complete the proceedings, The Last Post, played by Music Teacher Robin Gloor, was played across the school on the tannoy system. Students and staff across the school listened to the music play as they stood and marked the occasion with two minutes of silence. One of the school Values is respect and this annual event in the life of the school is a fitting way of learning about respect while paying tribute to those former students who have lost their lives in conflict.
For the Fallen by Robert Laurence Binyon:
With proud thanksgiving, a mother for her children,
England mourns for her dead across the sea.
Flesh of her flesh they were, spirit of her spirit,
Fallen in the cause of the free.
Solemn the drums thrill: Death august and royal
Sings sorrow up into immortal spheres.
There is music in the midst of desolation
And a glory that shines upon our tears.
They went with songs to the battle, they were young,
Straight of limb, true of eye, steady and aglow.
They were staunch to the end against odds uncounted,
They fell with their faces to the foe.
They shall grow not old, as we that are left grow old:
Age shall not weary them, nor the years condemn.
At the going down of the sun and in the morning
We will remember them