This interview was in 2015 and now Carla came back from  maternity Leave, November 2019, Carla has been at THE GATE for 7 years last year.
So thought as my 1st interview for South Leeds Life 7 years ago , you might like another look.
Interview with Carla Yeomans, Community and Tenant Support Manager 
Belle Isle Tenant Management Organisation Ltd (BITMO).
Interview By Kenneth Ingram volunteer reporter for South Leeds Life newspaper and Blog
Can you please tell us a bit about your best moments?
This is a really good question, because you're right Belle Isle TMO has meant a great deal to me over the last couple of years, which is why I decided to stay on as Community & Tenant Support Manager.
There have been some many great moments so far, because as a project a lot of the things are a first.
So the first time we had a Christmas Market for example, and we had children from the Windmill Primary School singing and people came along and enjoyed that event. That was a real highlight.
Things like taking people on the Scarborough and Bridlington day trips that was a first for Belle Isle TMO, and definitely a highlight.
I think one of my best moments was when people suggest things and we're able to make those things happen.
So things like yourself for example, you wanted to do the Walk Leader training and I supported you in doing that. People suggest things like events, fairs or activity sessions. I can show people your ideas do count.
One of the toughest parts of this job is when we don't see people anymore. So a lot of the time people come and want help in getting people back into work, and we help them get into work, we don't see them which is tough really as I get close to people as we spend a lot of time working and supporting them.
One of the highlights is when people do keep in touch, and come back and visit or drop us an e-mail to say their still going on all right. We've had loads, I could talk for minutes about my highlights.
Carla laughs.
Q: Please tell us a little about any hobbies you have Carla?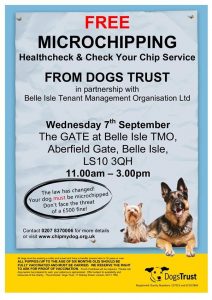 I do a lot of volunteering outside of work. I volunteer for a charity that supports older people; I'm actually a chair for that charity.
I volunteer at the Dogs Trust, and also volunteer for a community group where I used to live in Rothwell, and we hold community events in Rothwell and in the local area.
I enjoy walking the dog, reading and this Sunday running the Abbey Dash.
Recently joined a running group, and most recently signed up to join the sewing class.
The sewing group is at Belle Isle TMO at The GATE, that's Wednesday afternoons, I've decided I want to be a crafty sewer so I've joined that as well.
Q: Where in the world would you like to go on holiday where you've never been to before?
Last year we had a lady called Jess working for us.
Jess was my project assistant, and Jess went traveling in March earlier this year. Jess went to South America and Mexico, one of the places Jess visited was Cuba.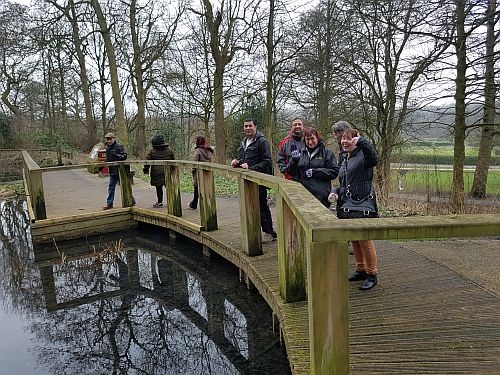 I think after seeing her photos and chatting to her how brilliant it was, I think that's one of the places I've never been to before, I definable want to go.
Q: Carla, which famous Yorkshire man or Women alive or dead would you have liked to have met and why?
I think that's a really good question and there are lots of talented people that come from Yorkshire.
I think everyone has got their own special talent and got their creativity or idea and makes then unique to everyone else, absolutely Ed Sheeran. I like musicians that are like multi-millionaries, and massively famous would be nice.
But for me I think would be nice to have met Jane Tomlinson would be someone I really would have liked to have an opportunity to speak with.
For those who don't know, Jane was diagnosed with cancer at a relative young age and continued to fund raise for charity until she sadly passed away from that illness. Since then her legacy she has left is something like £7m of charity fundraising for Cancer research, which is a huge amount and what an achievement.
I think I would like to ask her questions like how did she remain so positive, and committed to raising funds for other people, when she knew her illness was terminal. So it would be a meaningful conversation, but one I would like to have had.
Q: Carla, please tell us what is your favourite food and drink?
Pretty much like anything that's bad for me, anything that's got high saturated fat content, things like chocolate!
Recently we held a World food event at The GATE. It was an opportunity for us to sample food from around the world. We had Polish, Gambian, West Indian. For me I really do like curries. But I like trying different types of food from areas of the World and so Curries a definite strong favourite.
Then drink, it would have to be a good old cup of Yorkshire Tea, defiantly can't beat a good cup of Tea.
Q: Have you anything you would like to add to this interview before closing Carla?
Yes again I would like to thank you for taking the time to interview me.
But I would like to thank everyone who supported The GATE as a project, and now a busy resource centre.
Just to ask people not to underestimate there value of their time, because volunteering is not just something that will pass their time, it's showing their own skills.
Like we spoke about Jane Tomlinson it's just about leaving your own bit of legacy.
So I would encourage people always to get involved and no matter how small or how many minutes a week people can do it for.
Keep the ideas coming, The GATE wouldn't be the place it is today, if not for the volunteers and the people that use it.
Kenneth says, Thank you for taking the time to speak to me today Carla.