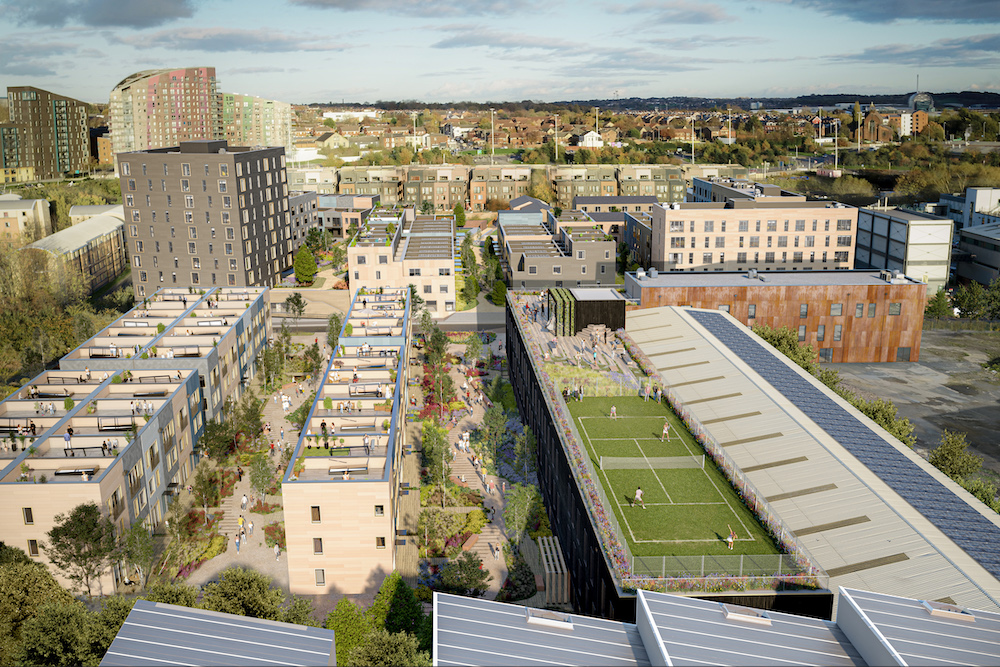 Work is underway by leading sustainable developer Citu to create a future-ready new workspace that will be the first net zero carbon commercial building in Leeds. The Place has been designed to be a healthier, more positive environment for businesses looking for a post-pandemic solution to working life.
Located on Leeds' South Bank at the Climate Innovation District, The Place has been accredited Net Zero Carbon as assessed by the UK Green Building Council's Zero Carbon Framework, making it the first net zero carbon workplace in Leeds; a huge moment for both Citu and the city as it transitions towards becoming a carbon neutral city by 2030.
The Place is the first commercial building in the Climate Innovation District which was named 'Best Sustainable Development in the UK' at the 2019 Sunday Times British Homes Awards, and the first address on a new street in Leeds – Central Place. Designed to give people the best possible work environment, The Place will be ready to move into in early 2021 and Citu are looking for likeminded businesses that value the planet and their people to move there alongside them.
The three-storey building follows Citu's approach to placemaking, design and construction that has attracted national attention and many awards.  The Place has been designed and is being constructed with the health and wellbeing of its occupants and the planet at its heart.
Chris Thompson, Citu managing director comments:
"What we're increasingly aware of is how incredibly important it is for businesses to offer their staff healthy, positive workplaces where people want to be. Working from home has benefits for some but we still want to come together, to collaborate with our colleagues and to enjoy being at work, rather than simply performing tasks from our screens.

"Many typical offices are just not appealing and, at worst, feel unhealthy with false ceilings, air-conditioned, energy-sapping rooms. Inspiring, flexible workplaces are key to attracting and retaining talent, and this is exactly what we aim to achieve with The Place."
A dedicated roof terrace houses a tennis court, yoga spaces and ample space for space for events, relaxation, exercise and socialising.
The interior spaces have been designed with a natural, clean aesthetic to encourage safe interaction and collaboration. The air is filtered with warmed fresh air creating a comfortable, positive environment. The windows are floor-to-ceiling triple glazing that floods the building with natural daylight but helps control the temperature, so occupants are comfortable year-round.
High speed 10gb fibre internet will deliver the highest category of internet speeds in the city, helping address the growing needs of businesses to connect with remote and home-workers.
The desire to be close to nature as a source of wellbeing has been a major feature of lockdown for many people, including those who have worked from home. Workers at The Place will benefit from beautifully landscaped public realm and acres of outdoor space which is being developed and links to the River Aire and the new Aire Park which will be under construction in early 2021.
There is an abundance of local amenities around the nearby Leeds Dock with Leeds Station only a 25-minute walk away.
Low carbon building materials and processes are a feature of all Citu developments, and The Place includes solid cross-laminated timber floors, low energy timber-framed walls and cement-free concrete to minimise the carbon involved in its construction. As with the residential phases of the Climate Innovation District, Citu is keen to attract businesses that are serious about making change. Chris continues:
"This is much more than an ordinary office; we want people to join us in creating a working environment that has all the benefits of coming together in one space, with those elements of home working which many of us want to retain. We have created a building that is future-ready with maximum flexibility and freedom for businesses to adapt to change. We're inviting anyone that shares our mission to make a positive contribution to the local area and to the planet to join us at The Place from next spring."
Nick Salkeld of Fox Lloyd Jones, agents acting on behalf of Citu, commented:
"The Place is a game-changing, forward-thinking development which businesses in Leeds should be really excited about. Connecting into the various amenities at Leeds Dock, there's nowhere else like this in Leeds for forward thinking businesses to put down roots. As we all get used to a different way of life, Citu are already miles ahead, developing a workplace which has people and the planet at the heart."
Open plan, adaptable spaces range from 5,175 – 15,519 sq ft and enquiries should be directed to: Nick Salkeld or Harry Dunhill at Fox Lloyd Jones on info@fljltd.co.uk or call (0113) 243 1133.
This post is based on a press release issued on behalf of Citu