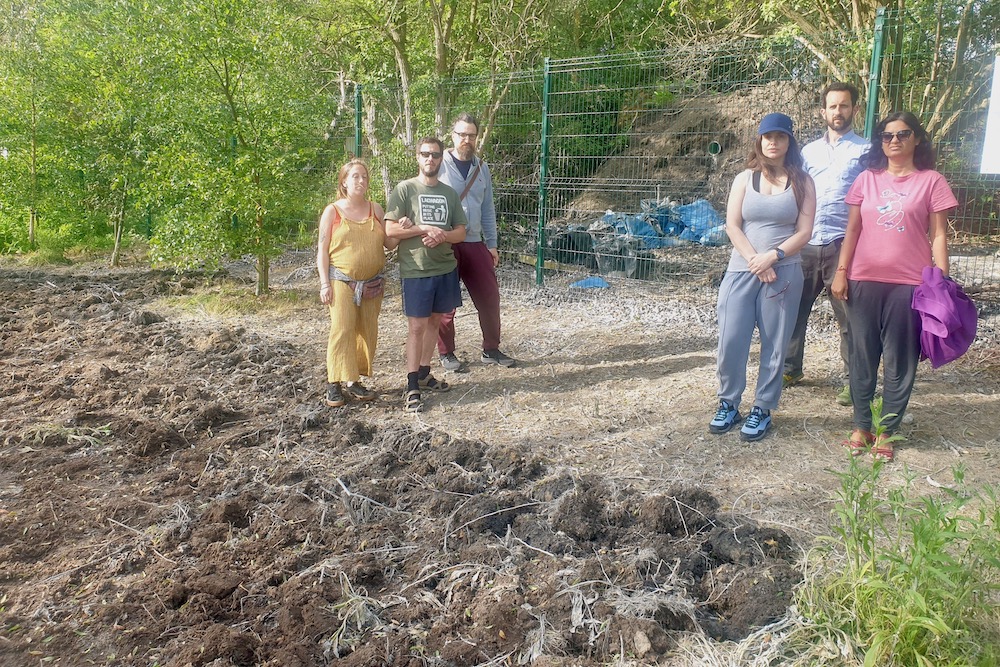 Hunslet residents and campaigners are crying foul, and demanding answers, about a mysterious liquid pollutant being piped onto the nearby River Aire towpath.
Since November 2022 there have seen several incidents of an unidentified grey discharge flowing out of two large industrial pipes, covering the towpath and surrounding greenery. The weekend of 19-21 May saw the worst yet, with a thick slick over 10 metres wide. Locals report that it had a sticky consistency like paint – and seems to have killed all the plants and greenery in its path.
The pipes face immediately onto the towpath just north of the footbridge by H2010 and Old Mill Lane, on the way to Thwaite Mills. It's part of the Trans Pennine Trail, and is a popular route for walkers, runners, and cyclists, with hundreds of passers-by each day. The pipes are on land belonging to GB Railfreight, but the Cross Green Industrial Estate is just 150m away; it remains unclear who the pipes belong to, who is using them, and what the discharge is made of.
Members of the local Friends of the Aire voluntary group, and Cllr Ed Carlisle (Green, Hunslet & Riverside) are in touch with bodies including the Environment Agency, and the Canal and River Trust – but answers and clarity remain in short supply for now.
Marianna Roncone, a leading member of Friends of the Aire, commented:
"This is ridiculous. This liquid is clearly toxic, and the discharges are getting worse – but no-one is accountable, and no-one is doing anything to stop it. I'm so angry that a company can dump their waste freely, and destroy the local environment that we've worked so hard to improve, without consequences."
Cllr Ed Carlisle added:
"It's a totally mad, and maddening, situation. If you or I were to dump waste like this into public space, we would rightly expect the Police at our door. We need answers, we need accountability, and we need this to stop."
The Environment Agency have commented that they are unable to act, as the liquid doesn't impact the river (something the campaigners dispute); they also confirmed that there are no 'permitted sites' for discharging waste in that location. The Canal and River Trust were also unable to comment officially at this time, but wished to assure residents that they are investigating the situation. GB Railfreight have been contacted, but not responded at the time of publishing.
While you're here, can we ask a favour?
South Leeds Life is published by a not-for-profit social enterprise. We keep our costs as low as possible but we've been hit by increases in the print costs for our monthly newspaper – up 83% in the last 12 months.
Could you help support local community news by making a one off donation, or even better taking out a supporters subscription?
Donate here, or sign up for a subscription at bit.ly/SLLsubscribe