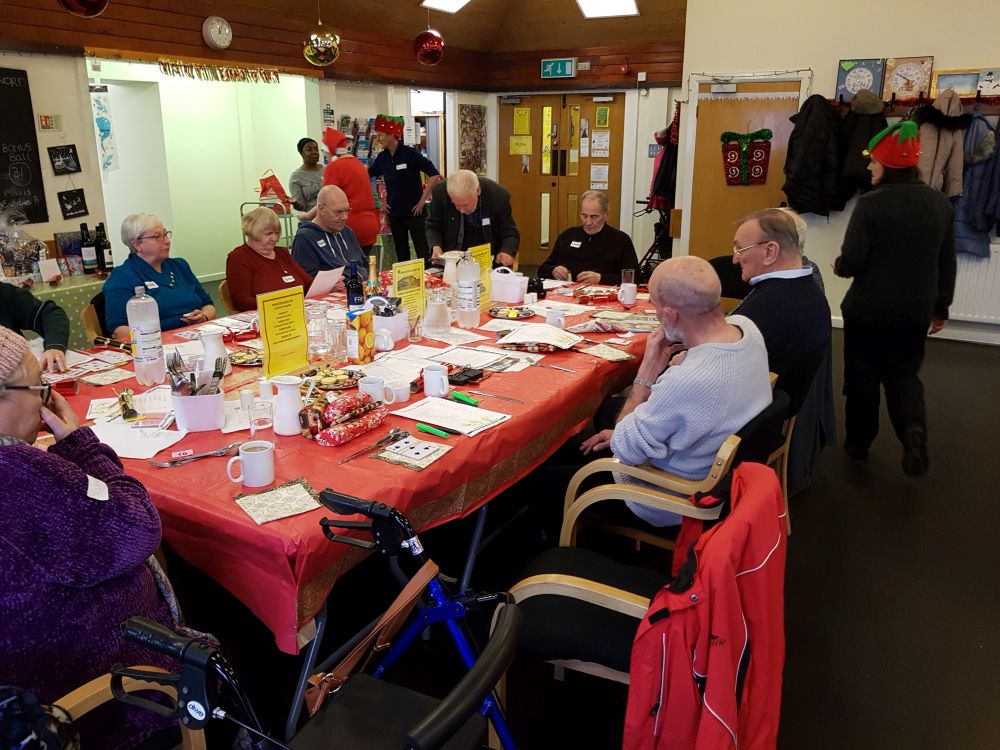 I arrived at Middleton Elderly Aid on Boxing Day morning about 11.05am. The Boxing Day Lunch was from 11am, so thought would be first there, how wrong could I be. It was packed, with around 80 people, and me last one in. I joked with person next to me, have you been here all night.
The party and Boxing Day lunch was funded by Middleton Elderly Aid and Housing Advisory Panel.
Mike (MEA Chair) was here to help out along with Sue, Mike's wife.
It was invite only and was a special lunch for anyone on their own on Boxing Day.
We started with games of Bingo and Hoy. Don't usually do Bingo, but had a go and won at Bingo and at Hoy. Prizes where wrapped up in Christmas paper. So not until I got home to see what I had won, some chocolates and smellies. The Bingo was followed by a Christmas quiz.
The lunch started with choice of soups, followed with traditional Turkey and all the trimmings, I love roast veg. Was surprised how many liked sprouts. To finish we had Christmas pudding with Brandy Sauce.
Plenty of festive treats on the table. I gave chocolates a miss, but had a Mince Pie, pulled some Christmas crackers with the usual cheesy jokes.
It was nice to see some of the volunteers, Walter, Mavis and Manager Samantha who cooked our Lunch, and who gave up their time on Boxing Day to keep us entertained and helped with serving lunches instead of being with their families at Christmas time.
Thanks also to Helen, Carmen and Annie from the Housing Advisory Panel who helped out on the day.
After about 4 hours we all left the centre and hoped that people helping out now could spend time with their families. Thank you all, for a fantastic day.
Mavis, MEA volunteer and member says:

"Boxing Day 2018 Xmas dinner for the over 60s with no family, held at Middleton Elderly Aid was a great success. We had a 3 course dinner with all the trimmings, free bingo, free hoy and a raffle.

"Everyone had an enjoyable afternoon, including me.

"We also had a quiz followed with an Anagram Quiz for prizes donated by the centre.

"Samantha, centre Manager,  did the cooking for the Christmas Lunch. I was a volunteer on the day, and we got some new members. To finish I would like to thank Helen Smithson, and others from the Housing Advisory Panel."