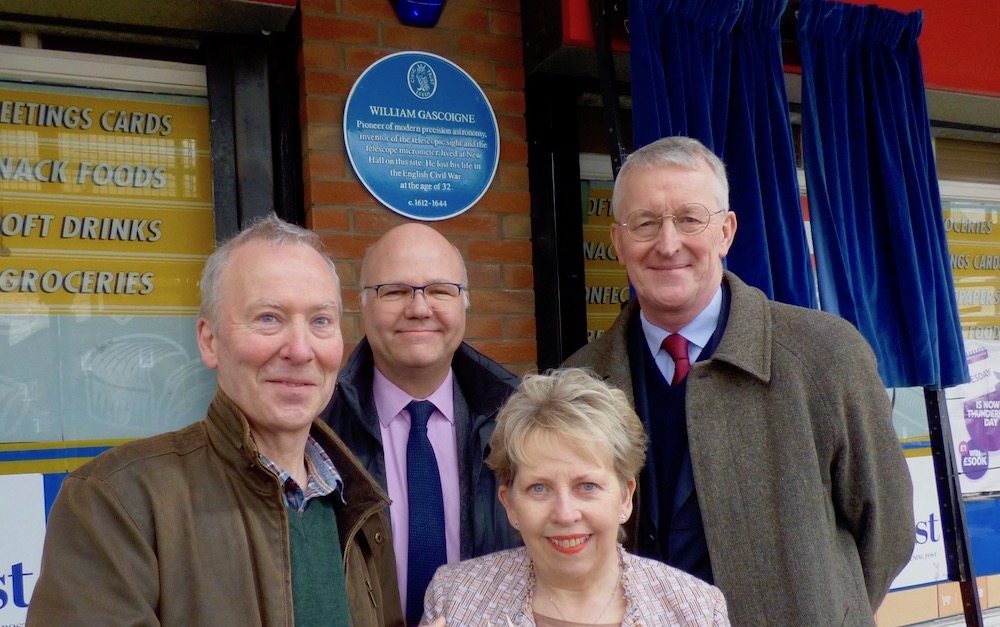 Leeds Civic Trust unveiled their latest blue plaque in the city yesterday (23 March 2018) honouring a pioneering 17th century astronomer, who invented the telescopic sight and micrometer.
William Gascoigne lived at New Hall, Middleton. The hall is long gone and what were fields have been covered in housing during the twentieth century. The plaque has been placed on the row of shops at the Belle Isle end of Town Street, the site where New Hall once stood.
Through his inventions of the telescopic sight and micrometer, Gascoigne paved the way for historical figures such as Isaac Newton, who made accurate measurements of celestial objects to prove his theory of gravity.  And even to this day, astronomers are able to work with precision thanks to his inventions.
He was described in his day by the first Astronomer Royal John Flamsteed as an "ingenious a person as the world has bred or known".
Gascoigne was killed in 1644 at the Battle of Marston Moor during the English Revolution, aged just 32.
Unveiler, David Sellers, who has written a biography of Gascoigne said:
"Although his name is known by astronomers, his role as a pioneer in precision astronomy deserves wider public recognition.  I hope that this plaque will help to achieve this and will encourage young people to follow his lead and inspire an interest in the natural world."
Hilary Benn MP read out a message from the current Astronomer Royal, Professor Lord Martin Rees who said:
"Astronomy was the first high-precision science, and owes its huge advances – from the 17th century until today – to successive improvements in instruments and techniques. William Gascoigne is one of the great pioneers.

"He deserves to be acclaimed for his inventions – and it's fitting that a plaque will honour his memory and commemorate his all-too-short life."
Martin Hamilton, Director of Leeds Civic Trust said:
"We are grateful to David Sellers for bringing this important scientist to our attention, and were delighted to support his proposal for a blue plaque. The fact that a number of scientific organisations have generously provided sponsorship, demonstrates what an important figure Gascoigne is."