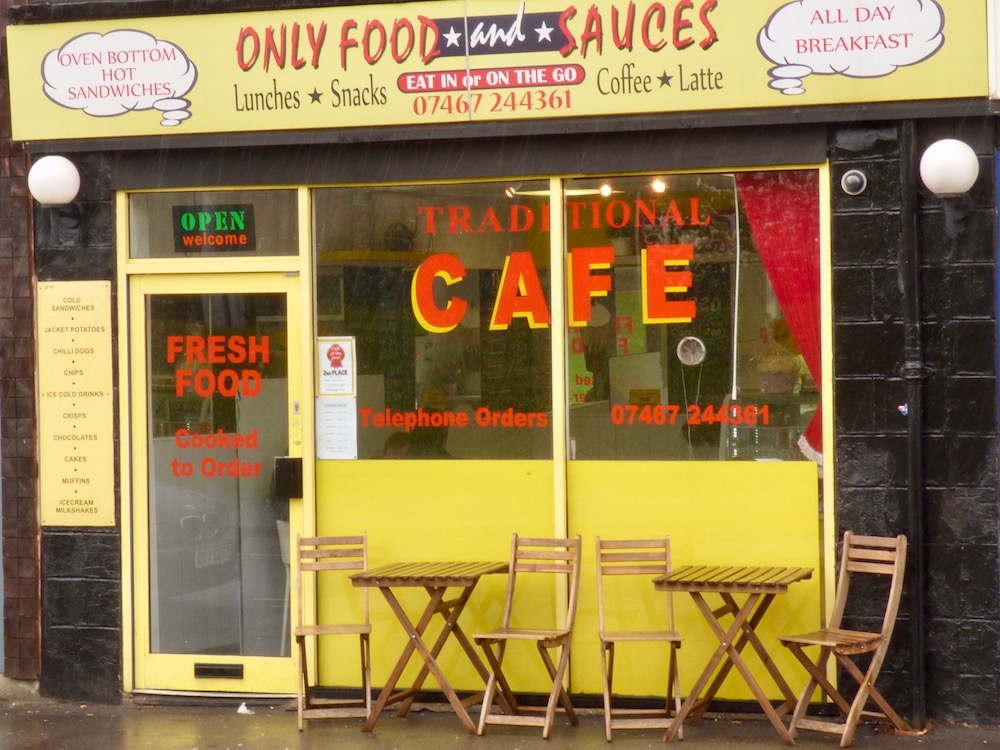 Beeston café 'Only Food and Sauces' has been awarded 2nd place in the 'Café of the Year' awards hosted by the Yorkshire Evening Post, missing out on the top spot by just two votes.
The local café is situated at 153 Dewsbury Road (opposite the Dewsbury Road Community Hub) and is run by mother and daughter duo, Julie and Hayley Hewitt.
The idea to set up a vintage, "Eastenders" style café came about when Julie, 59 was made redundant from her full time job at the Co–op. Her daughter, Hayley, 32, was at the time a full time mother and seeking suitable employment. Julie's husband, Garry had a brainwave and suggested setting up a café as Julie loved cooking, making people smile with food and both mother and daughter have great interpersonal skills.
It wasn't long until Garry found premises next to his favourite barber's shop and within a couple months they were ready to open. Sitting around watching their family favourite one evening (Only Fools and Horses) Garry quipped, "Why don't we name the Café 'Only Food and Sauces'?" and a business was born.
Only Food and Sauces opened in May 2015 and was instantly successful with the local businessmen and women. Many customers appreciated having a full English breakfast at 7am before heading into work.
Julie says the café's USP is the "fresh bread we have delivered every morning and the high quality meat". Daughter Hayley states the range of speciality coffees (gingerbread, hazelnut, caramel, pumpkin and salted caramel) are a big hit with the customers.
The menu reflects both old school and modern tastes. The café sells everything from full English breakfasts to panini, traditional sandwiches, jacket potatoes, milkshakes, speciality coffees and hot chocolates to amazing flavoured ice-creams. They have tables outside where in the warmer weather you can enjoy the weather and have a chat with passers-by. Lester, 32, enthused:
"I love coming here every day because I know I will have a hot, tasty meal and the staff are very friendly. I know everybody by their names and sometimes I just pop in for a second time because it is so homely."
The prices are very reasonable ranging from £1.60 up to £6. The intimate café does an order service where you can ring up on the actual morning and order anything from the menu for collection.
In March 2019, a loyal customer suggested to the owner that they should enter the YEP 'Café of the Year' awards. Shockingly, they only missed out on 1st place by two votes! Julie says a customer bought in an envelope full of six votes the next day but it was too late by then. They will be entering again next year and have got some secret strategies up their sleeve to ensure that they win the top place and don't miss out again by a vote or two!
Winning the award has given the staff and business a massive confidence boost and they are now even thinking of an exciting vegan menu as it is 2019's top food trend!
Hayley says working at the business has strengthened her bond with her mother and she even met her husband at the café who only originally came in for a hot meal! Hayley states:
"A lot of our customers suffer from loneliness and isolation so when they come into our café we might be the only people that they have a conversation with that day."
Over the next year, Hayley and Julie are hoping to expand their business, welcome new customers, build the reputation of the business and increase publicity of Only Food and Sauces.
The café is open from 7am–2pm Monday–Friday and 8am–12pm Saturdays. To make an order or enquire about the menu call 07467 244361 or check out their Facebook page here.