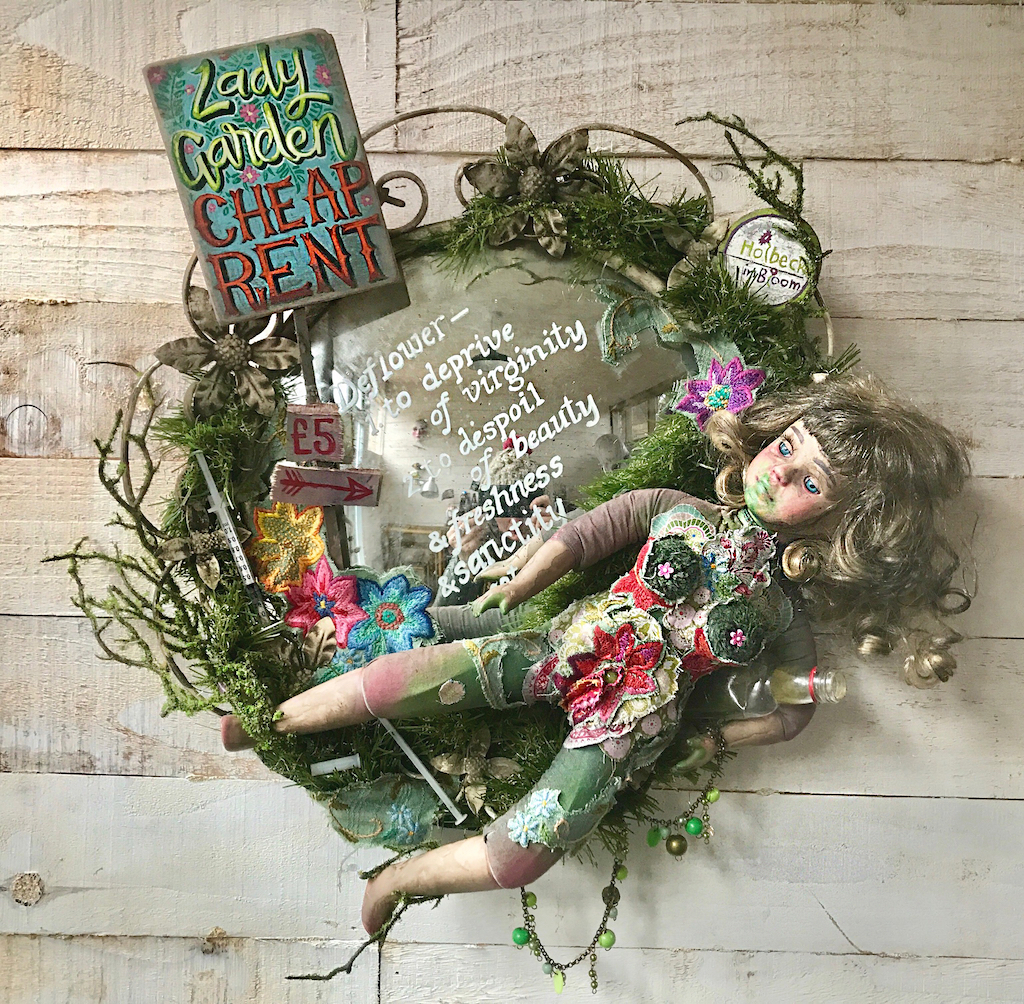 BasementArtsProject continues it's 2019 programme of exhibitions and events with a new exhibition that focuses on a new body of work that explores issues surrounding inner city life in the 21st Century in relation to the lived experience of the artist herself. Come and join us on Friday 17 May 2019 at 7:30pm for a first look at this new exhibition.
Claire Bentley-Smith is an artist who lives and works in South Leeds. Examples of her work as a prop maker and commercial artist have been seen centre stage at the 2014 Commonwealth Games in the form of a life size replica of The Duke of Wellington statue and her murals and window paintings can be found at many bars, events and eateries across Leeds and beyond.
Unmanaged Reproach looks at more personal aspects of her work as an artist. Over the last year she has focused on making a series of paintings and sculptural objects in response to the societal challenges affecting the Holbeck & Beeston community which in turn became a contemplation of her own experiences of life, growing up abroad then living, working and raising a family in South Leeds. This body of work looks at the debate, dilemmas and difficulties around inner city living in the 21st Century.
"Unexpectedly, this process became a catalyst to dredge the remnants of my own challenging childhood and 20s and I found many common themes between my experiences and those of the girls trapped in the street sex trade . . ." Claire Bentley-Smith
PREVIEW
Friday 17 May | 7:30pm – 9:30pm
Exhibition Open
Sunday 19 May | 2pm – 4pm
Monday 20 May | 11am – 2pm
Thursday 23 May | 11am – 2pm
Sunday 26 May | 2pm – 4pm
Monday 27 May | 11am – 2pm
Thursday 30 May | 11am – 2pm
Exhibition Remains Open By Appointment until
Monday 10 June
Lunchtime Conversation: Claire Bentley-Smith
Monday 3 June | 12pm – 3pm
BasementArtsProject
28, Back Burton Terrace, Beeston, Leeds, West Yorkshire, LS11 5JH
To Join our mailing list contact Bruce Davies by sending your name in an e-mail to basementartsproject@gmail.com