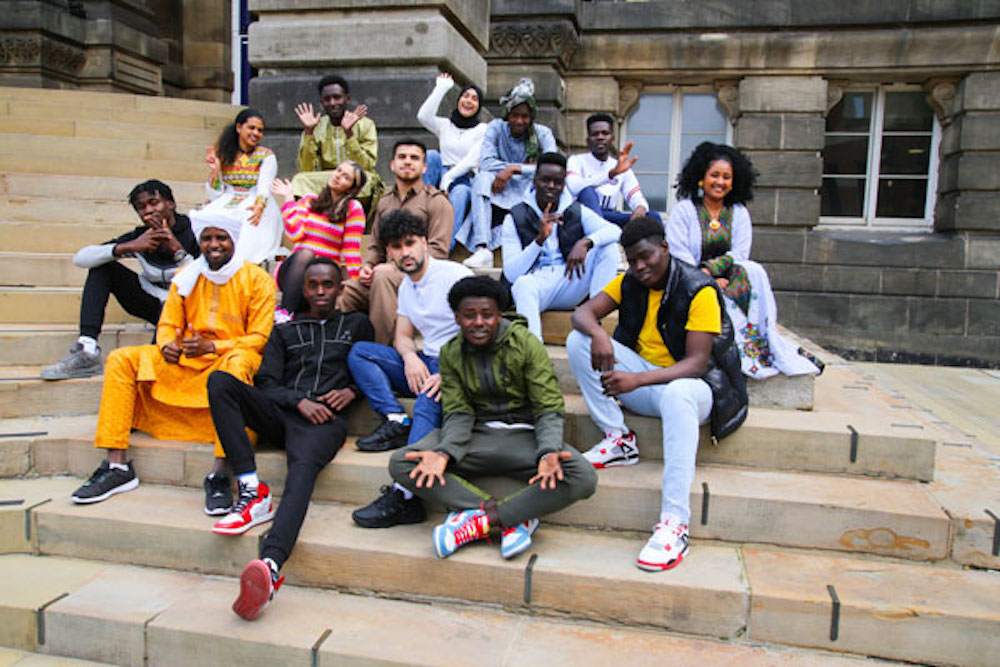 Young asylum seekers in Leeds have given people a taste of their homelands by creating a free-to-download recipe book filled with delicious dishes from around the world.
Leeds City Council's children's social services team, Child Friendly Leeds and the British Library have teamed up to create a book filled with amazing food and heart-warming stories inspired by a group of young people making a new life in Leeds.
The 110-page 'Cooked with Love: World Recipes Without Borders' cookbook brings together cuisine from Eritrea and Ethiopia, Chad, Iran, Sudan and Afghanistan, created by young, unaccompanied asylum seekers living in Leeds.
By following the recipes included, people will be able to create a variety of meals including kufta (Iranian chicken kebab), salat (Chadian salad), qabil pilau (Afghan lamb and rice), dinch wot (Eritrean and Ethiopian potato stew), zalaybia (Sudanese fried doughnuts) and much more.
Each recipe contains easy-to-follow instructions, a list of ingredients needed, and images of the food and the young person that created it. There is also further information on lesser-known ingredients that people may have not heard of before.
Alongside the recipes, the book also contains words from the young people themselves, sharing the stories of their lives, what they'd like to do when they grow up and why the meals they have created mean so much to them. The book can be downloaded for free from www.bl.uk/projects/food-means-home.
The book's creation has been a long-term wish of the council's children's social services team, who have worked closely with young and unaccompanied asylum seekers in the city. Child Friendly Leeds was able to provide key support on the project by introducing the team to the British Library, who work to increase access to the national collection through community programmes, events, and activities across the UK.
Staff from both the council's children and families social care team and the British Library facilitated five cohorts of young people to cook together and learn about each other's lives before they arrived in the UK. These sessions were then collated into the book.
To celebrate the book's completion, a launch event will take place at Civic Hall on Wednesday (23 November 2022), with the event providing a platform for the young people to talk about their experiences and what the project has meant to them.
The book is also being distributed to carers across Leeds, with the hope being that the book can provide a sense of comfort to other newly arrived asylum seekers in the United Kingdom.
Councillor Fiona Venner, executive member for adult and children's social care and health partnerships, said:
"I'm delighted to see the recipe book, designed by the British Library, the council's children's social services team and Child Friendly Leeds, come to completion after two years in the making.

"It is projects such as these that highlight how young people can benefit from the collective power of organisations working together towards a shared goal.

"The creation of this book has enabled people from different backgrounds to come together, share their expertise and knowledge – even when English was not their common language. It celebrates the best of the diversity that our city has to offer. I can't wait to try my hand at cooking some of the incredible looking food shared in it."
Louise Sidibe, unaccompanied asylum-seeking children lead for Leeds City Council, said:
"Anyone who knows me knows how passionate I am about our young people, and how many years I have wanted us to create our recipe book.

"The strength of our young people amazes me every day. I wanted an opportunity for their voices to be heard and celebrated, and for others to see what I see every day: how lucky we are to have them now living in Leeds.

"By creating our book, we wanted to show that we can all learn from each other and that differences can be embraced. That everyone can offer something special.

"Sharing in this way has opened a window into our young people's lives before they arrived in the UK. We have all learned so much; from recipes to heart-warming stories from back home and life lessons for us all."
Elvie Thompson, lead learning producer at the British Library, said:
"I'm thrilled that the British Library has been able to help make this recipe book a reality.

"It's been a privilege to get to know the social care team and these incredible young people. Through our work in Leeds and beyond, we want to demonstrate that the Library is for everyone.

"I want every young person in Leeds to know that they can take part in our projects and events, visit our exhibitions, and even write the books that fill our shelves. It's wonderful that these young people's stories will now form part of the national collection."
Speaking in the book, Abdul-Muneim, Adam, Ali, Ismiel, Mahmood and Mansoor from Sudan, said:
"These dishes are really special to us as they remind us of childhood, our country, our culture, our cooking, and most importantly eating together with our family and community.

"It is important to us to be able to share our culture and teach people what and where Sudan is in the world and the amazing food we make and eat. When we recreated our dishes in this project it took us back home: the smells, the spices, and fragrances."
This post is based on a press release issued by Leeds City Council
Photo: The young people involved with making the recipe book. Credit: Nicola Fox
Whilst you're here, can we ask a favour?
South Leeds Life is published by a not-for-profit social enterprise. We keep our costs as low as possible but we've been hit by increases in the print costs for our monthly newspaper – up 50% so far this year.
Could you help support local community news by making a one off donation, or even better taking out a supporters subscription?
Donate here, or sign up for a subscription at bit.ly/SLLsubscribe