Pupils from Music Federation schools in South Leeds (Windmill and Low Road Primaries) became prime time stars when they appeared on ITV's Britain's Got Talent on Saturday (25 April 2020).
We spoke to Danny Gough, the founder of Class Dynamix to find out how children from Belle Isle and Hunslet ended up on national television.
"Class Dynamix is a unique venture that is driven by a passion to empower children of all abilities and experience with self-confidence and courage – through powerful original songs. The material is created by myself.

"Windmill & Low Road Primaries (Music Federation) are our "Gold Partnership Schools" and have truly championed our work since we launched Class Dynamix back in 2014. They have embraced our project into their diverse curriculum. We have collaborated on many exciting projects together over the past 6 years – with a shared passion to inspire children to grow their characters and live with courage.

"It is a journey which has taken us from Headingley Stadium, to TV adverts, Leeds Arena and music videos that have been enjoyed across the globe on Youtube.

"However, to have the "once-in-a-lifetime" opportunity of a surprise audition on Britain's Got Talent – and even a personal visit from Simon Cowell himself – is the most incredible chapter in our story yet. The children had the biggest shock of their lives when he burst into our choir rehearsal – whisking them off to Manchester to show the world what they can do. It was an incredibly emotional moment. It was beyond surreal.

"It presented us with the perfect challenge to showcase the unique work we have been pioneering for many years and to fly the flag for Leeds before the nation!

"The kids rose to the challenge so brilliantly by performing our anti-bullying song with an awesome display of solidarity and courage. The response online since Saturday's show aired has been incredible to say the least. They really did "seize the moment". Bullying is a universal issue that resonates with so many people – and the children produced an inspirational performance. Simon said that in all his years on the show – he had never seen a choir like us!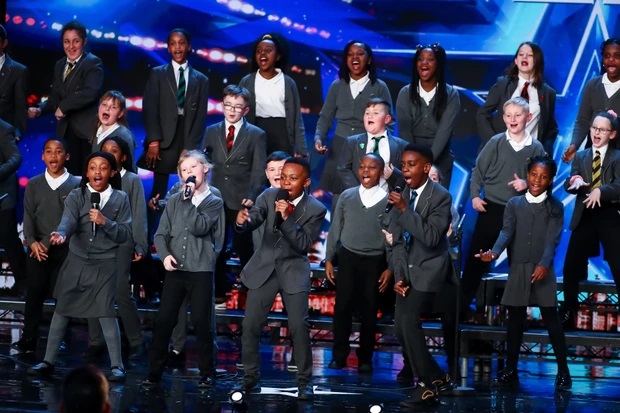 "Everyone connected with the schools and the area must be feeling so proud – especially the parents of those kids.

"For the children, it has not only given them a memory to cherish forever – but it has taught them that through dedication and belief – dreams can come true. And Simon Cowell can rock up at your school. I'm not sure that'll be happening again anytime soon!"
The show was filmed in February and with four Yeses, Class Dynamix will progress to the deliberation stage, where the judges decide who makes it through to the live shows. Hopefully these will take place later in the year.